By Harkeerit Shoker
The Effects of Covid-19 on Modern Slavery
Covid-19 has presented an unprecedented global challenge. As the pandemic continues to disrupt our daily lives, certain groups of people have been particularly affected, including those subjected to modern slavery.
The International Labour Organization's Covid-19 Impact on Child Labour and Forced Labour analysis indicates that the pandemic has exacerbated many of the root causes of child and forced labour, including poverty, marginalization, and lack of work and educational opportunities. Children have been disproportionately impacted, with World Vision estimating that 8 million children have been forced into child labour due to the pandemic. The risk of adults becoming trapped in forced labour and debt bondage has also increased, as the pandemic has resulted in widespread job loss and rendered those without social assistance and financial support vulnerable to abuse.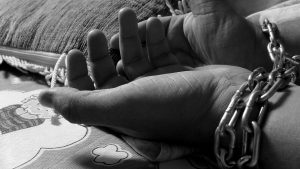 Photo: Euronews
Canada's Modern Slavery Bill Has Stalled
Covid-19 has exacerbated the long-standing social inequities that lead to modern slavery, demonstrating that the need for effective regulation to address this practice is greater than ever. For several years, the All-Party Parliamentary Group to End Modern Slavery and Human Trafficking (APPG), assisted by the International Justice and Human Rights Clinic (Clinic), has advocated tirelessly for effective legislation to prevent modern slavery in corporate supply chains. On October 29, 2020, Senator Julie Miville-Dechêne, a member of the APPG, sponsored Bill S-216, An Act to enact the Modern Slavery Act and to amend the Customs Tariff. The introduction of this Bill in the Canadian Senate marked the third time a bill seeking to reduce modern slavery in supply chains has been tabled in Parliament. The goal of Bill S-216 is to ensure that certain Canadian corporations report on the measures they are taking to mitigate child labour and forced labour in their supply chains. Unfortunately, the Bill's Second Reading has stalled due to the intense focus on the pandemic response.
Moreover, the Bill in its current form is inadequate to fully address the pervasive problem of modern slavery. While Bill S-216 is a positive first step in implementing supply chain legislation, the reporting requirement it seeks to create is not sufficient on its own to compel companies to act with due diligence to eliminate child and forced labour in their supply chains. As currently drafted, the most severe penalty for not complying with the Bill's reporting requirements is a relatively modest fine for large Canadian corporations.
The Clinic previously proposed a model bill, the Transparency in Supply Chains Act (TSCA), which includes due diligence provisions and whistleblower protections. The TSCA proposes a framework for regulating Canadian supply chains and requires corporations to take actual steps to prevent reliance on modern slavery. The increased vulnerabilities caused by the pandemic demonstrate the TSCA is a more effective response to labour trafficking in supply chains than Bill S-216.
Why Canadians Should be Concerned
The increased risk of child or forced labour means there is a greater chance that Canadians are buying goods that are produced by modern slavery. The APPG reports that 1,200 Canadian companies import goods that are at risk of being tainted by modern slavery. World Vision reports that the highest levels of child labour are found in the agricultural sector. Some of these food products include coffee, sugar, cashews, and tomatoes, and many of these goods are imported from Mexico. In total, an estimated $3.7 billion worth of goods are at risk of being affected, representing a 63% increase over the past decade. Perhaps unknowingly, Canadians buying these risky products are rewarding companies that are committing severe human rights violations.
Furthermore, CBC Marketplace has reported troubling allegations of personal protective equipment –imported for use in hospitals during the Covid-19 pandemic – being sourced from factories that use forced labour. The Toronto Star has also reported that while Canada implemented changes to tariffs legislation in July 2020 to prevent the import of goods made through forced labour, not a single shipment has been stopped from entering the country.
Implementing comprehensive supply chain legislation will ensure the Canadian public can make better-informed decisions when it comes to their consumption practices by requiring corporations to actively combat the use of modern slavery.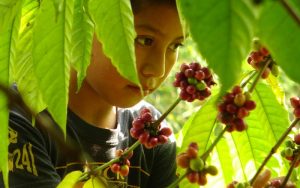 An 11-year-old picking coffee in Mexico. Photo: World Vision
Corporations Should Get on Board with a Modern Slavery Bill
It is also in the interest of corporations to adopt due diligence practices to combat modern slavery. Consumers are becoming increasingly aware and concerned about human rights violations in supply chains and are often willing to take their business elsewhere. While many corporations have corporate social responsibility (CSR) measures in place, they are not doing enough to mitigate the risk of modern slavery in their supply chains. Rather than using their CSR measures as marketing or public relations tools, Canadian corporations should be proactive and take steps to combat human rights violations that occur in their operations. A reputation for working to eradicate child and forced labour will improve the public image of these companies and reduce the likelihood of negative press or lawsuits if modern slavery is uncovered in their supply chains.
Supply chain legislation, such as Bill S-216, will also create a more level playing field between companies by requiring corporations to report on their actions, encouraging them to make more ethical, transparent business decisions and standardizing a non-exploitative amount paid for labour. Such legislation is already in effect in various parts of the world. Corporations should get on the right side of history, rather than resisting inevitable, positive change that secures human rights for all.
Harkeerit Shoker is a 2L student at the Peter A. Allard School of Law working with the IJHR Clinic as part of the All-Party Parliamentary Group on Modern Slavery Team.