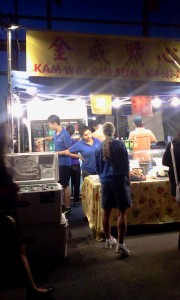 Summer is not complete without a visit to the Richmond Night Market.
It's true.
As gloomy as Vancouver gets during the Fall/Winter time due to its never ending series of liquid precipitation, Vancouverites know how precious the summer time is. When the sun starts to come out, even if it's April and a bit chilly, people head to the Wreck beach and find die-hard nudists, and go to Waterfront and find people reading outside under the could-be-warmer-sun. But when the summer actually comes and you can feel the sunshine tickling your to-be-copper skin, Vancouver gets filled with festivities. There's the Celebration of Lights, which is a competition consisting of three epic nights of fireworks lasting about half an hour each. The key to this is that you watch the fireworks with lots and lots of people by the beaches with a radio on, so that you can listen to the synchronized music along with the fireworks.
Mind you, I missed a couple of these this year, except for the one I catched with MEGA.
But one place that look forward to in the summer is the Richmond Night Market. It's a place where you can truly feel how multicultural Canada/Vancouver really is, taste the things that are so common in different parts of Asia but not so common in Canada, and blend yourself in the hustle and bustle of Asian style street markets.
I almost missed it this year due to my hectic gotta-finish-thesis-asap schedule, but finally had the chance to go and enjoy some of the authentic foods from Korea/China/Japan/Philippine including Toppokki, Takoyaki, SiuMai, Bubble Tea, Pork skewers… (I missed the Korean Hurricane Potato Chips though!)
For those of you currently arriving in Vancouver, and have the time to explore the city before the semester begins, do try and check out the Richmond Night Market (12631 Vulcan Way) which is accessible via Canada Line followed by a designated Night Market shuttle at the Richmond Bridgeport Station.
And just so you know, the night market doesn't last forever. It only runs throughout the summer until mid September every year. So go quick, before you miss it!
(Just to give you a feel for what it's like, check out the YouTube video)