Chongqing, China
Southwest University Primary and Secondary affiliate schools.
This partner will host:
8 secondary teacher candidates (May 17 – June 4, 2021)
8 elementary teacher candidates (June 7 – 25, 2021)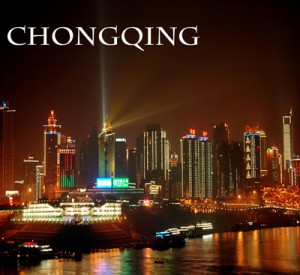 (Chongqing at night)
Important:  Selection priority for Chongqing placements is given to those with financial need.
Teacher candidates who choose to do a CFE in schools in Chongqing will be immersed in a rich cultural exchange that will give insights into both traditional and progressive lifestyles along with teaching/learning pedagogies and practices. Teacher candidates will work in primary and secondary schools affiliated with Southwest University, and there will be opportunities to speak with the university faculty and participate in university-based information seminars.
A) Websites: 
Southwest University (SWU)
The Primary school affiliated with South West University is PSASWU.
B) Description of Community Partner
Southwest University – Please see this Information Package.
The Primary School Affiliated with Southwest University was established in 1949 and is the school for 2,000 elementary students and employees 103 teachers and school support workers.   The school teaches the Chinese national curriculum and also focuses on developing a caring and nurturing environment where sustainable living is championed and students are taught to respect each other and life. Here, the enlightenment of minds is seen as the promotion of a hopeful future.
On Feb 19, 2016, the school's website stated:
"The Primary School Attached To Southwest University (PSASWU) is situated nearby the beautiful Jialing River, and is located at the foot of Jinyun Mountain, a state level scenic spot, in Beibei District, Chongqing Municipality. PSASWU is the base for the educational scientific research, experiment and educational practice of the Southwest University (SWU). It is also the National Demonstrative Base (Western China) of Education Innovation. In addition, the school is entitled the "Chongqing Green School", "Advanced School In Establishing 'State Green School'".
PSASWU founded in 1949, is constituted by 37 classes and more than 2,000 students. The school has built up a strong teaching staff with 103 full-time teachers. Among them, there is 1 special-grade teacher, 1 Chongqing's academic leader, 6 senior high school teachers, 52 senior primary school teachers and 42 key teachers in different levels.
Under the direct administration of the Ministry of Education, the Primary School Attached To Southwest University possesses unique advantages. In recent years, the school focuses on the construction of "Green Education" ideology, which assists the school in casting its distinctive brand. In the process of the "Green Education" construction, PSASWU forms its special school culture, which includes the spiritual culture showing respect to lives, the institutional culture caring for the development of students and teachers, the behavioral culture focusing on cooperation and sharing, as well as the ingenious material culture in the school layout and distribution. Till now, PSASWU has characterized "Green Education" as the school feature and culture. In the harmonious school management and the elegant school environment, students and teachers develop themselves freely and healthily. In March, 2010, PSASWU's "Green Education" was specially reported by China Education Daily. In June, 2010, a monograph about the theory and practice of "Green Education", edited by Tang Bingqiong, principal of PSASWU, was published. This book caused a nation-wide concern.
(Photo by Ming Chen on Unsplash)
The Secondary School Affiliated with Southwest University
Please read about Dean Heller's (Michigan State University) 2012
C) Some potential CFE activities that teacher candidates may observe/teach/experience are:
Observe, assist and teach in a grade similar to that taught in Canada
Observe, assist and teach English and English as a Second Language
Observe and assist other grades and subjects in the school
Observe and assist with field trips and after school activities
Participate in Southwest University Seminars in the Faculty of Education
Present an overview of Canada
D) The partner's larger community:
Chongqing is famous for towering majestic mountains and massive roaring rivers, which have overlooked and shaped the local civilization of over 3000 years. It is currently home to nearly 10 million people, has been the capitol of China three different times, and has played an important role in China's history.
Chongqing was first the commercial and trade center of central region of China, and is now the economic center of the upper Yangtze and the hub connecting China's vast western countryside and east coast. Although, it is located in the Sichuan Basin of central China, it is situated on the mighty Yangtze River making it also a port city.  Combined with an exceptionally busy and efficient international airport, Chongqing is viewed as a municipality open to the whole world.
Economically, Chongqing has recently developed a new momentum.  This momentum  is based on three unprecedented opportunities: 1) the construction of the Three Gorges Dam Project, 2) the migration of residents in the Three Gorges Reservoir Region, and 3) the establishment of the municipality directly under China's central government and 'Go West' Strategy.  This is bringing new development, hope, vigor and points to a new and exciting chapter in Chongqing's history.
(Chongqing auditorium, Photo by: lhhdz )
E) Required documents:
Teacher candidates require a type F single entry visa to travel to, do a CFE through, elementary and secondary schools affiliated with Southwest University, China. To apply for this visa, teacher candidates are required to take an invitation letter from Southwest University, and their passport, to the Chinese Visa Centre in Vancouver.
For more information about the steps for applying for a Chinese Visa in Vancouver (especially if you wish to enter and leave China multiple times), please check this website: https://bio.visaforchina.org/YVR2_EN/ and or the Chinese Consulate in Vancouver, see:  http://vancouver.china-consulate.org/eng/visa/Visa/
Teacher candidates will also be required to email  the following documents directly to Mr. Robin Dai (9406874@qq.com).  Please note that all these documents should be sent via one email (and not in dribs and drabs over several days):
a word processed document containing the teacher candidate's full name (as displayed on the TC's passport), the teacher candidate's citizenship, their passport number, their gender (*required to issue the letter of invitation), and a photocopy of their information page from their passport– the page with the TC's photo (TC's please submit to their CFE FA before Dec 31, 2018).  See example.
a one page letter of interest (TC's please submit to their CFE FA before Dec 31, 2018. See example of letter of interest)
a resume (need not be detailed as it is only used to place you. TC's please submit to their CFE FA before Dec 31, 2018)
a note from you doctor reporting you are in good mental and physical health for travelling, and that you do not have any communicable ailments (TC's please submit to their CFE FA before Dec 31, 2018)  [See Medical Letter Template]
Official letter from UBC indicating a criminal record check is done, and that the teacher candidate is currently enrolled in the UBC program and is in good standing (submitted to FA by the UBC International CFE coordinator)
F) Chongqing CFE Q & As:

Where do UBC teacher candidates obtain visa application forms?
Detailed information about the visa requirements, and application forms can be found on the Chinese Visa Application Service Centre website, http://bio.visaforchina.org/YVR2_EN). If you are unable to download the documents, please contact the local visa application centre for assistance.
When do teacher candidates get the official letter of invitation for Chongqing Schools and what is it for?
The Chongqing placement coordinator will send out an invitation letter for each individual teacher candidate towards the start of January (secondary) and middle of February (elementary). The Chinese Visa Application Service Center (CVASC) will not process your visa without this letter of invitation. This is an example of an invitation letter.
What is the best time for teacher candidates to apply for a visa before their planned departure for China?
It is advisable that teacher candidates apply for a visa the weeks before your practicum starts.  Also, teacher candidates are advised to obtain a visa whose duration does not expire before their departure.  For example, the validity of some visas is equal to or shorter than one month so if you apply for this type of visa it will expire before you leave for China. (For more information see the Vancouver Visa Application Centre website)
Again, it is recommended that teacher candidates do not to apply too early in advance, otherwise their visa may expire before their departure.
Are teacher candidate advised to ask their FA's and SA's permission to take time off from their practicum in order to apply for and pick up their visa from the Chinese Visa Application Service Centre?
Teacher candidates are advised to not take time off to apply for, and pick up, their Chinese visa. According to the Chinese Visa Application Service Centre, visa application drop offs and pick ups can be made by a third party.  Please contact the centre for more information (phone 604-336-8866 or email vancouvercenter@visaforchina.org).
Teacher candidates who cannot drop off and/or pick up (or have a third party drop of and/or pick up) their visa applications during practicum time, are encouraged to contact the international CFE coordinator.
How are the UBC teacher candidates expected to show their appreciation for the support they receive from Southwestern U student 'guides', and the host school teachers? 
UBC teacher candidates can offer to take their hosting Southwestern U student guide out for a dinner.  Moreover, a small gift from Canada would be greatly appreciated. It is expected that teacher candidates show appreciation to the host teacher with a monetary contribution of 500 yuan for each teacher.  The teacher candidate is recommended to present this gift to their host teacher the last week of the teacher candidate's CFE.  If the teacher candidate is hosted by more than one teacher, the fund should be presented to the teacher who spends the most time with the teacher candidate. If the teacher candidate's time is split between two teachers evenly, then the gift may be split so that both hosting teachers receive 250 yuan.
What funding do selected TC's receive to offset costs of the CFE and how/when are they administered?
Funding varies form year to year an is not usually known until the end of November.  For the 2019-20 CFE, Go Global will first charge those TC's traveling to Chongqing a $415.00 processing fee (which will show up on the TC's SSC financial services as a charge). This occurs early December and must be paid by December 15.  Approximately one month after the charge has been paid, Go Global will then deposit a minimum of $2000.00 international learning award, netting the student a minimum of $1585.00.  Any outstanding tuition will be automatically paid, and the student can visit Brock Hall to withdraw the remaining funds in the form of a cheque. If you have any further questions about this process, or are wondering if you have been overlooked in receiving this award, please contact Go Global at goglobal@ubc.ca Note: The following series of questions were posed by the CFE coordinator posed in an email to our Chongqing hosts for the 2016 CFE. The regular text that follows is their reply.
Understandably, teacher candidates with little, or no, ability communicating in Chinese are a little concerned about the language barrier. They feel it would be challenging if they were to only able to sit in a school and observe classes and understand a few words (or no words). How does Southwest University plan to help the UBC teacher candidates overcome this barrier? Will Southwest University faculty work with the teacher candidates for part of the day in English conducting seminars or reflective discussion groups, or teaching them separate classes in English, or …? Just wondering how you will be engaging the non-Chinese-speaking UBC students? I don't think the language will be the barrier for your students, my colleagues and the primary school teachers can help them, we have our system to help your students for on their practicum work. Furthermore, our primary school teachers hosted one group of Canadian students for one semester last year so they are experienced already.
Where do you recommend UBC students stay in Chongqing? What types of accommodation are available? Will they be in dorms or in hotels, or home stays? Most students are looking for clean inexpensive housing, and some are willing to share accommodation. What would you recommend?Finally, what are the costs of the different types of accommodation?
Your students can stay at our hotel for the international students on campus, each single room is 80 Chinese Yuan per night. They can share a double room with friends, the double room is about 100 Chinese Yuan per night.
Where can UBC students obtain their meals? How much will this cost for the three weeks? Again students are looking to keep their expenses low.
We have many catering rooms for the students, every day they only need no more than 50 Yuan for the meal, and there are many food choices for them.
What other activities do you see UBC students over their three weeks at SWU (other than observing classes, helping our classes and teaching, for example, in the English classes)?
Other activities during their visit can be discussed further here. We will try our best to give them rich experiences, such as local sightseeing, attending cultural classes, visiting other schools, and special lectures designed for them.
You probably have many of your own questions as well. Please send them to me and I'll send a group email from us.
How do teacher candidates get from the Chongqing airport to the university dorm accommodation?
Southwest University will arrange free group airport pick-up with delivery to accommodations. This is a good reason for teacher candidates to contact the Chongqing coordinator so they can time their arrival with these pickups. If a teacher candidate misses the free group-pickup, they will have to come by taxi and pay this cost themselves.
How do teacher candidates go about booking their accommodation and where is the accommodation located?Southwest University will book the dorm rooms for teacher candidates.  Teacher candidates will be asked if they prefer a single room or a double room, so it is advisable to talk to others in your CFE group to see who would like to share a room.  There are no co-ed rooms. The dorm building of international students is just on campus, the address is:
International College Southwest University
2 Tiansheng Rd, Beibei District
Chongqing, 400715, China
http://gjxy.swu.edu.cn/
This dorm is about 15-20min walking distance the to the teacher candidates' middle school placement.
What is the address of the middle school UBC teacher candidates will be working at?
UBC teacher candidates will be working at the following school:
High School Affiliated to Southwest University
43 Du Jia Jie Street,
Beibei District, Chongqing
4000715, China
http://www.xnsdfz.net  (in Chinese)
What do teacher candidates have to know to be able to use their cell phone in China? Do they need to have an unlocked cell phone to use a Chinese Sim card? Do teacher candidates require any specific adapter for charging our cell phones?
Unfortunately the requirements are different for different providers and phones.  Teacher candidates are recommended to check with their service provider in Canada well before they leave to see what is required to use a phone in China that was purchased in Canada. For more information see Cell Phones and VPN Connections in China.
Can teacher candidates access digital application such as Gmail, Facebook, WhatsApp, and Youtube? A list of blocked sites in China can be acquired from Currently, all Google-related services, Facebook, and YouTube are blocked.  These are sites are often accessed using helper applications, however UBC encourages teacher candidates to abide by all government laws and restrictions while in China.
Is there WiFi in the dorms?The dorms that teacher candidates will be staying in have WiFi connectivity that is weaker than the dorm lobby. For faster connectivity teacher candidates are encouraged to use the lobby area when accessing the internet. Moreover, most areas on campus have WiFi coverage, but teacher candidates will require an account (the Chongqing university will help teacher candidates acquire this) to be able to log into the Internet. Internet access will cost teacher candidates approximately 10 dollars for unlimited data for their 3 week CFE. Finally, most cafeterias or restaurants on campus (and off campus) offer free WiFi for customers. For more information see Cell Phones and VPN Connections in China.
Are power adapters required for electrical appliances? In some cases yes. Please refer to this site for more information.
G) Who is the CFE coordinator at Southwest University whom UBC teacher candidates can send questions to before and during the CFE?  When are teacher candidates permitted to contact this coordinator?
Southwest University provides UBC teacher candidates with a coordinator who can answer questions about the placement, accommodations, travel issues, etc…, before and during the CFE.  Teacher candidates can contact the Southwest University coordinator using the information below.
Note: Teacher candidates must not contact the coordinator until Feb 21, 2021.
Mr. Robin Dai
Director of International Office
Faculty of Education
Southwest University
No.2 Tiansheng Rd, Beibei District
Chongqing, 400715, China
Office: 011 86 23 68367449
Mobile:011 86 13983384068
Email: 9406874@qq.com
__
Please refer here for disclaimers which must be fully understood by each TC applying to this or any International CFE program.