This International CFE is coordinated through HecomKenya
This partner will host:
2  secondary teacher candidates (May 17 – June 4, 2021)
2  elementary/middle years teacher candidates (June 7 – 25, 2021)
Teacher candidates completing a CFE with HecomKenya, in Kadongo, Kenya will enjoy observing and participating in a variety of educational activities, including teaching lessons and units over the three weeks. Because HecomKenya is a community-based organization dedicated to creating a healthy community, teacher candidates will be asked to observe at least one health lesson/talk, and assist in teaching health-care related talks/lessons.
Note: The Kadonga placement was added in 2019. A CFE through HecomKenya is considered a self-placed CFE and thus teacher candidates will need to complete the self-placed CFE forms (which you will be introduced to on the intentional orientation day in September).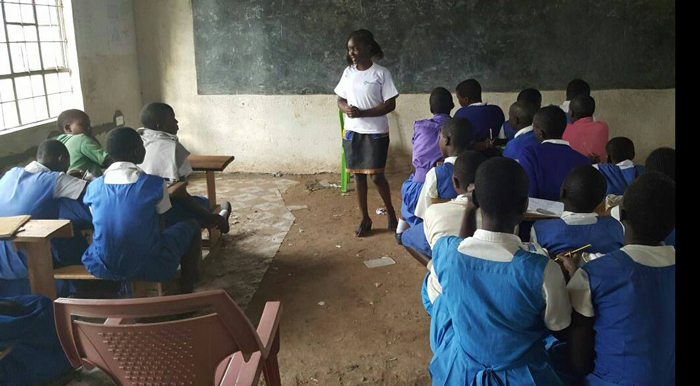 (Hecom volunteer talking to schoolgirls)
A) Website: https://hecomkenya.org/
Facebook: https://www.facebook.com/hecomkenya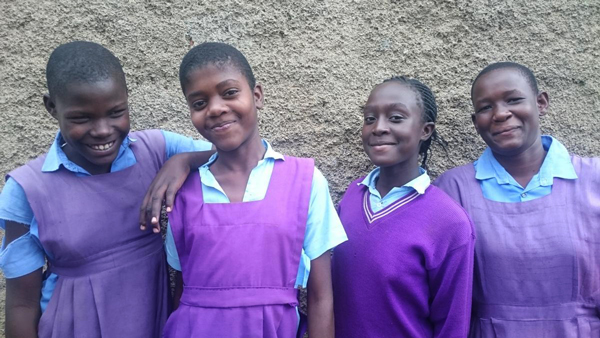 (Schoolgirls in Kadongo, Kenya)
B) Description of community partner:
HecomKenya is a "Community Based Organization" dedicated to creating a healthy community. HecomKenya believes that students' health and education complements each other, thus they educate students and other groups in informal settings with the objective of creating healthy communities through physical fitness, nutrition, sexual health education, and managing health conditions.  HecomKenya works with primary and secondary schools, where teacher candidates will be placed.
(Health care information sessions in the community)
Kadongo Schools for 2021 CFE

1) Secondary Schools
Got-Rateng Mixed Secondary School
Mr. Jahanes Kenyatta Ochiewo
Principal
+254 721 215 915
ochiewokenyatta@gmail.com
Bishop Linus Girls Secondary school
Dr. Jane Vivian Odhiambo
Principal
+254 717 601 902
bishoplinusokokgirls@yahoo.com
2) Elementary Schools 
Blessed Sacrament Oriang' Education Centre
Mr. George Ndiko
Headteacher
+254 725 809 556
georgendiko@gmail.com
Sunrise Pedagogical School
Mr. Isaac Dundo
Director
+254 720 397 006
isokedu@gmail.com
C) CFE activities: 
UBC teacher candidates are encouraged to bring their skills, interests and energy to the classroom!  Our teachers' regular hours are Monday to Friday 8:00 AM to 4:00 PM.  Your involvement is highly appreciated by students and staff alike.  We wish to encourage you to fulfill your strengths and interests – be it teaching reading, music, science, mathematics or other subjects. Teacher candidates will be matched with one or more teachers early in 2019 such that you can begin an email relationship and plan your involvement together. Furthermore, if a teacher candidate has interest in leading an extracurricular activity from 4:00 – 5:oo PM, we will strive to make arrangements.
Teacher candidates will take part in one or more community health education sessions with Hecom.  If a teacher candidate prefers to observe the session, that is fine.  However, if a teacher candidate has a particular interest in a health topic, or feels comfortable to co-lead a session, we encourage such participation. We believe that health and education complement eachother, and are vital to our community development.  Should a teacher candidate wish to spend a greater portion of their CFE hours on health education, we would happily accommodate this. Our priorities are sexual health education, mental health, and physical activity.
All teacher candidates will be given a weekly opportunity to discuss their experiences with their co-teachers, principal, and CFE coordinator.  We are committed to creating a positive experience for all teacher candidates.  Furthermore, we are interested in pedagogical exchange, and continual improvement.
Finally, we recognize that a trip to Kenya may be incomplete without visiting one of our elephant conservation reserves!  On request, we can arrange an appropriate day trip, at some further cost.

(School in Kadongo, Kenya)
D) The partner's larger community
The HecomKenya organization is situated in the city of Kadongo in the country of Kenya. The following are a few resources to introduce you to travel to Kenya, including up to date travel advisories for Canadians: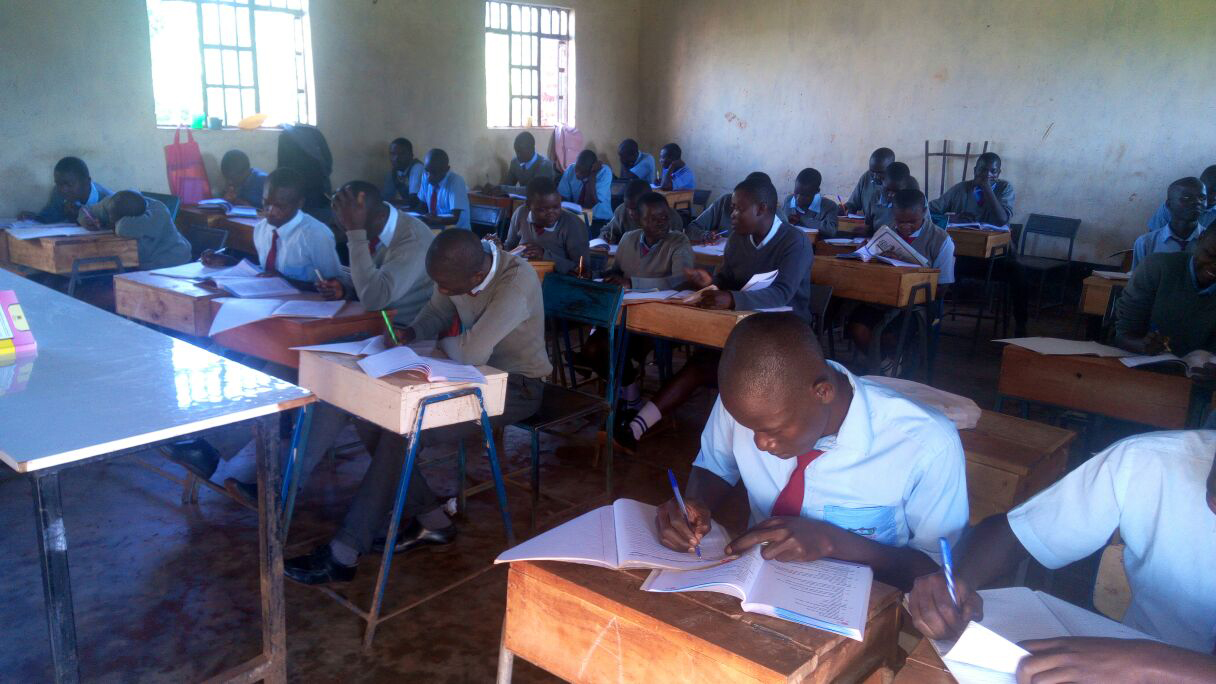 E) Required documents and vaccinations:
In the past, a Yellow Fever vaccination and anti-malaria drugs have been mandatory for all Canadian traveling to Kenya. Individual requirements will vary according to what teacher candidates have received in the past.  Therefore, all teacher candidates bound to African locations must be assessed by a Canadian medical clinic, like the Vancouver Coast Health Travel Clinic, well before departure.
Please also note that it is highly recommended that teacher candidates have their medical assessment done in November or December as most insurance polices with cover these vaccinations, but only to a certain dollar limit.  If you have some vaccinations done in November/December of one year, you can have the rest done in January/February of the next year you will be making best use of your medical insurance (and possibly have all the vaccinations paid for).
All successful applicants must carry a valid a travel medical insurance package.
Teacher candidates must hold a valid visa to enter and exit the Republic of Kenya.  As teacher candidates will be touring and visiting local communities and schools, and visiting Kenya for their own pleasure and with the intent to tour parts of the country, they are recommended to apply as a tourist and not as a student doing volunteer work.  An example of a completed 30 day single entry visa application is located here.  Teacher candidates can apply for their visa through the Kenya government's eVisa portal or visit the Kenya High Commission in Canada, 415 Laurier Avenue East, Ottawa, Ontario K1N 6R4.

(Health Education Session in the Community)
F) Dress Code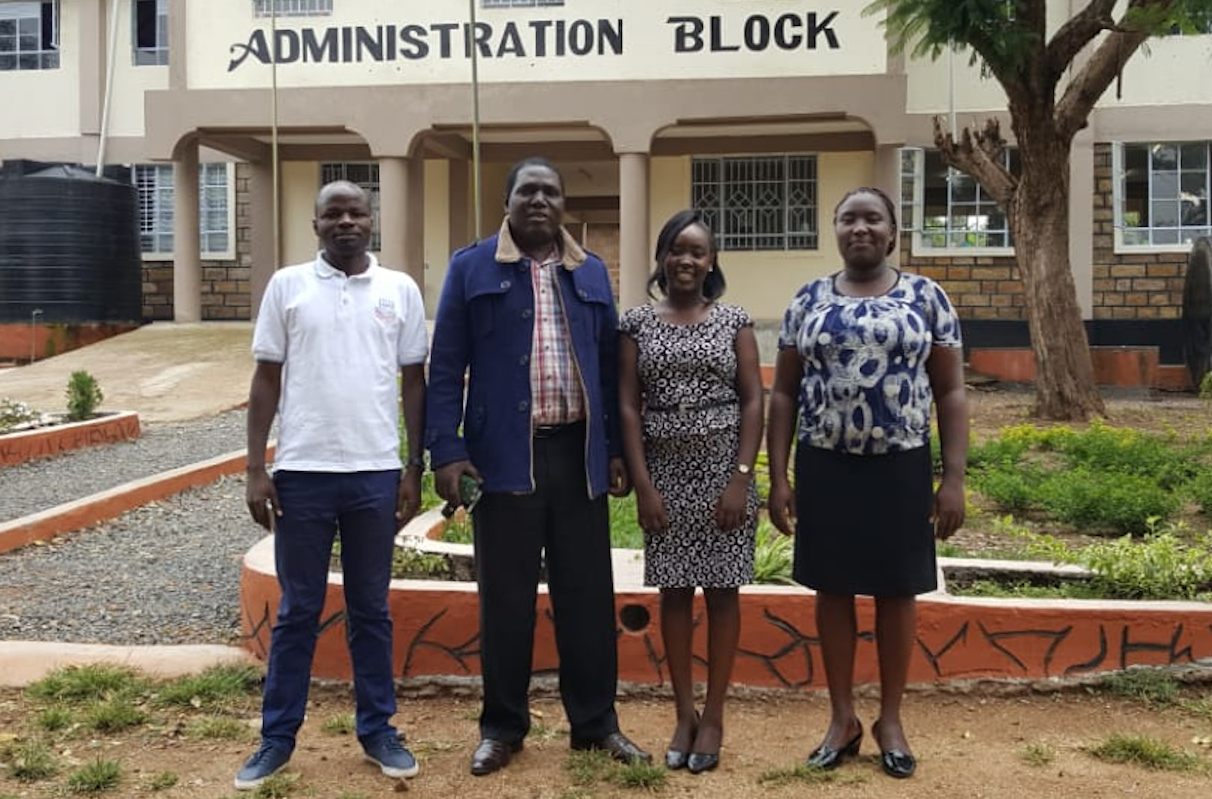 (Example of Dress code for schools in Uganda and Kenya)
G) Estimated costs for a 3-week CFE (all costs in Canadian dollars):
Single journey ordinary visa: $67.00 CDN
Travel Costs
Flight-Vancouver to Nairobi: approximately $1300.00 CDN
Flight-Nairobi to Kisumu: $69.00-133.00 CDN
Taxi-Kisumu to Kadongo: $53.00 CDN Check with Edward three weeks before departure that your should still using same recommended taxi driver – Samuel Otieno Obute. TCs are recommended to contact taxi driver two weeks before theirvvarrival date.  Sammuel Otieno Obute can be contacted by phone: 0710315345.
 Safari at Masi Mara national Reserve: 700.00 US and up!
Daily Taxi service to/from school: ~$10.00 CDN

( Contraception is the Solution!)
H) Contact information:
The coordinators of the HecomKenya project would be happy to answer any questions that prospective teacher candidates might have, and they encourage teacher candidates to contact them using the following contact information:
Edward Agola
P.O Box 263-40223 Kadongo, Kenya.
Along Kisumu-Kisii Road.
+254 715 702 970
edwardagola@gmail.com
__
Please refer here for disclaimers which must be fully understood by each TC applying to this or any International CFE program.