Kampala, Uganda
This partner will host:
2 – Secondary teacher candidates (May 17 – June 4, 2021)
2 – Elementary teacher candidates (June 7 – 25, 2021)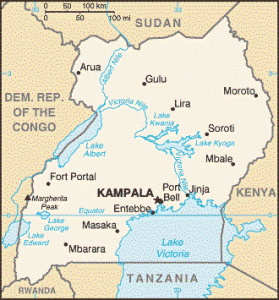 Teacher candidates doing a CFE with Stand Tall, Kampala, Uganda, are in for a treat.  They will be expected to bring new skills, innovative workshops and up to date professional training to the school, and in return they will not only be enriched by the experience of living in a foreign country, but also develop many new friendships while exchanging deep cultural understandings and instructional pedagogies and practices.
(Ugandan children attending Stand Tall school)
A) Description of community partner:
Stand Tall Training Centre is a small elementary school in Kampala, Uganda that aims to provide its students with an educational environment that supports their growth, their learning, and their critical thinking skills. Stand Tall practices a child-centered approach to teaching and strongly encourages their pupils to question, and take an active role in their own learning. Stand Tall accepts pupils from financially disadvantaged backgrounds. The majority pay minimal fees.
The school provides an academic curriculum consistent with the requirements of the Ministry of Education in Uganda along with a vocational component. They participate in the weekly maintenance of the school as well as working in the school garden.  There is a weekly afternoon where the children participate in activities including art, music and baking.  There is a separate computer lab where all our pupils attend classes in computer skills. There is also a dedicated room for arts and crafts and a library storage area.
Children attending Stand Tall are divided into 4 levels depending on their previous schooling and ability. The levels (2-5) are roughly equivalent to grades 4-7. The school uses levels to remove the grade labels for older students that are placed in lower level classes.
Stand Tall provides a family like atmosphere that supports the psychological, emotional and academic development of its pupils. The relatively small student population allows the staff to interact personally with each child. The school environment encourages our learners to think of their school as a second home where they will be listened to and cared for.
To further your understanding of Stand Tall's work and mission, view this Youtube video.
B) Potential CFE activities: 
Some potential CFE activities and/or personal growth that teacher candidates may observe/teach/experience are:
collaborative planning of classes
a gradual movement from observation of classes, to working one-on-one, to small groups, to whole class instruction in consultation with the teachers.
sharing your skills in areas outside the curriculum such as in music or dance or drama or practical arts or visual arts along with sports, which can be anything from Frisbee to soccer and volleyball.
Assisting in preparing and teaching innovative lesson plans that will elicit enthusiasm and participation from the learners.
sharing with the students any special skills, talents and interests (this is very much accepted and appreciated).
Note: teacher candidates should prepare to be flexible in work hours; some days may include regular classroom teaching, and other days may include breaks during the day and tutoring during 'off' hours.
A note from David Yuill, teacher candidates who did his CFE with Stand Tall in 2018:
"Be prepared for an opportunity quite unlike anything else.  Go with an open mind and be prepared to share your wealth of experience and try not to be amazed by the incredible students at Stand Tall.  On my practicum we built a flagpole, a garden, visited a public school in Kampala, and spent countless hours with the amazing Stand Tall students learning and sharing in areas well outside my specialization and I'm convinced will make me a better educator…."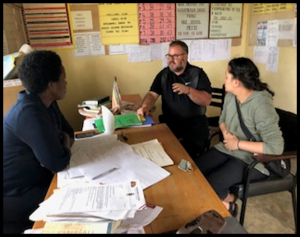 (UBC teacher candidates conferencing with Stand Tall administrator, 2018)
C) The partner's larger community
The Stand Tall Education Network is situated in the city of Kampala in the country of Uganda. There are many sites with descriptions of Kampala and information on Uganda. A good one is: Kampala Wiki Travel, http://wikitravel.org/en/Kampala.
A view of Kampala – Courtesy of  Simisa 
D) Required documents and vaccinations: 
In the past, a Yellow Fever vaccination and anti-malaria drugs have been mandatory for all Canadian travelling to Uganda. Individual requirements will vary according to what teacher candidates have received in the past.  Therefore, all teacher candidates bound to African locations must be assessed by a Canadian medical clinic, like the Vancouver Coast Health Travel Clinic, well before departure.
Please also note that it is highly recommended that teacher candidates have their medical assessment done in November or December as most insurance policies will cover these vaccinations, but only to a certain dollar limit.  If you have some vaccinations done in November/December of one year, you can have the rest done in January/February of the next year you will be making best use of your medical insurance (and possibly have all the vaccinations paid for) prior to departure
All successful applicants must purchase a travel medical insurance package.
E) Travel Documents
Prior to departure, teacher candidates travelling to and from Uganda must purchase from the Uganda Electronic Visa/Permit Online Application System either a 30 day single entry tourist visa ($50.00 US) or a 30 day multiple entry tourist visa ($100.00).  It is important teacher candidates understand that they are 'touring' and visiting schools and local Kampala communities and thus they apply as a tourist.  As the dates of travel are specified directly on the visa, teacher candidates are recommended to purchase this visa well before they depart (to allow for processing time).  An example of an issued 30 day single entry visa is located here.
Teacher candidates travelling to Uganda must also complete an International Arrivals Health Form.  This is either completed on the flight into Uganda and prior to landing (don't forget to pack a couple of pens in your carry-on), or just before passing through immigration.
F) Flight Bag Allowance
At the time of this blog entry (Jan 2019), teacher candidates were allowed to bring two bags not exceeding 23 kg (50 lbs) each, with each having a maximum total dimension of 158 cm (62 in) in L + W + H.
G) Estimated costs for a 3-week CFE (all costs in Canadian dollars): 
Return flights: approximately $1900.00 (KLM is a little more expensive but more direct and quicker)
3 weeks accommodation: approximately $22 per night totaling $445 for three weeks (includes breakfast and dinner).
3 weeks food: No cost.  Breakfast and dinner are provided through home-stay. Lunch is provided through school during school days.
In-country orientation fee: approximately $20
Taxi from Airport: approximately $54
Travel clinic and medical insurance: approximately $100 (but it can be quite a bit more or less depending on what vaccinations you have already had, and what you require).
Visa to enter Uganda (pre-purchased online with visa application): $50 USD
Practicum service fee for Stand Tall: approximately $300
H) Contact information:
The coordinators of the Stand Tall Education Network in Kampala, Uganda, would be happy to answer any questions that prospective teacher candidates might have, and they encourage teacher candidates to contact them using the following contact information:
There will be a couple of meetings in Vancouver with these coordinators to discuss the Stand Tall practicum and answer questions.

A video made by Jenna Rae Warne, a CFE candidate who visited Stand Tall in 2018
__
Please refer here for disclaimers which must be fully understood by each TC applying to this or any International CFE program.