TCs placed by the Responsible Reliable Recruitment, Training and Placement Specialists
This partner will host:
3 secondary teacher candidates (May 17 – June 4, 2021)
3 elementary teacher candidates (June 7 – 25, 2021)
A) Website: http://www.rrrecruitment.com/
B) Description of Community Partner:
Responsible, Reliable Recruitment offers induction training, advice and supports qualified Canadian teachers' needs before they start work with us in England and all through their time with Responsible, Reliable Recruitment. For this CFE, Responsible, Reliable Recruitment will match teacher candidates with UK teachers and contexts that best meet the teacher candidates' teaching interests, and/or experience and specialization backgrounds.
As these placements are largely focused on partnering you with schools that are looking to hire new Canadian teachers, it is highly recommended that only those teacher candidates committed to meeting the CFE goals, and who very open to the possibility of teaching in England, register for this CFE.
Moreover, it is essential that when talking to RRR, that the UBC teacher candidate be very clear about whether they wish to teach in the UK after their CFE, or not.  This helps RRR match the teacher candidate up with the most appropriate school.
(London – Photo by: 12019 )
C) Some potential CFE activities that teacher candidates may observe/teach/experience are:
UBC teacher candidates doing their 3 week CFE through Responsible, Reliable Recruitment will not only get to spend time observing and assisting instruction in English classrooms, but they will also be provided time to speak with teacher-recruiters and school principals to learn more about the British teaching/learning contexts and guiding curriculum, regulations for entering exiting Britain, teacher wages and responsibilities, etc…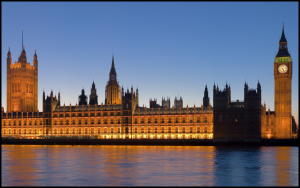 (Palace of Westminster – London – Photo by Jim Trodel)
D) The partner's larger community:
E) Required documents/vaccinations:
Please check the Government of Canada's Travel Advisories web page for United Kingdom for required entry/exit documents. It is your responsibility to check with the United Kingdom Embassy or one of its consulates for up-to-date information. Common documents required for non-British Citizens (and teacher candidates) to enter/exit England are:
Valid passport
Work/Study Visa
Travel medical and dental insurance
Teacher candidates are required to stay in continual contact with Responsible, Reliable Recruitment and to ensure that their Visa is completed well before their arrival date in the UK.  Processing times can take up to 2 months, so teacher candidates are encouraged to contact the Responsible, Reliable Recruitment contact soon after they are introduced.
A note from Bob Greatrex from Responsible Reliable Recruitment regarding visas:
"I have looked again at the visas. The student visa clearly says 'no' to any 'work'. People get conflicting opinions from different immigration officers here. Some officers say student teaching is work, others not. I could not guarantee a student would get through immigration with a student visa. On the other hand, I know some who have. One I remember said he was coming to observe teaching in England for a comparative education assignment he was doing".
There is another visa, called a Tier 5 or Youth Mobility visa (for more information see: https://www.gov.uk/tier-5-youth-mobility/overview), that UBC teacher candidates between the ages of 18 to 30 years of age, can use enter/exit the UK.  However, there is an issue using this visa to enter/exit the UK  to do a CFE. Bob notes:
"If students use their Tier 5 visa, it is for a fixed term (2 years), this will impact on their time to teach and work after graduation (because they will have less than two years left, they will not be able to work for two years).
In simple terms, the UBC teacher candidate comes for a CFE placement and then starts a Tier 5 visa in February 2017, knowing that it runs out two years later.  If a teacher candidate wants to teach in England after graduation, they can teach Sept 2017 till, say, Christmas 2018 (four semesters). It is important to note, that this time limitation is not insurmountable, they can switch visas to stay longer, but at an extra cost".
Finally, Bob reminds teacher candidates that, "Students who have come in the past are usually either eligible for a UK or an EU passport. Even if they do not get this for the placement (and use the Tier 5), they sort it out before the Tier 5 runs out and while they are over here.
Again, it is teacher candidates are required to stay in continual contact with Responsible, Reliable Recruitment and to ensure that their Visa is completed well before their arrival date in the UK.
Finally, regarding vaccinations, teacher candidates are required to review the vaccination requirements under the health notices tab on the Government of Canada's Travel Advisories webpage for the United Kingdom.
F) What special services does the partner provide teacher candidates?
Responsible, Reliable Recruitment is a teacher placement service that prepares Canadian and all overseas teachers candidates to teach in the UK. Thus, Responsible, Reliable Recruitment is committed to providing UBC teacher candidates doing a CFE through their organization with experiences and pre-teaching acclimatization sessions that better equip the teacher candidates to both engage in teaching while on their CFE and if/when starting a job in the UK. The Responsible, Reliable Recruitment  advisor's sole purpose is to assist teacher candidates through their CFE and, if the teacher candidate so desire, through the process of obtaining a job.
(London transport – Credit Martin49 and Picudio)
G) Estimated costs:
NB – Costs listed below are estimates and subject to change/  Teacher candidates are required to pay for all costs except for those stated otherwise in the following list [this clarification statement was added May 3, 2019].
Flight from Vancouver to UK: $ 1100 – $1500 Canadian (CDN), return
Public Transit from UK Airport to school/residence: Responsible, Reliable Recruitment would provide transport (taxi cab most likely) to collect teacher candidates from eh airport and take them to their accommodations, at no cost to the teacher candidate.
Accommodation for 3 weeks:Responsible, Reliable Recruitment offers to source suitable accommodation for teacher candidates, that matches their preference as closely as possible. Please indicate your comfort in sharing a room or public spaces. Possible accommodations include:

Nearby hotel. (This is likely to be the most expensive).
Stay with a host family (school staff). The teacher candidate would have their own room, but they may be sharing facilities such as bathroom, toilet, kitchen. The teacher candidate would need to be flexible, as some families want to incorporate their guest into the family life as much as possible, for example some shared meals. Protocol in this case is to offer the family something for what the English call 'board and lodgings'. A 'thank you' gift from Canada is always much appreciated. One advantage of this is that the teacher candidate is likely to have the opportunity to travel to and from the school with the member of staff.
Stay with an RRR teacher(s).  This would give the teacher candidate the opportunity to see that accommodation at first hand, and to talk to current RRR teachers about living and working in the UK. Again, some contribution to living costs is appreciated/expected. Teacher candidates are likely to be staying with fellow Canadians, so they might ask for something from home they are particularly missing, Tim Hortons coffee and a particular Ranch Dressing have been previously requested!

Visa & travel documents: For current visa costs, please see https://www.gov.uk/tier-5-youth-mobility
H) Q&As
1) Is there any additional costs completing a CFE through RRR? RRR makes no charges to either graduates when they sign up to teach or students when they sign up for an overseas field experience.
2) How does RRR match UBC TC's with a school in London? RRR has a professional discussion with each student individually, at a time convenient to the student (i.e. when they haven't had a BC field experience, or pressure of an assignment deadline etc). This is usually done via the web (Email and/or Skype). This can be at anytime, quite often in the past students have chosen a time during the Christmas holiday. Sometimes students want to be together, so RRR waits until they have spoken to all UBC TCs. RRR then looks to find a school that matches the student's preferences.
3) How soon will teacher candidates know the location of their UK school placement? As soon as they email RRR?  RRR starts looking after the first professional discussion with the teacher candidate.  However, RRR already has  connections with schools who have expressed an interest in hosting Canadian teachers. Schools new to the program are joining all the time.
4) How much teaching is required of teacher candidates? Do teacher candidates adopt their own class in London?   One of RRR's roles is to be a conduit between the teacher candidate and the school. RRR asks teacher candidates about their instructional abilities and objectives during the professional discussion, and RRR uses this information as a basis for their conversation with the schools. If RRR is in any doubt (and this applies to all aspects of the program) of the teacher candidates ability, they will contact Keith for guidance. Elementary students will usually be placed with an elementary class teacher, and middle and high school students will also usually be placed with a middle or high school teacher and follow her/his timetable (typically, an English or math teacher will see the same class everyday, or nearly everyday because these are 'core' subjects. Other subjects, you will see more classes of students less often).
5) Where does the month of June fall in the academic year for elementary students in London?  The UK academic year is split into three terms (semesters), historically based on the Christian year. So, September to Christmas, Christmas to Easter, Easter till the third week of July. At the end of the first two terms, UK schools have a break of about two weeks, at the end of the third term a longer summer break of about six weeks. In addition, each term has a one week mid-term break. So, in theory, UK schools work six periods of six or seven weeks (this is theoretical because the religious festival of Easter moves in the annual calendar. So, if Easter is early the second term is a bit shorter and the third term longer, and if Easter is late vice versa).
6) What are UK Head Teachers looking for in new hires?  An excellent list of characteristics, attitudes and knowledge for those travelling to do a CFE in the UK, or wishing to land a teaching job in the UK, can be found here by Head teacher Anita Laws.
I) Contacts
Teacher candidates will be assisted by the Canadian Responsible, Reliable Recruitment resourcing coordinator. Teacher candidates are not to contact the coordinator until they have been told to by the UBC CFE Coordinator.   The Canadian UTeach resourcing coordinator's contact information is:
Bob Greatrex
Placement Manager | Responsible, Reliable Recruitment
Email: bobjgreatrex@aol.com
__
Please refer here for disclaimers which must be fully understood by each TC applying to this or any International CFE program.