UBC teacher candidates are placed through Junior Class Learning.
This partner will host:
5 – Secondary teacher candidates (May 17 – June 4, 2021)
5 – Elementary teacher candidates (June 7 – 25, 2021)
      (Milford Sound, New Zealand)
A) Website: https://www.jcl.co.nz/ and more specifically, Educational-Tours
B) Description of Community Partner
Since 1995 JCL Education (New Zealand) Ltd. have successfully hosted international field experiences from approximately a dozen different North American Universities.  They provide exciting opportunities for students nearing the completion of their studies to gain firsthand experience of the New Zealand school system – a system which is widely recognized throughout the world for its innovative approach to critical mathematics and literacy.
During their time in New Zealand, UBC teacher candidates will stay with a New Zealand family in or near the city of Auckland, and visit one or more local schools.  Teacher candidates will meet with JCL for at least one dinner meeting to evaluate and support the teacher candidate's progress/experience.
Teacher candidates will also have the opportunity to explore and enjoy the sights and natural beauty of New Zealand in their own time.
C) Potential CFE activities: 
Teach under close super vision with a highly skilled and carefully selected co-operating teacher.
Experience teaching at a specific grade level within the school (if requested by UBC).
Observe details of organization and management specific to their class and school.
Understand how teachers in New Zealand get to know children, establish routines and determine individual needs.
Plan, teach, and evaluate a series of lessons in language and reading, mathematics and at least one other curriculum area of their choice.
Develop and use long and short term planning systems that facilitate extended periods of classroom teaching control.
Have the opportunity to teach the total class program for at least five consecutive days
Attend and take part in professional meetings and whole staff curriculum development meetings as available.
Have at least two teaching sessions critiqued by a professional teaching administrator.
Identify their own areas of need an reflect upon their progress.
If and when possible, work in schools with high populations of Maori students.
               (Earth Day presentation Thorndon School, Wellingdon New Zealand)
D) The partner's larger community
For more information about New Zealand please visit:
E) Required documents and vaccinations:
It is the teacher candidate's responsibility to ensure they have a valid passport and all required travel documents for entering and leaving New Zealand and for conducting a Community Field Experience in New Zealand Schools, day-cares, etc. For more information visit the Canadian travel advisories and information pages here:  https://travel.gc.ca/destinations/new-zealand
Soon after being informed of their international CFE placement, teacher candidates are also required to prepare and send their partners the following documents:
An introductory letter
Curriculum vitae (or detailed resume)
Criminal Record Check Authorization (from UBC)
a passport size photograph
A New Zealand (NZ) Electronic Travel Authorization (eTA or NZeTA). To access this form see: http://immigration.govt.nz
Copies of a Suggested Introductory Letter and the Criminal Record Check Authorization can be found here: https://blogs.ubc.ca/ubcfe/documents/
Teacher candidates must also carry appropriate travel medical and dental insurance, and review the vaccination requirements for New Zealand under the health notices tab on the Government of Canada's Travel Advisories webpage for New Zealand.
F) Estimated costs for a 3-week CFE (all costs in Canadian dollars):
Flights: ~ $1700.00 CDN
Homestay, all meals , school/ teacher, taxes & JCL fee – $2600.00 CDN
Weekend trips: will depend on each teacher candidate's interests and travel destinations.
(Abel Abel Tasman National Park, New Zealand)
G) Questions and Answers
What are the typical locations of home stays? Homestays are usually within walking distance of the schools in Auckland and nearby communities. In the case these are not located near the schools, the homestays will take teacher candidates to school and pick up them up after school. Below are photos of a typical homestays (images provided by JCL):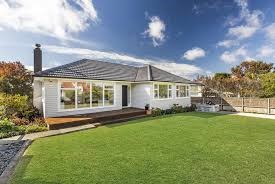 What are the typical services provided by homestays? Homestays are often run by welcoming families who often have children attending the elementary and/or secondary school. Homestays treat teacher candidates like they are family and provide 3 home cooked meals a day plus snacks after school.  Teacher candidates have their own bedroom and in most cases their own bathroom (sometimes they might share the bathroom with the children).
What other services might a homestay offer?  After school or on weekends, homestays may offer to shuttle the teacher candidates to/from tourist destinations.  However, this service is not required nor should it be expected.
Does JCL offer services to assist teacher candidates explore tourist destinations in and around Auckland? JCL is not a travel agency nor does it have the resources to assist teacher candidates in planning after-school or weekend tourism activities.  When they arrive, teacher candidates can ask their homestays for tourist activity suggestions. They can also contact a tourist company in Auckland before they arrive for quotes on recommended activities.
How much should a teacher candidate budget for a weekend away visiting nearby towns and stops of interest?  The amount a teacher candidate can spend on a weekend trip will vary on distance and types of accommodation, but it is a good rule of thumb to be ready to spend an average $300 NZ dollars a weekend.  Youth hostels are one way to save costs.
H) Contact information:
Note! UBC teacher candidates must not contact any contacts for this partner until after you have been offered, and have accepted this placement. The CFE coordinator will instruct teacher candidates when they are allowed to get in touch with their placement contacts.
Judy Knott and Mary McDonald
(649) 535 5383
mary@jcl.co.nz
judy@jcledu.co.nz
JCL Education New Zealand Ltd
17 Paparoa Road
Howick, Auckland, New Zealand
www.jcl.co.nz
__
Please refer here for disclaimers which must be fully understood by each TC applying to this or any International CFE program.