Chaoyin Primary and Middle Years Schools
This partner will host:
4 secondary teacher candidates (May 17 – June 4, 2021)

4 elementary teacher candidates (June 7 – 25, 2021)
A CFE placement in a Chaoyin Primary or Chaoyin Middle brings teacher candidates in touch with a progressive teaching and learning environment that both respects the history of its community and encourages academic excellence alongside artistic expression.  A CFE in the Chaoyin English/Chinese bilingual school system will expose teacher candidates to new culturally diverse instructional methods while allowing teacher candidates to share their own teaching strategies, curriculum and methods.
Although, all applicants are encouraged to apply for this CFE, selection preference may be given to teacher candidates interested in exploring the opportunity to teach at an IB international school and or who are interested in teaching ESL/EAL learners. For elementary placements, preference is also given to those teacher candidates wishing to teach in the primary years program.
A) Websites: 
B) Description of Community Partner
The Chaoyin School system is IB accredited and includes one primary school campus (age 7-12 years olds) and two middle school campuses (13-16 years old). Our newly founded Huangdao campus includes both primary and middle ages together at the same campus. We are open to working with both secondary and elementary TCs. All teacher candidates will have the opportunity to experience a variety of age groups during their CFE in Chaoyin schools.
Chaoyin Primary School
Qingdao Chaoyin Primary School is a full time primary school founded by Qingdao Chaoyin Industrial Co., Ltd. with the approval of Qingdao Education Bureau. It is one of the two demonstrative schools that won the "China Sustainable Development ESD Project" of UNESCO award in Shandong province. Chaoyin Primary School has 21 classes and 682 students. The school covers an area of 13 acres, located in Zhenjiang Road with convenient access to public transport. The school is well known for its beautiful environment, complete education facilities, and modern auxiliary facilities, including physics labs, computer labs, reading rooms and cafeteria. The school strictly implements the new Chinese curriculum standard, and actively engages children through classroom teaching that is "Independent, Cooperative, and Explorative". The school teaches the national curriculum, emphasizes English instruction, and provides training in the aspects of calligraphy, painting, music, dancing, sports, and scientific and technological invention.
Qingdao Chaoyin Middle School is a private school which was also founded by Qingdao Chaoyin Industrial Co., Ltd. in 1998. In 2001, Guangrao Road campus was founded. Due to the fact that we hire qualified teachers and promote modern teaching approaches, the students have been able to achieve excellent results in the High School Entrance Exam. This in turn attracted additional new students and has resulted in us needing to construct, in 2006, the existing new Middle school on Anshan Road. Qingdao's Middle School now contains 77 classes, more than 3,500 students and employs 287 teachers. Chaoyin Middle School has been awarded as "The Excellent School" and "The Most Trustable Organization of Qingdao" by the Civil Administration Bureau.
C) Some potential CFE activities that teacher candidates may observe/teach/experience are: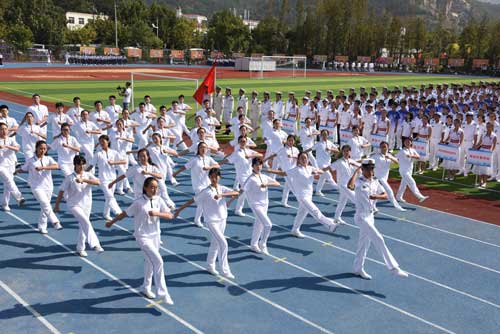 The IB course content design and implement project.  In this project,  teacher candidates will have the opportunity to work with Chaoyin IB teachers and IB coordinators to design and implement the IB course content, projects and activities. A reference letter will be provided for candidate who has outstanding contributions to the IB program.

Weekend ESL campus project.  Teacher candidates will design and plan their own ESL weekend unit/project. They will have opportunities to deliver their ESL weekend units during one of the three weekends. Participants include students  from the Chaoyin School system and students recruited from other schools. Teacher candidates may participate in recruiting students if interested.

Culture exchange project. For this project, teacher candidates prepare a presentation giving and introduction and overview of Canadian culture and then present it to Chaoyin students and teachers. This will be tied into a project where the teacher candidate assists Chaoyin students prepare a presentation on Chinese culture and present it to the UBC teacher candidates.

Spring Excursion. The Chaoyin Schools have a one day school excursion each Spring semester. The schools organize interesting and engaging activities for students to participate in during the excursion. For example, teachers and teacher candidates may take students to pick fresh strawberries from local orchards while learning some agricultural knowledge through talking to fruit farmers. Additionally, teacher candidates may assist with a visit to the local historical museum and to plan activities that help children develop a better understanding of their hometown and important historical events. Teacher candidates will help organize and help implement the spring excursion.

Speech contest. Each year Chaoyin students participate in a speech contest. UBC teacher candidates are encouraged to organized the English speech contest, help students prepare for the context, and then act as one of the judges.

Chaoyin School Arts Festival. The Chaoyin Art Festival is one of the most popular school events and is celebrated together with the Chinese Children's Festival. Exhibitions showing students' artwork are planned as are opportunities for students to share and exchange their understandings about art and artistic methods/techniques. The focus of this festival is to inspire teachers and students to be more artistic and creative. Teacher candidates who are interested in teaching art may have the opportunities to teach and help students with their various art work.

Work experience project. The 'Labour Worker Experience' project provides a great opportunity for students to learn how to work with their hands. This activity will occur over a week and engages students in activities that allow them to try and develop some basic skills required for being a carpenter or a miner. Also avail to student to choose from are simulated driving experiences, photography classes and filming & editing sessions. UBC teacher candidates will help supervise and assist students during the labour worker experience project, and they will likely get a chance to engage in activities themselves.*** Note: The Chaoyin School system organizes various activities every year. The last 4 activities are the most common ones held during the CFE period. The first 3 projects are for CFE teacher candidates wishing to expand their experience in teaching and course planning under the Chinese education system. A detailed list of potential or and scheduled activities, as well as introductions and outlines of projects, will be handed to candidates before their arrival.
D) The partner's larger community:
Lying on the south coast of the Shandong Peninsula, Qingdao, China is a city of picturesque red-tiled roofs nestled between green hills and blue sea. The mild climate, the bathing beach, and Mount Lao make Qingdao a popular health and holiday resort, particularly in summer when visitors come here for sightseeing and escaping the heat. Qingdao is also an industrial city and a major foreign trade port. Its mineral water, wine, and excellent Tsingtao Beer are world-famous. Among the local arts and crafts, shell carvings are especially popular with tourists.
* Please note, this partner gives preference to teacher candidates in the IB program.
E) Required documents:
A type F single entry visa is required to travel to China and do a CFE in the Chaoyin School System. A detailed document listing the relatively simple procedures for obtaining a Chinese visa will be provided by the Chaoyin coordinator, once the student has been officially assigned a CFE placement in the Chaoyin School system. (In short, an invitation letter from Chaoyin schools is required when applying for a Type F Visa. The Chaoyin Schools will provide this invitation letter once the teacher candidate has been officially assigned a CFE placement with the Chaoyin School system.  This is an example of a past invitation letter).
For more information about the steps for applying for a Chinese Visa in Vancouver (especially if you wish to enter and leave China multiple times), please check this website: http://vancouver.china-consulate.org/eng/visa/Visa/ 
Teacher candidates will also be required to email Bell Li an information package before December 31 . The information package will include:
A positive health checkup record or doctor note confirming a healthy history (TC's submit this to their Bella Li before Dec 31) (Doctors note template)

A photocopy of the teacher candidate's information page from their passport – the page with the TC's photo and student card (TC's submit this to Bella Li before Dec 31, 2016)
Updated Resume (TC's submit this to Bella Li before Dec 31)

Two character references (see examples)

TC's submit this to Bella Li before Dec 31)

Official letter from UBC indicating a criminal record check has been cleared by each UBC teacher candidate, and that the teacher candidate is currently enrolled in the UBC program and is in good standing (submitted to Bella Li, Due by Dec 31st)
Moreover, most teacher candidates are billeted in Qingdao home-stays.  Consequently, he Qingdao CFE coordinator asks the teacher candidates to complete a home-stay application form (usually between the time Chaoyin schools receives the teacher candidate's information package and just after the teacher candidate has been assigned a school).
Although optional, the Chaoyin School system recommends teacher candidates purchase International Travel Insurance and bring a copy with themselves. Chaoyin School will buy a local insurance in Qingdao Chaoyin for all UBC students coming to Chaoyin.
Other materials, like the Chaoyin School's Teacher Duties and Responsibilities document, School Rules, Weekly Plan will be handed out to the teacher candidates one week before their CFE starts.
Some common Questions about required documents:
1. Where do UBC teacher candidates obtain visa application forms? Detailed information about the visa requirements, and application forms can be found on the Chinese Visa Application Service Centre website, http://www.visaforchina.org/YVR_EN). If you are unable to download the documents, please contact the local visa application centre for assistance.
2. When do teacher candidates get the official invitation letter for Chaoyin Schools? The Chaoyin placement coordinator will send out invitation letters required for your visa application.  These will arrive towards the end of February. It is recommended that you apply for the visa one month before your departure date. So if you are coming in April, you can start to apply the visa in the beginning of March. If you are coming in June, you can start to apply in the beginning of May.
3. What is the best time for teacher candidates to apply for a visa before their planned departure for China?
It is advisable that teacher candidates apply for a visa one month before their intended date of entry into China but not earlier than three months. The Chinese visa is typically valid for three months. If a teacher candidate applies for a visa too early, the visa may expire before their departure. For instance, if a teacher candidate plans to enter China on July 1, the best time to submit their application would be around June 1 (counting working days only). (For more information see the Vancouver Visa Application Centre website)
Please note that the validity of some visas is equal to or shorter than one month. In that case, teacher candidates may apply for the visa around two weeks before their intended date of entry into China.
It is recommended that teacher candidates do not to apply too early in advance, otherwise their visa may expire before their departure.
4. Are teacher candidate advised to ask their FA's and SA's permission to take time of from their practicum in order to apply for and pick up their visa from the Chinese Visa Application Service Centre?
Teacher candidates are advised to not take time off to apply for, and pick up, their Chinese visa. According to the Chinese Visa Application Service Centre, visa application drop offs and pick ups can be made by a third party.  
Teacher candidates who can not drop off and/or pick up (or have a third party drop of  and/or pick up) their visa applications during practicum time, are encouraged to contact the CFE coordinator.
G) Important things to consider while in Qingdao.
Teacher candidates must be aware that teachers vacation days and professional days are sometimes not assigned a specific date until a few weeks in advance.  Thus the vacation schedule you receive from the Chaoyin coordinator well in advance of your CFE is only a proposal and based on last year's vacation days.
Teacher candidates are strongly encouraged to not plan activities for vacation days before the government assigns them.  You may plan for weekends, however do not plan for a three day long weekend vacation (and definitely do not book travel such as flights or buses) because the holiday may change from Friday to Monday two weeks in advance (for example).
H) What benefits will this partner provide teacher candidates? 
The Chaoyin School system will provide the following benefits to teacher candidates doing a CFE in the Chaoyin School System in Qingdao, China:
Dorm accommodations – full compensation

Meals – breakfast, lunch provided through school cafeteria

Teaching materials -Chaoyin School will support candidates with teaching materials
I) Questions and answers 
1) Are the teacher candidates' accommodations near to each other?  
Yes and no.  Yes if you are doing your CFE at the same school as another teacher candidate, and no if you are at different schools. This is because the Chaoyin campuses are located good distances away from each other, thus teacher candidates at different campuses will also be living apart from each other.
2) Why are there differences in teacher candidates'  accommodations? 
There are differences in accommodations largely due language challenges. For example, most teacher candidates will be placed in Chinese families homestays, where the child is typically the only one that knows some English. This helps ease the communication process between the teacher candidate and the family. However, in the case of the Huangdao campus, because Chaoyin students live in dorms, teacher candidates are also placed in dorms. If a teacher candidate was to live with a Huangdao family, where there are no English speaking children (remember the children are back in the dorms), communication with the adults would be difficult.  So for the Huangdao campus, teacher candidates are assigned to the dormitory.
3) If I am in a dorm and not a homestay, how will I be immersed in Chinese culture?
Chaoyin school students and teachers will be more than glad to share their knowledge of the Chinese language and culture with you regardless of your accommodations.  Moreover you will be immersed in it at the school, you visits to local attractions and city life, and it will be present in the dorms.
4) Are the washrooms in the Huandao dorms shared with the students and/or staff? Will there be other local teachers that are staying at the dorm too?
The washroom is shared among the Huandao school staff. The shower room is also shared with students. Local Huandao teachers also stay in the dorms.
5) I can't seem to find the Huangdao campus on Google Maps.  Can you help me find it?
The Huangdao campus is new and about 1.5 hour drive  from the other campuses. The address is 197 Liupanshan Road, Huangdao District, Qingdao. The area is a newly developed neighborhood called Huangbuling, thus the address may not show up on Google Maps.
6) Since the school & school dorm is located away from the main city, will we be able to use our afternoons and evenings to experience the rest of the Qingdao or do we have to stay in the dorm? 
UBC teacher candidates are free to explore Qingdao and Huangdao in the evening. Teacher candidates can cab to the city centre after work.  For the teacher candidates at the Huangdao campus it costs around $20CDN to visit the city centre. This is cheaper if teacher candidates share the cost.  There also is a Qingdao bus that drives teachers from the Huangdao District to the Qingdao city center every evening. It leaves around 17:30 from the Huangdao campus. the Chaoyin CFE placement coordinator is quite willing to assist you with arranging this transportation.
7) Can teacher candidates use their phones and access Twitter and Google?  For more information see Cell Phones and VPN Connections in China.
8) What time commitment is required of UBC Teacher candidates?  UBC teacher candidates are expected to work alongside their Chaoyin teacher hosts, and are not expected to work more than 8 hours a day.  This does not include commuting to/from the school.

9) Does a teacher have to be in the IB cohort/stream to be able to apply for, and attend, this international CFE?  No.  Although preference is given to those teacher candidates in the IB program, a teacher candidate need  just be very interested in the opportunity of teaching in an international IB context to be considered for this CFE.
I) What special services the partner provide teacher candidates?
The Chaoyin School system will provide the following special services to teacher candidates doing a CFE in the Chaoyin School System in Qingdao, China:
Free Airport pick-up.

Homestay will assist teacher candidates reach the schools each day.

The Chaoyin coordinator will act as the translator when needed.

For any special services required by TCs, they can contact the Chayoyin placement coordinator using the information below (

Note:  UBC teacher candidates must not contact Mr. Pope until after they have been offered and have accepted this placement, and have been instructed by the CFE coordinator

).
Contact Name: Emily

Office Number: +86 (532) 8579 6196

Office Address:

Chaoyin Group

Address:Rm 1910, Huarun Building B

No.6-Jia, Shandong Road

Qingdao, Shandong, China 266001
__
Please refer here for disclaimers which must be fully understood by each TC applying to this or any International CFE program.