UBC TCs are placed by the Intitut National du Professorat et de l'Education (INSPÉ) de l'académie de Strasbourg, Université de Strasbourg, France
This partner will host:

2 secondary teacher candidates (May 17 – June 4, 2021)
2 elementary teacher candidates (June 7 – 25, 2021)

(Les Ponts Couverts – Strasbourg, France)
Elementary and secondary teacher candidates placed in Strasbourg will have the opportunity to observe and engage in a placement rich with history and progressive instructional approaches.  Although a teacher candidate would benefit from fluency in French, UBC teacher candidates will be able to communicate through English.  In fact, teacher candidates would be encouraged to teach English and ESL classes and teach content classes through English.
In the past, UBC teacher candidates have been welcomed by and placed in their 3 weeks CFE with partners such as the European School. The European school has appreciated UBC teacher candidates in the past and has even employed one full time! They have just moved into new premises this year, and are enjoying their new wonderful working conditions.  Check it out!
A placement in Strasbourg is a perfect placement for those wanting to strengthen their French speaking abilities, or practice their English/ESL/EAL instruction.
A) Websites:
B) Description of Community Partner:

Université de Strasbourg was created in 2009 by the merger of three existing universities, with one dating from 1538. The university currently has approximately 41,000 students with approximately 5,700 new students enrolling each year.
Teacher candidates who do a 3 week CFE in the Ecole Européenne de Strasbourg  will observe and engage in instruction that embraces the following school objectives:
"to give pupils confidence in their own cultural identity – the bedrock for their development as European citizens;
 to provide a broad education of high quality, from nursery level to university-entrance;
 to develop high standards in the mother tongue and in foreign languages;
 to develop mathematical and scientific skills throughout the whole period of schooling;
 to encourage a European and global perspective overall and particularly in the study of the human sciences;
 to encourage creativity in music and the plastic arts and an appreciation of all that is best in a common European artistic heritage;
 to develop physical skills and instill in pupils an appreciation of the need for healthy living through participation in sporting and recreational activities;
 to offer pupils professional guidance on their choice of subjects and on career/university decisions in the later years of the secondary school;
 to foster tolerance, co-operation, communication and concern for others throughout the school community and beyond;
 to cultivate pupils' personal, social and academic development and to prepare them for the next stage of education".  (See The School)
C) Some potential CFE activities that teacher candidates may observe/teach/experience are:
Observe, assist and teach in a grade/subject areas similar to those taught in Canada.
Observe, assist and teach English and English as a Second Language.
Observe and assist other grades and subjects in the school.
Observe and assist with teacher specialists.
Observe and assist with field trips and after school activities.
Present an overview of Canada's history, geography, and culture.
D) The partner's larger community:
Strasbourg is located in Alsace, in the heart of the Rhine area. It is also famous for its beautiful historical centre – the Grande Île – which was the first city centre to be classified entirely as a World Heritage Site.
Strasbourg is one of the nine largest cities in France with nearly half a million inhabitants in a metropolitan area spanning across the river into the German city of Kehl, on the eastern bank of the Rhine.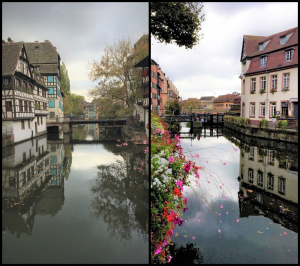 (Photo courtesy of: Alex Tabunar)
The city itself is the seat of the Council of Europe, the European Court of Human Rights, the European Ombudsman, the Eurocorps, the European Audiovisual Observatory and, most famously, the European Parliament.
(Strasbourg Cathedral – Courtesy of: Alex Tabunar)
E) Required documents/vaccinations:
Please check the Government of Canada's Travel Advisories webpage for France for required entry/exit documents. It is your responsibility to check with the Embassy of the for France or one of its consulates for up-to-date information. Common documents required to enter/exit France are:
Valid passport
Current travel, medical and dental insurance
Teacher candidates are required to review the vaccination requirements under the health notices tab on the Government of Canada's Travel Advisories webpage for France.
F) What will this partner provide teacher candidates?
Once the teacher candidate has been informed they have been accepted to do a CFE in Strasbourg they are given the contact information for the coordinator in Université de Strasbourg, France. The teacher candidate contacts the coordinator and introduces themselves, and opens the conversations around potential schools placements and home-stays. The coordinator will suggest safe and comfortable home-stay accommodations*.
The Université de Strasbourg coordinator will also recommend modes of travel to/from the Strasbourg airport.
*Note: Although not required or expected, home stays often arrange for weekend trips, include teacher candidates on their now weekend trips, and can suggest safe/engaging trips for the teacher candidate to take. This is not to be expected but may occur naturally.
G) Estimated costs
Round trip flights from Vancouver to Strasbourg Airport (Sep 2015): $1100.00- 1500.00 CAD.
The cheapest and most viable option for transport from the Strasbourg airport to the city centre is by train and it costs approximately $7 CAD (4.5 euros one way). Tickets can be purchased from the airport by ticketing machines.
More information on shuttles and the train from the airport is available here: https://www.strasbourg.aeroport.fr/EN/Passengers/Access/Shuttle-train.html 
Accommodations and/or homestays are the TC's responsibility as these are not provided by the home institution. Airbnb's range from ~$35 CAD and up. Prices will vary greatly in the instance that rooms/apartments are shared or not.
Another option is sharing a hotel room which can be economical as well depending on available discount packages for the proposed dates.
H) Getting to/from/around-in Strasbourg
The majority of teacher candidates have flown from Vancouver to Frankfurt or Amsterdam, and then taken short flight to Strasbourg. Frankfurt is Strasbourg's nearest and most popular international hub. Once at Frankfurt international, the teacher candidate can then either take a train to Strasbourg (see bahn.com/i/view/GBR/en/) or a bus to Strasbourg: lufthansa.com/fr/en/Airport-Bus-Strasbourg. Note: If teacher candidates fly with Lufthansa, or their partners, the cost of the bus trip is usually included in the cost of the flight. To use the Lufthansa Express bus service, you must have a Lufthansa flight booked.
For more information on Strasbourg's transit please visit cts-strasbourg.eu/fr/. For more information on France's National Train System, see www.voyages-sncf.com/billet-train )
I) Contact
Note! UBC teacher candidates must not contact any contacts for this partner until after you have been offered, and have accepted, this placement, and have been instructed by the CFE coordinator:
Andrea Young
Professeur des universités en anglais, HDR
Responsable du CAREL (Centre d'Apprentissages et de Ressources pour une Education aux Langues)
Directrice adjointe, chargée des relations internationales et de la politique linguistique
Tél : +33 (0)3 88 43 82 89 (ligne directe)
andrea.young@inspe.unistra.fr
ESPE de l'Académie de Strasbourg
141 avenue de Colmar – BP 40102
F – 67024 STRASBOURG CEDEX
http://espe-carel.unistra.fr/web.carel/web/en/andrea_young/tout.php
(Photo courtesy of: Alex Tabunar)
__
Please refer here for disclaimers which must be fully understood by each TC applying to this or any International CFE program.