UBC teacher candidates are placed through Colleen Douglas Education.
NITEP students wishing to work in New Zealand schools with high populations of Maori students will be given placement preference.
This partner will host:

0 – Secondary teacher candidates (May 17 – June 4, 2021)
2 – Elementary teacher candidates (June 7 – 25, 2021)
A) Wairarapa Region (lower North Island): From breathtaking lush green plains to a beautiful rugged coast, the Wairarapa region of New Zealand has plenty to offer. Vineyards, farmland, bush ridden landscapes, and plenty of ocean! If you love nature, you're in for a treat!
(Source: Google Maps)
Wellington City website: If you ever decide you need a break from nature, about 1.5 to 2 hrs away from the Wairarapa region of the Island is Wellington, capital of New Zealand, which located at the Southwest tip of the North Island with an estimated population of over 400,000 residents.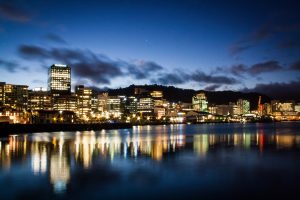 (Wellington night time view – Photo Credit )
B) Description of Community Partner
NITEP students will have the opportunity to visit, observe and teach in a variety of elementary or secondary schools in the Wairarapa region.
The Wairarapa Region has many opportunities for outdoor activities hiking etc… It houses many acres of vineyards, olive growing regions, along with some spectacular and breathtaking landscapes.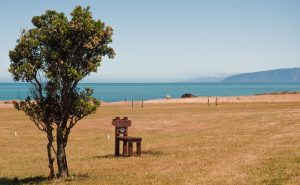 (Ngawi Golf course, Wairarapa, New Zealand – Credit: Phillip Capper)
A rental car is recommended for movement to/from the teacher candidates' accommodations to school (and back). Accessing nearby sights will require a rental car and a drivers licence.
Rental car prices for 20 days (June 5-25 – prices based off June 2020) start at around $500 CAD with further discounts available not including other fees (these estimated quotes are assuming pickup and drop off at Wellington airport.
C) Potential CFE activities: 
Experience and observe teaching at one or more grade levels within participating schools
Experience cultural interactions that expand their concepts of teaching and learning
Engage in activities with Maori learners (and in some instances Maori teachers) who will introduce indigenous ways of knowing, learning, and teaching.
Observe and learn how Maori culture and aspirations are being integrated in to the school curriculum and community endeavors.
Observe details of organization and management specific to their learners and schools.
Understand how teachers in New Zealand get to know children, establish routines and determine individual needs.
Plan, teach, and evaluate a series of lessons in language and reading, mathematics and at least one other curriculum area of their choice.
Have the opportunity to teach as often as it seems comfortable.
Attend and take part in professional tam meetings and whole staff curriculum development meetings (if possible and as available)
Identify their own areas of strength and need, an reflect up in their progress and learning
D) The partner's larger community
For more information about New Zealand please visit:
E) Required documents and vaccinations:
It is the teacher candidate's responsibility to ensure they have a valid passport and all required travel documents for entering and leaving New Zealand and for conducting a Community Field Experience in New Zealand Schools, day-cares, etc… For more information visit the Canadian travel advisories and information pages here:  https://travel.gc.ca/destinations/new-zealand
Soon after being informed of their international CFE placement, teacher candidates are also required to prepare and send their New Zealand contact the following documents :
An introductory letter
Curriculum vitae (or detailed resume)
Criminal Record Check Authorization (from UBC)
Copies of a Suggested Introductory Letter and the Criminal Record Check Authorization can be found here: https://blogs.ubc.ca/ubcfe/documents/
Teacher candidates must also carry appropriate travel medical and dental insurance, and review the vaccination requirements for New Zealand under the health notices tab on the Government of Canada's Travel Advisories webpage for New Zealand.
F) Estimated costs for a 3-week CFE (all costs in Canadian dollars):
Flights: ~ $1400.00 CDN round trip (updated for June 2020)
If the teacher candidate stays with the accommodation suggested by the New Zealand coordinator,  food and accommodation for three weeks is estimated to be $2,000.00 CDN. Costs will be higher if the teacher candidate chooses to live in different accommodations and eat meals not provided by their host,
Weekend trips: Costs will depend on each teacher candidate's interests and travel destinations.
(Castlepoint, Wairarapa, New Zealand. Credit: Phillip Capper)
G) Funding
NITEP teacher candidates that are randomly selected for this CFE will receive their funds through the same process as all teacher candidates receiving Go Global funding (See Funding).
Net Go Global funding for this CFE must be approved each year, however the 2020 CFE will be net funded $3,585.00 per NITEP teacher candidate. [PENDING UPDATE]
H) Contact information:
Note! UBC teacher candidates must not contact this partner until after you have been offered, and have accepted, this placement, and have been instructed by the CFE coordinator:
Colleen Douglas
colleen@colleendouglas.education
__
Please refer here for disclaimers which must be fully understood by each TC applying to this or any International CFE program.