The University of Winchester places UBC TCs in local elementary and secondary schools.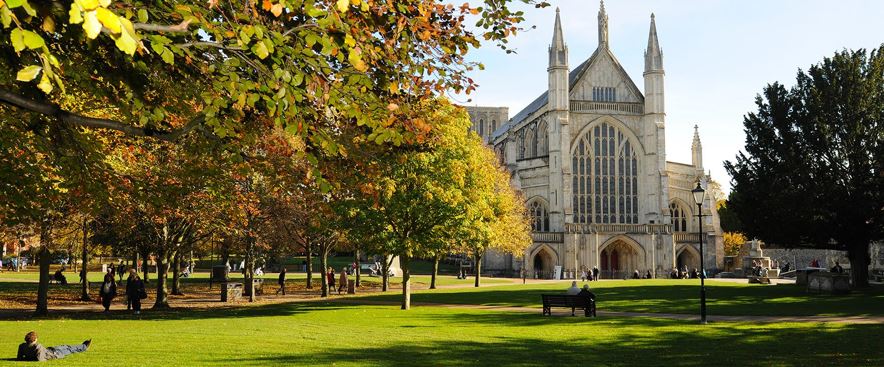 This partner will host:
0 secondary teacher candidates
2 elementary teacher candidates (June 7 – 25, 2021)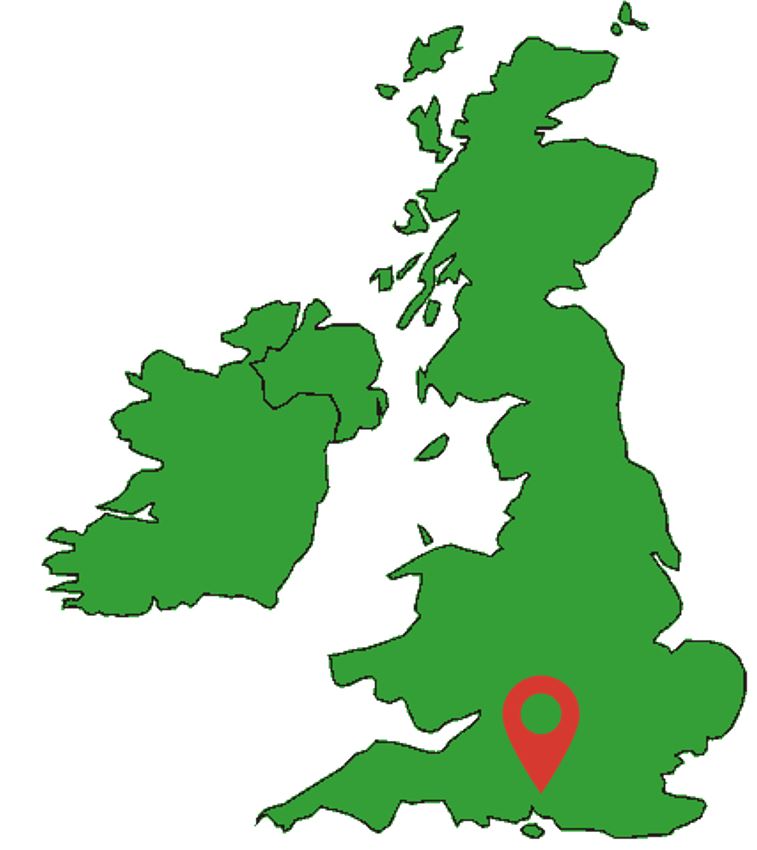 A Warm Welcome awaits UBC students at the University of Winchester. The Faculty at the University of Winchester has prepared exciting CFE opportunities in local Winchester elementary and secondary schools , and they look forward to welcoming UBC teacher candidates to their campus, Winchester, and England!

(U of W's Student Centre)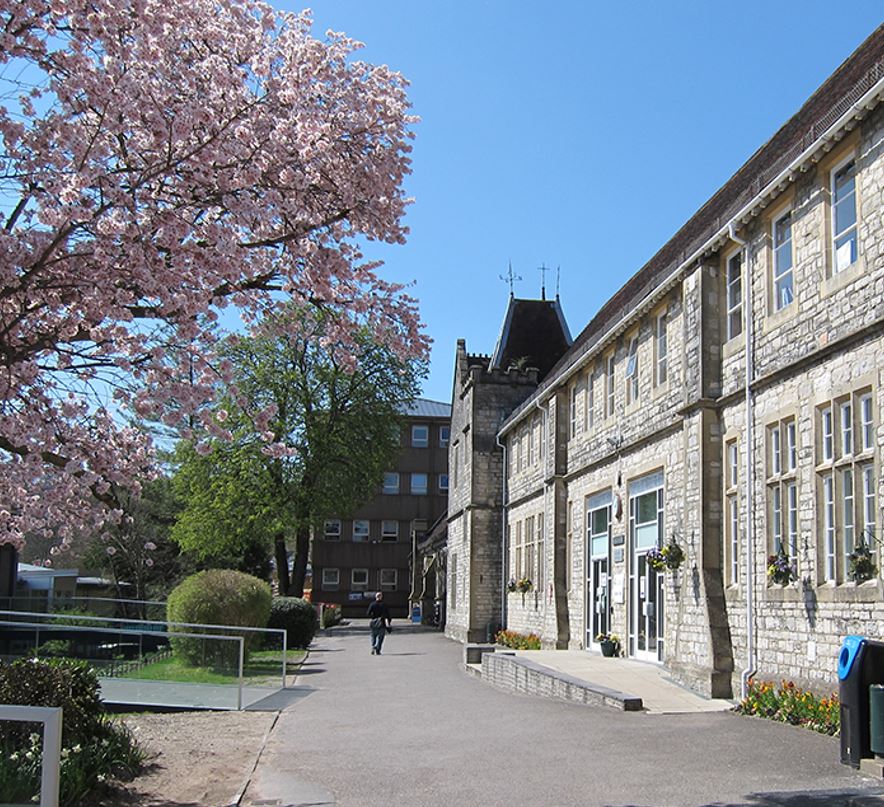 Main Building, U of Winchester
B) Description of Community Partner:
Enjoy a warm welcome at the University of Winchester.
Visiting students will find a warm welcome awaiting them at the University of Winchester. While you are our guest, you can be part of a high-quality teaching department, be a valued part of our vibrant student learning community and live in one of England's most historic and beautiful small cities.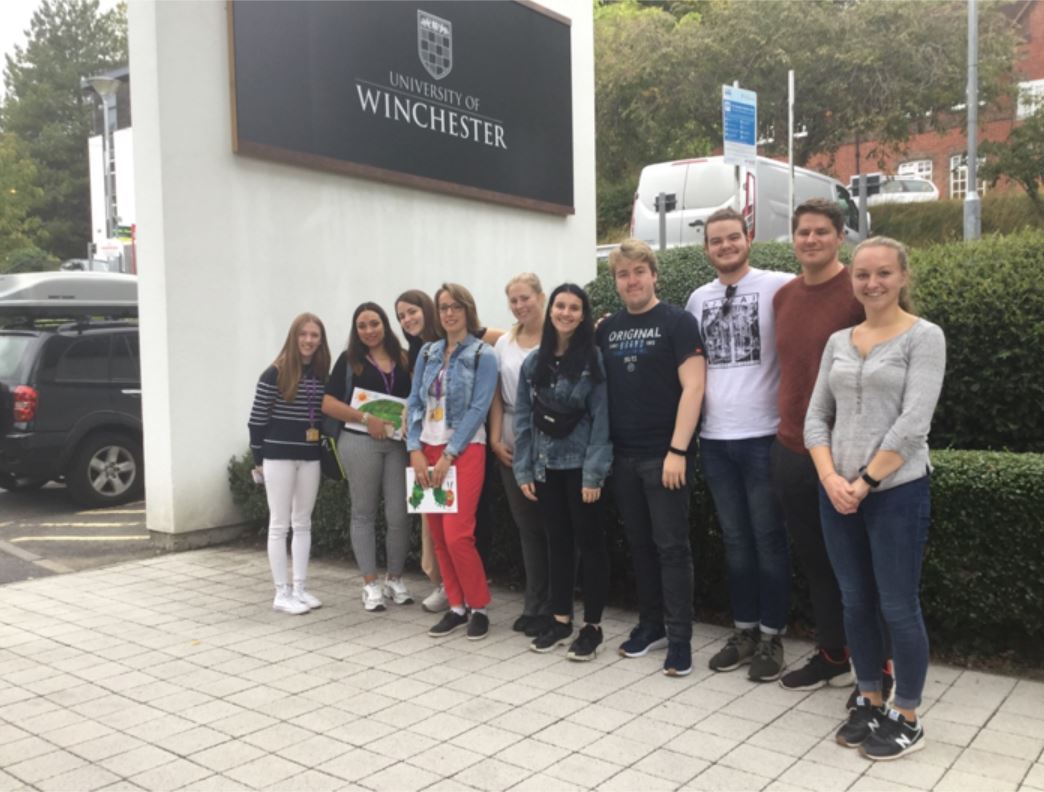 Experience a university with a vibrant student life
The University of Winchester's passion is to help students reach their full potential and make a difference in the world. Winchester is considered one of the best places to live in the UK and the campus is just a 10-minute walk from the city centre. The university offers undergraduate and postgraduate study on a range of subjects within the arts, humanities, social sciences, business, law, sport, education, and health and social care.
UoW is recognised as a quality provider of education. It delivers high-quality teaching, learning and outcomes for students, while also consistently exceeding "rigorous national quality requirements" for higher education in the UK. It is a medium sized university with a modern campus and a vibrant student life.
C) Some potential CFE activities that teacher candidates may observe, teach, and experience:
While in Winchester, UBC teacher candidates will be offered the opportunity to explore the teacher education program at Winchester and spend time observing, assisting teachers, and (where possible) completing some lessons and mini units.
D) The partner's larger community:
E) Required documents:
Please check the Government of Canada's Travel Advisories website for the United Kingdom for required entry/exit documents. It is your responsibility to check with the United Kingdom's Embassy or one of its consulates for up-to-date information. Common documents required for non-British Citizens (and teacher candidates) to enter/exit England are:
a Valid passport
a Work/Study Visa
Travel medical and dental insurance
F) Vaccinations:
Teacher candidates are required to review the vaccination requirements under the health notices tab on the Government of Canada's Travel Advisories website for the United Kingdom.
G) Estimated costs
(Note the details of accommodation costs are currently being established and will be posted as soon as they are confirmed by Winchester U)
Flights: Return economy airfare from Vancouver to Southampton airports, approximately $1500.00 – $_1900.00 CDN
Transport from Southampton airport to U of Winchester (depends on type of transportation you take)
Accommodation (at the University) : £150-£200 = ~$258-$348  $CDN per week (updated for 2020/2021).
Social Activities (optional): approx. $___CDN.
Personal spending, food, etc: approx. $____ CDN per week
H) Getting to/from/around-in Winchester
Bus – Estimates starts at £13-£18 for a 7 day pass. There are bus zones as well so the prices can vary.
Rail: There's is a high volume of rail services between Winchester and Southampton airport at a relatively low price starting at £4.6 (~$10 CAD). This is a map of railway stations across the UK in case you are planning to travel to nearby cities/counties.
Rapid transit: 
Taxi: Costs more than an Uber and tipping is expected.
Car rentals: For the whole trip between June 7 and the 25 a car rental is estimated to cost starting at around £300 for a compact car (not including fuel charges).
Uber: There is Uber availability in Winchester. Minimum fares start at £4 and is estimated to cost £1.4 per mile and an added £0.15 per minute. Tipping is not required for Uber drivers.
Other:  
Suggested steps for getting to from Southampton to Winchester:
There are rail services to get from Southampton airport parkway to Winchester starting at around £4.6 which is roughly $10 CAD one way.
I) Process for teacher candidates wishing to apply for a CFE in through the U of Winchester, England.
(To be updated…)
J) Contact
UBC teacher candidates must not contact the U of Winchester until after they have been offered, and have accepted, a placement, and have been instructed by the international CFE coordinator to contact the U of Winchester coordinator.  The U of Winchester contact is:
Marnie Seymour
marnie.seymour@winchester.ac.uk
Co-Director Institute of Education
Winchester U
St Grimbalds – Room 5
University of Winchester
__
Please refer here for disclaimers which must be fully understood by each TC applying to this or any International CFE program.