A group of penguins is called rookery, a group of snails is called a rout, and this group of LFS350 students is called a team! We (Alice, Mina, Yuan, Natasha, Kaitlyn and Philip) are all happy to make up the team of students that will be working with the Kerrisdale branch of the Royal Canadian Legion. We are a group of 3rd and 4th years at the University of British Columbia studying food, nutrition and health, applied biology and nutritional sciences. As a result, we have a diverse range of interests which include: dietetics, human health, food engineering, processing and manufacturing, food safety and veterinary medicine. Combined with our different educational and cultural backgrounds, it may seem that we have nothing in common except being in the same LFS350 class. This diversity is an asset rather than a liability, it's what will take our group to the next level. Diversity breeds creativity and ensures that we will utilize different approaches and perspectives when we collect and analyze data.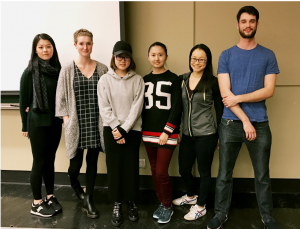 Above: (in order from left to right) Yuan, Kaitlyn, Mina, Jiajia (Alice), Natasha and Philip.
Prior to LFS350, most of us did not know what a legion was! In Natasha's case, this is what made her choose this project. Initially, the Royal Canadian Legion was an organization that provided support services exclusively to veterans; however, membership is now available to all members of the community. Legions have an important role in memorial and fundraising raising activities for veterans in Canada, most notably the Poppy Campaign. As there was nothing of the sort in Natasha's hometown of Hong Kong, she wanted to learn more about what legions entailed and how their culture and food system influenced the surrounding community. Furthermore, as an aspiring dietetics major, this project would give Natasha the opportunity to learn more Canadian food system policies. This is the first time that any of us will be conducting research within the local community, so we hope to learn how to collect data from the public using a variety of different methods including interviews and on-site observations.
Couple weeks ago, we were granted the opportunity to meet the head of the West Point Grey Legion and learn about their method of operation. We were informed that they frequently hold community events, such as barbeques and meat draws, donating most of their profits to charity. They also provide Safeway gift cards and bursary funds to those in need. All of us were surprised by the variety of services the Legion provided to their community.
In this project, we will be analyzing the kitchen of the Kerrisdale Legion. This will include observing its current usage and condition, in order to determine  whether the kitchen has the potential to serve the community in other ways than it currently does. We will also be looking at the level of community interest around expanding food services and kitchen use, as well as how the Legion has helped improve food security within the community. We hope that we will be able to identify potential areas in which the Kerrisdale Legion can continue to improve community food security.
A topic that goes hand in hand with food security is the concept of food justice. According to justfood.org, Food justice is defined as a community being able to exercise its right to grow, sell and eat healthy food. Investigating whether community members in the Kerrisdale region have the ability to do this with the current Legion infrastructure as well as other community assets could prove valuable. If this framework does not currently exist, our group could brainstorm ideas regarding possible implementation. We could then provide our suggestions to leaders within the Legion community on how to proceed in order to make their food program more self sustainable, healthy and culturally appropriate.
In a TEDTalk, Ernesti Sirolli (2012) states "the first principle of aid is respect". What he means is that when aid workers see a problem they think they can fix, they should listen and communicate with the people they are trying to help before jumping in and making changes.This resonated with us deeply. A needs-based approach, as Sirolli mentioned, often ends up creating a paternalistic or patronizing environment. This environment causes you to treat everyone like they are either your children or servants, and as a younger generation of students we are not immune to being treated like children. Thus, if we want to help our community we know this is something that needs to be avoided and therefore will focus on an asset-based approach using active listening and an open dialogue.
As a group of university students, the Legion staff and members will have a much better idea of what services and improvements the Legion is capable of than we would. Thus, we will start our project by visiting the legion, socializing with members, and observing how their food system functions. We want to learn how the kitchen and food related activities play a role in sustaining this Legion.
A needs-based approach pinpoints what a community is lacking. Asset-based community development (ABCD) on the other hand is recognizing existing strengths and assets, and using them to motivate the community to make a change (Mathie & Cunningham, 2003). Consequently, ABCD will build and strengthen relationships between community members and prevent over-reliance on external sources. We will need to recognize the current strengths of the Legion and determine how to apply them to other areas. Later in the term, we will interview members of the Legion, analyse their experiences, how they feel about the benefits of the legion's food system and ways to they think it could be improved. By doing so, we will be giving the members of the community the choice in how the Legion should operate in the future.
References:
TEDTalks. Sirolli, E. (2012, November 26). Ernesto Sirolli: Want to help someone? Shut up and listen! [Video file]. Retrieved September 24, 2016, from https://www.youtube.com/watch?v=chXsLtHqfdM
Mathie, A., & Cunningham, G. (2003). From clients to citizens: Asset-based Community Development as a strategy for community-driven development. Development in Practice, 13(5), 474–486.