January 26th, 2013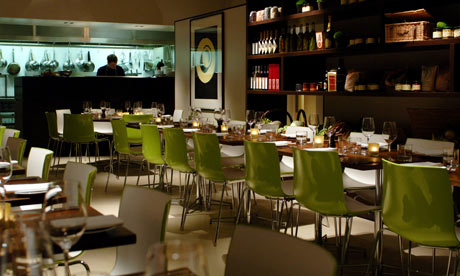 In a TED talks video from 2010, Chef Arthur Potts-Dawson describes the restaurant industry as "pretty much the most wasteful industry in the world". This surprised me because food is produced to be consumed, I thought wasteful industries had more to do with machinery or industries that generate production. According to him, for every calorie of food consumed today, 10 calories are taken to produce it. He uses the example of the potato, whose 8 forms of production is similar to all vegetables and other foods. Energy is used used within each stage of the potato's life: planting, growing and nurturing, harvesting, distribution, sold and bought, and delivered to retailers/chefs, prepared and cook, and finally waste as the last stage: waste of time, space, energy, and waste of waste. To lessen the harsh impact of food as inputs, restauranteurs can focus on eliminating waste and energy through any or all stages of production.
Potts-Dawson then explains the sustainable efforts he has put into place in his personal restaurant. Not only does eliminating waste in food production contribute to saving energy, but many sustainable alternatives can be bought or re-used in the construction and maintenance of the restaurant itself. His restaurant uses sustainable and recyclable floor, recycled and recyclable chairs, forestry-commisioned tables, reused cushions, sustainable energy (powered by wind), and the best part: a menu that lets customers choose the volume of food they want to consume. So simple, yet so genius and practical that food waste is minimized.
Finally, he stresses the fact that it is impossible to eliminate waste – there will always be waste. The goal for his restaurant, Acorn House, and the goal for all restaurants alike should be to minimize waste. Composting is easy, requires little effort, and can go a long way – even for his small restaurant, the business still generates over 70kgs of compost each week!
Here is a link to the blog post with the video: http://fohboh.com/profiles/blogs/sustainability-and-the-restaurant-industry-it-can-be-achieved