Where will we find food to feed the hungry mouths of 9 billion?
The world faces the looming challenge of feeding an expanding population that is expected to reach 9 billion by 2050 (FAO, 2009). As the world's arable land diminishes in size, urban agriculture is increasingly being recognized as a sustainable and innovative solution for improving food security (Zezza & Tasciotti, 2010). If you are interested in urban food production and its important role in combating global hunger, follow us on our journey to learn more about this spectacular incorporative method of food production. Our group invites you to read our following blog post where we will reflect on experiences that were collectively seen as significant and inspiring and unveil interesting facts about urban agriculture!
We are a group of six students from the Faculty of Land and Food Systems at the University of British Columbia. This term, we will work alongside the Gordon Neighbourhood House (GNH), specifically at their urban farm locations and community programs, and experience the processes that go into providing the socially and economically vulnerable populations of the West End community with local, affordable and nutrient-dense produce. During the next four months, the scope of our objectives include…
To support the Gordon House Farmers in all farm-based activities, including weeding, harvesting, planting and the process of transitioning to winter harvesting

To create winter crop plans for the urban gardens in a joint intellectual effort with the Head Farmer

To develop site specific recommendations for urban food production such as soil health and fertility, cover cropping species and pest management

To understand how our areas of interest benefit the local community around the Gordon Neighborhood House
 From left to right: Diana, Lomish, Patrick, Christine, Xiaojing and Jia Hui
Our Goals & Interests
Our six-membered group is composed of students with varied but complimentary academic specialities, such as Food, Nutrition and Health, Global Resource Systems, Nutritional Science and Applied Biology. As a group, we share a variety of common interests, such as gardening, being outdoors, and nutrition. While we have many diverse strengths and experiences, we share a common main goal: to build a more sustainable food system in the city of Vancouver through innovation, teamwork and determination while employing the Asset Based Community Development (ABCD) strategy. Furthermore, through the application of our various skills, we intend to employ a transdisciplinary approach to learning, helping and implementing healthy change alongside the Gordon Neighbourhood House. Our group regards teamwork as an important asset since it is the initial step towards success, as stated by Sirolli (2002): "No successful companies were started by one person." Consequently, our group hopes to combine our varying interests and repertoires while carrying out this project to introduce positive and permanent changes to the West End community's food system. Following the completion of this project, we aspire to develop a more profound understanding of urban agriculture; its potential to improve regional food security and enhance community engagement and its contribution to plant diversity as a fundamental element of the city's green infrastructure.  Furthermore, our group would like to become more appreciative of urban food production and conscious of the challenges around growing food in an institutional context. Conclusively, we hope that our experiences in LFS 350 will evolve our interpersonal skills to equip us for future collaborative projects with community partners.
Say Hello To The Team
Christine Janusz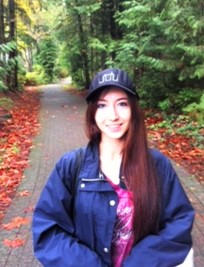 Major: Food, Nutrition and Health
Interests: My main interest is naturopathy; a form of alternative medicine that combines the wisdom of nature with the rigors of modern science. I strongly believe that humans are capable of restoring their physiological balance through techniques such as control of diet and exercise. My other interests include cooking healthy meals for my family and friends, and growing vegetables. Lastly, I love to share my knowledge of nutrition with others to inspire them to incorporate healthier foods into their daily diets. Following the completion of this project, I hope to become a more knowledgeable gardener.
Diana Vyssokikh
Major: Applied Biology: Plant and Soil Science
Interests: Gardening is one of my biggest passions. I believe that growing one's own food is an essential skill and an amazing way to reconnect with nature. I am excited to be a part of the Gordon Neighborhood House Farm Hands 101 project because it will give me an opportunity to work with and learn from an experienced gardener. It is also an amazing chance to apply some of the knowledge I gained at school. I see LFS 350 as an opportunity to gain some deeper knowledge about the different aspects of local food systems through experiential learning as well as an opportunity to strengthen my teamwork skills.                                                                  
Jia Hui Deng
Major: Food, Nutrition and Health
Interests: I am interested in nutrition and health, and believe that health is the most important thing for us to achieve a good life. In the past, I suffered severely from insomnia, which strongly disturbed my life. I avoided taking medicine and engaged in a more healthier eating style.  Gradually, my biological cycle was getting back to the normal, and I got my regular life back. Therefore, I want to learn more about healthy lifestyles and the nutrition perspective of food, and how it can benefit me, my friends and my family. I also enjoy spending time with my family while having a good meal. The Urban Farm Hands 101 project is a good opportunity for me to apply the theoretical knowledge I gained in my course: Land and Food Systems 250. I am ready to get my hands in the soil and learn how to grow healthy produce.
Lomish Bhangu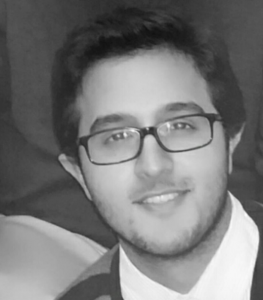 Major: Nutritional Sciences
Interests: I am an outdoor freak and I love getting my hands dirty. I consider myself extremely lucky to have had numerous experiences on the farms of family friends which built my interest in gardening. To be able to experience and be a part of the process from seed to harvest allows one to appreciate the food and its roots. Thus, gardening to me is one of my favourite therapeutic activities. Majoring in nutritional sciences allows me to see a different, more scientific aspect of the food and its roles which I enjoy because it allows me to see the whole picture. Furthermore, LFS 350 provides me with an opportunity to apply what I learn and in this semester, it is in the setting of Urban farms with the Gordon Neighborhood House. I am excited to not only apply my skills but also to learn what it takes to run a garden and a farm in an urban setting. In addition, this opportunity is catered towards the local community in the West End, making the process much more meaningful.
Xiaojing Deng
Major: Global Resource Systems
Interests: My interest is global health and food security, and I am enthusiastic about making large contributions towards improving people's life and health. In the past, I volunteered at the Wednesday Night Dinner, which was organized by the LFS Undergraduate Society and the UBC Farm. In the kitchen, our volunteer group prepared dinner and then served food to folks from the UBC community. At the UBC farm, we harvested fruits, grew vegetables, and learned about herbal plants. I acquired a lot of food-related knowledge and found so much joy when working for and with people.
LFS 350 provides me with another excellent opportunity to gain more knowledge about the local food systems and to work with community partners. Through the Urban Farm Hands project, I hope I can strengthen my cooperation and communication skills, and problem-solving abilities.
Patrick Jiang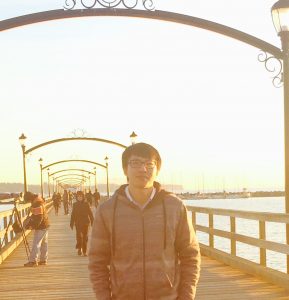 Major: Food Science
Interests: Believing in having better food in our future, I have the passion of food processing which can improve our diets by creating safe and nutritious formulations in thousands of food products in the market. Besides, choosing the right ingredients among a great variety of natural produces to me, is an interesting and meaningful experience because it engages me to explore more about nutrition and the maintenance of a healthy lifestyle. For this reason, I am grateful and excited about the opportunity the Urban Farm Hands 101 project offers me, which is to learn how to grow our own food and also appreciate them. This allows me to brings the knowledge I learned in LFS 350 into practice and helps me to have a better understanding of food related issues. Furthermore, this project with Gordon Neighbourhood House gives me brand new insights into community-based social work, solidifying the concepts of asset-based community development that I learned in class. Lastly, I am looking forward to doing some great work with our team and supporting the Gordon Neighbourhood House.
About the Gordon Neighbourhood House
On October 2nd, 1942, the Gordon Neighbourhood House opened its doors for the first time on 1005 Jervis Street. The organization was situated in the basement of the Gordon school, which was run by the sisters of the Gordon family. Since then, the Gordon Neighbourhood House developed numerous satellite sites which served as an extended living room, dining room, and kitchen for West End residents on a daily basis
The Gordon Neighbourhood House is a community service organization that collaborates with sister organizations, local businesses and policy-makers to animate and support programs and services that respond to the needs of West End community members. In recent days, the Gordon Neighbourhood House has established an urban agriculture program that grows nutrient-dense produce to create healthy meals for its low-cost community lunch program. By introducing these various projects,the organization hopes to ensure that the West End region of Vancouver is a vibrant and dynamic neighbourhood where residents have an equal opportunity to enjoy healthy and active lives and a reliable acces to sufficient, nutritious and affordable quantities of food. Since our group shares the same belief, we were motivated to get our hands dirty and contribute our time and effort towards growing this essential food. We were inspired to become a part of this project once we heard that our harvested crops will be converted to meals for the hungry West End community members.
Our First Impressions and Plans
While reading our project description, our group found this assignment to be very similar to the previous assignments given to us in the past. After gaining a better understanding of Ernesto Sirolli's (2012) speech, our group was shocked to realize that the mechanics of this project are similar to last year's assignments, but the way we approach and interact with our community partner differs. Instead of simply completing our assigned tasks, this particular project allows us to listen and respond to the needs of our community partner.
Our first visit to the Gordon Neighbourhood House came with a blast of friendliness and positivity. This positive atmosphere allowed us to better understand the organisation's initiatives, goals and their expectation of us. One of their philosophies, "Food Justice," the belief that healthy food is a human right, truly inspired us to give our full support towards this project since this concept is a major part of our core beliefs.
During the orientation, our group learned that the organization's focus is on "doing with" rather than "doing for," which reminded us of the Asset-Based Community Development strategy, where communities drive the development process themselves by identifying and mobilizing existing assets (Mathie & Cunningham, 2003). Following the orientation, we collectively decided that the Asset-Based Community Development approach would be an innovative and effective strategy for the development of the urban farms and surrounding community. Firstly, we believe that by collecting stories about regional garden successes, we could identify the strengths of the gardens which most likely contributed to their success.Consequently, by completely mapping the capacities of the local gardens, we could devise strong and effective garden-specific recommendations. Furthermore, our groups could utilize the knowledge of the local gardener's and apply it to our own plans for improving the urban gardens. Lastly, we are planning to strengthen the relationship between the community members and the organization to introduce mutually beneficial problem-solving within the community. While the Gordon Neighbourhood House will provide the services that respond to the needs of the local residents, the residents will provide their time and efforts to develop and improve the organization's urban farms and other projects. In the end, we decided as a team to undertake the motto of the Gordon Neighbourhood House, "Together, we can grow"
References
FAO's Director, (2009). General on How to Feed the World in 2050 – Population and Development Review, 35(4), 837-839. doi:10.1111/j.1728-4457.2009.00312.x
Mathie, A., & Cunningham, G. (2003). From clients to citizens: Asset-based Community Development as a strategy for community-driven development.Development in Practice, 13(5), 474-486. doi:10.1080/0961452032000125857
Sirolli, E. (2012, September). Want to help someone? Shut up and listen! [Video file]. Retrieved from http://www.ted.com/talks/ernesto_sirolli_want_to_help_someone_shut_up_and_listen
[The Good Stuff]. (2015, Sept 1). Why We Should Be Urban Farming. [Video File]. Retrieved from https://www.youtube.com/watch?v=XaEKJ5Vv3Zg
Zezza, A., & Tasciotti, L. (2010). Urban agriculture, poverty, and food security: Empirical evidence from a sample of developing countries. Food Policy, 35(4), 265-273. doi:10.1016/j.foodpol.2010.04.007