"Success is the sum of small efforts, repeated day in and day out." –Robert Collier
Success is seldom a case of accomplishing a single task which requires one titanic effort. Instead, success entails the diligent completion of numerous small tasks that require but a meager amount of effort each (Thean, 2014). Often times, the gradually progression towards success is hampered by doubt and impatience, due to our innate response to anticipate immediate results (Thean, 2014). This term, our group members experienced many doubts and often found it very difficult to view our actions and contributions as meaningful and worthwhile. Despite our weekly efforts, we did not observe any change in any of the gardens which profoundly demoralized our spirits. However, our final visit to all 5 urban gardens proved us very wrong. If you are interested in learning more about the final outcome of the project, and our future plans, we invite you to continue reading this blog post. We believe that a summation of our journey will inspire many of you to follow in our footsteps in an effort to decrease your region's level of food insecurity.
Germination of garlic seeds underneath a winter-cover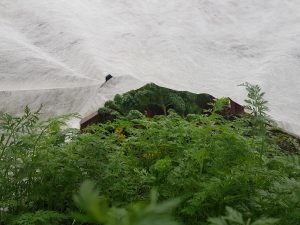 Growth of parsley and kale underneath a winter-cover
Moments of Significance
What?
During our final visit, we interviewed the Head Farmer and completed a few extra observations for all the urban garden locations. As the end drew nearer, a number of group members decided to speak their minds and reveal their concluding thoughts regarding the Urban Farm Hands 101 project. Following the group conversation, we collectively experienced a moment of pride and self-satisfaction which was primarily derived from our past urban garden contributions and successes. Our past memories and present observations helped us come to the realization that we truly made a positive impact by simply weeding, harvesting and planting. At first, our actions did not appear to be significant; however, throughout the term, the urban gardens gradually became more and more orderly and aesthetically-pleasing. In addition, our brief discussion allowed us to recognize the various skills we acquired, such as cover-cropping, and the knowledge the attained while gardening with a diverse group of people. As mentioned in class, the collaborative work process allows an individual to develop new perspectives and opinions, enabling one to attain greater knowledge of issues (Phillips, 2014). The "How Diversity Makes Us Smarter" article by Phillips (2014) also revealed to us that each group member developed and became more creative, diligent or hardworking through the collaborative project. While the majority of group members have previously experienced the activity of planting and harvesting, all the group members admitted to the fact that they lack overall gardening knowledge. Therefore, in the end, every group members was very satisfied with the project, since it was also an educational and heuristic activity. Although it was difficult to devote hours to gardening every week given our busy schedules, we realized that our contributions were worthwhile following our final observations. Knowing that the harvested produce goes towards the Community Lunch Program, we felt contented that our efforts will feed the mouths of many hungry residents in the West End.
So What?
Our group strongly believes that an essential life lesson materialized following our discussion on the Urban Farm Hands 101 project. Essentially, we developed a deeper and more profound understanding of "incremental effort" and its powerful potential to impart long-term and significant change. In other words, our group has come to the realization that continuous small achievement eventually gives rise to big change. By developing this new way of thinking, our group members will be more readily prepared to combat intimidating obstacles and challenge prodigious ambitions in the future (Paton, 2014). Furthermore, With our new mindsets, our future selves will help us thwart negative emotions while achieving lengthy goals and develop confidence in our actions during times of doubt (Paton, 2014). Furthermore, our weekly contributions have allowed us to acquire a more profound understanding of certain LFS 350 concepts such as food security and food justice. Given the opportunity to garden in the West End, our group was able to come to the realization that food security and food justice do not simply describe an individual's access to food at all times. Instead, we came to the conclusion that these forenamed concepts describe continued acces to *healthy and culturally appropriate* food. Our group recognized that Vancouver is a multi-cultural society that must address the needs of all of it's residents in a nutritionally favourable way. In addition to this, our garden achievements truly inspired a number of group members to continue helping the Gordon Neighborhood House in its efforts to diminish regional food insecurity. By applying our newly-acquired skills and knowledge, we believe that our future contributions will elicit an even greater positive change in the community than our past efforts.
Now What?
In the end, we came out of this project as more-knowledgeable and skillful gardeners that better understand the large-scale impact small efforts can impact over a long period of time. After reflecting, we have realized that this project has helped us better understand urban gardening and its far-reaching influence on food security in the West End and appreciate the presence of urban gardens in downtown Vancouver. Moving forward, we hope to apply our knowledge to in-home gardening projects and continue helping the Gordon Neighborhood House if time permits. Currently, we have developed an appreciation for herbs and hope to introduce them into our in-home gardens and culinary projects. Once we graduate, our group members hope to address the issue of food security in the West End by working towards developing more urban gardens and advocating the importance of urban agriculture.
Concluding Remarks
Although our group members faced a variety of challenging obstacles, the whole project process has given us all many pleasant memories and a better understanding of urban gardening. We hope that one day, the importance of decreasing food insecurity will be better understood by all people of the public and more community projects will evolve to address this issue. Now that you have followed us on our journey, we hope that you ask yourself: Have I contributed towards any food insecurity initiatives present in my community?
Final Group Photo: (Top:Christine, Xiaojing & Patrick-Bottom:Lomish, Susanna, Vanessa & Dianna)
References
Paton, N. (2014). Thinking on purpose: Creating the life of your dreams through constructive, disciplined thinking. Bloomington, IN: Balboa Press
Phillips, K. W. (2014). How Diversity Makes Us Smarter. Retrieved August 24, 2016, from http://www.scientificamerican.com/article/how-diversity-makes-us-smarter/
Thean, C. (2014). Life's Fishing Manual: Crucial Principles for Attaining Success We Don't Learn in School. Singapore: Partridge Singapore.