"It is already our last blog post and our community project with Ray-Cam Co-operative Centre is coming to an end."
Weekly Objectives and Achievements:
---
Objectives for Mar 19th -25th
Finalize outreach material

Get confirmation from Carin and start contacting farmers

Complete the infographic and prepare for the final presentation
Objectives for March 25th- April 1st
Complete Blog 4

Work on the final report

We plan to refer to the Harper Adams University Guide to Writing up Science Based Practical Reports to ens

ure our report is coherent and follows grammatical and academic reference guidelines
Our Achievements
We have finalized our outreach materials and have started the initial process of contacting local farms. We have also completed our infographic and successfully presented our findings to community partners and other LFS students. We are so grateful to have been a part of this community project with Ray-Cam Cooperative Centre to address food insecurity in the Downtown Eastside community by connecting children and families to fresh local food.
Check out our Ray-Cam Farm2Family flyer below!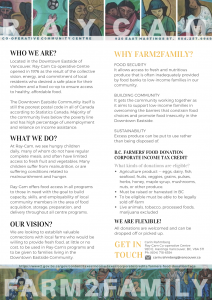 Moment of Significance:
---
What?
Looking back in the past three months, we can agree that the most significant moment for us during this Farm2Family project would be the final poster presentation. It was at this time that we all realized the impact our community project had. Due to the nature of our project, our end results did not consist of numbers or statistics. Because of this, some of us were uncertain if we had done enough to lay the foundations of the Farm2Family program, questioning the effectiveness of our project results and impact. Despite this, once we received our community partner approval, we began the initial process of contacting local farms on Sunday, March 25.
To our surprise, the following day at the poster presentation, we received news from our community partner that she has already received four responses from local farms who have shown interest in partnering in the Farm2Family program. Furthermore, during our poster presentation, we made a connection with a woman who works with the BC Farmers' Markets Association who wanted to promote the Farm2Family project.
Overall, our presentation was well received and we had positive feedback about our infographic (which we have attached) and our work on this project from Dr. Will Valley and our community partner.
So What?
This particular moment made us realize just how big the potential of Farm2Family can be. Through the unexpected connection with a BC Farmers' Markets Association member, we saw the reality of the Asset-Based-Community-Development approach as it demonstrated how the community can work together, using its strengths to improve community food security. As our community partner, Carin, stated, "There are so many solutions addressing similar problems. We need to do this more often; where we come together and put solutions together" – its takes communicating, networking, and discussions.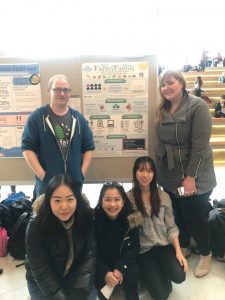 Often, low food accessibility and the dependence on donated food in the DTES constrain the ability of community members to exercise their right to make food choices and to acquire fresh, healthy, and nutritious food. The nutritional needs of individuals are negatively impacted by the limited products offered by charitable providers, who often consider their own focus, interests and operational needs over the needs of recipients. Many food providers are closed on weekends, holidays, and evenings. The food supply is often limited and, as a result, people line-up and even fight for food; food supplies often fail to satisfy demand, making food accessibility in DTES more challenging (Miewald, Carrasco & Turner, 2010). In addition, some food suppliers only target specific groups of populations, such as women, youth, and sex workers. Statistically, indigenous women with children report the highest incidence of food insecurity (Li et al., 2016). The greater vulnerability of women to food insecurity has accelerated the development of women-targeted services, with 20% of the food charities in DTES serving women exclusively (Miewald, Carrasco & Turner, 2010).
The F2F program will also provide food for youth and families, and will supply the DTES with much-demanded fresh produce. In securing fresh produce, the program has grown directly from community demands, improving food justice in the community by increasing distributive justice in the local food system. Whereas food donation programs often require the community to simply accept what's given, F2F seeks out specific foods based on stated community needs. In conjunction with other food programs offered by Ray-Cam (such as Hot Lunches and Breakfast, Backpack Program, Parent Cooking Program, community kitchen), F2F not only provides food access to those in need, but also encourages families in DTES to engage actively and take up food-related leadership roles by taking initiatives to help build capacity, skills and employability in the area of food acquisition, storage, preparation and delivery.
We are really excited about this opportunity to expand our reach as we continue promoting Farm2Family. Eventually, it would be great to get other community centres in Vancouver involved to increase the scope and impact of this project.
Now What?
Going forward Carin will take the lead contacting farmers and figuring out the logistics of the food donations. We are hopeful that we will receive more responses from farmers who want to participate in the program. Additionally, we now see a need to take data on how Farm2Family impacts the costs of Ray-Cam's food programs, how much food is donated, and how this will change over time, among other things. In the future, if many farmers respond and there is an excess of donations, it may also be beneficial to expand this program to include other Vancouver (and Downtown Eastside) community centres (i.e. Gordon Neighborhood House).
~
Lastly, we would like to thank the Ray-Cam Co-operative Centre for allowing us to partner with them on this project! We all feel that we gained valuable life experience and skills applicable to our professional endeavours. We look forward to hearing more about the programs progress from Carin, and we would like to thank her personally for sharing her vision for Farm2Family with us.
THANK YOU! – Yolanda, Ednelyn, Angela, Skylar, and Adam 🙂
—
References:
Rahmberg, C. (2018). Personal Communication.
Harpers Adams University. (n.d.) Writing up Science Based Practical Reports: Study Advice Guide. Retrieved From: https://cdn.harper-adams.ac.uk/document/page/127_Writing-up-Science-based-Practical-Reports.pdf
Mathie, A., & Cunningham, G. (2003). From clients to citizens: Asset-based Community Development as a strategy for community-driven development. Development in Practice, 13(5), 474–486.
Miewald, C., Ibanez-Carrasco, F., & Turner, S. (2010). Negotiating the Local Food Environment: The Lived Experience of Food Access for Low-Income People Living With HIV/AIDS. Journal of Hunger & Environmental Nutrition, 5(4), 510–525. https://doi.org/10.1080/19320248.2010.530550
Li, N., Tarasuk, V., Zhang, R., Kurrein, M., Harris, T., Gustin, S., & Rasali, D. (2016). Priority health equity indicators for British Columbia: Household food insecurity indicator report, p.44. Toronto: Research to identify policy options to reduce food insecurity (PROOF). Retrieved from http://www.phsa.ca/population-public-health-site/Documents/Household%20food%20insecurity%20in%20BC_full%20report.pdf