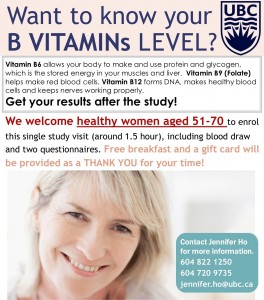 Purpose of this study: The goal of this study is to assess the frequency of vitamin B6 deficiency in older adult women in Metro Vancouver.
Who can participate? Women who are- 1) Aged 51-70 years 2) Healthy- not suffering from chronic or gastrointestinal disease 3) Not taking vitamin B6 interacting medications or recreational drugs (does not include nutritional supplement, hormonal contraceptives or menopausal therapy) What is involved? A single ~1.5 hour long visit during which participants will complete 2 questionnaires and provide a fasting blood sample.
We will inform you about your blood B-vitamin levels and your dietary intake after study completion.
When does this study take place? Appointments are held on weekday mornings between 8 am and 10 am. Where does this study take place/location? (1) UBC Food, Nutrition and Health building (2205 East Mall) (2) Child and Family Research Institute (950 West 28th Avenue).
Principal Investigator: Dr Yvonne Lamers, PhD Assistant Professor – UBC Department of Food, Nutrition & Health, Canada Research Chair in Human Nutrition and Vitamin Metabolism
If you are interested in this study, please contact:
Jennifer Ho, BSc
Study Coordinator
Email: jennifer.ho@ubc.ca