href="https://blogs.ubc.ca/markmcc/files/2010/11/IKEA.jpg">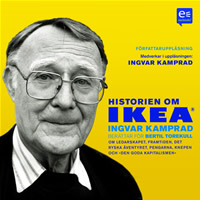 Entrepreneur; an individual that wants to work for themselves through innovation and risk of starting a business. The company IKEA has many characteristics of entrepreneur born qualities and I would undoubtedly consider it to be an entrepreneurial business. IKEA is owned by a man named Ingvar Kamprad and today, his business is far from a "small business" as it extremely successful with over 200 stores in 31 countries. Ingvar, born in Sweden, learned at a young age he could buy bulk quantities of matches and sell them for profit. With his profits he expanded to selling fish, seeds, Christmas tree decorations, pens, and pencils. When he was 17 he founded IKEA where he continuously expanded. He generated wealth by creating unique products designs that caused new demand for his products. He knew that by creating a new demand it would almost be as if he were opening a new market of demand in turn creates sufficient profits. However, every new product he brought in proposed an enormous risk to his small business as there was always uncertainty of the success his product would have. Although IKEA and Ingvar are now well known they are still continuously taking innovative risks to generate profit!
Want to read more? Click here for the link.
Here is a Youtube clip featuring Kamprad talking about innovation and risk taking, it is an Interesting watch.