Millefeuille is an experimental pavilion which demonstrates the potential of parametric design and robotic fabrication to change the way we think about, and design with, wood. The pavilion was built in a five day workshop led by architecture professors AnnaLisa Meyboom, UBC SALA and David Correa, University of Waterloo as well as Oliver David Krieg, CTO at Intelligent City. The workshop and fabrication was done at Centre of Advanced Wood Processing (CAWP UBC) and participants included students from UBC SALA, University of Waterloo, as well as industry participants – architects, engineers, fabricators and contractors from BC and around the world. The pavilion was fabricated on an 8 axis industrial robot at the Centre of Advanced Wood Processing at UBC.
Background behind the research
As technology advances and drawing in architecture becomes more closely engaged with fabrication through digital design tools, how we conceive of architecture and the role of the designer become more closely entwined. 
Innovation in material and fabrication have changed the language of architecture in the past and will continue to do so. Wood can be seen as the material of this century because of its sustainable and renewable properties. To look at the synergies of the characteristics of this material in a new way and combine this with robotic fabrication may bring some interesting developments in design language.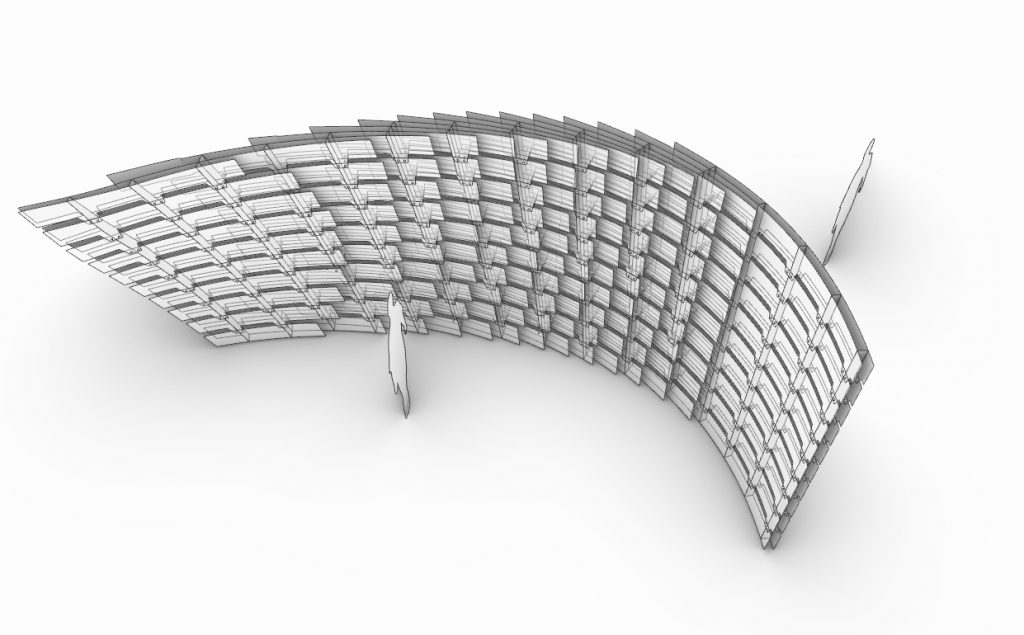 Funding
Forestry Investment Innovation
Support
UBC School of Architecture & Landscape Architecture
UBC Centre of Advanced Wood Processing
Instructors
AnnaLisa Meyboom, UBC SALA
David Correa, University of Waterloo
Oliver David Krieg, Intelligent City
CAWP Technical Support
Jason Chiu
Brandon Chan
Lief Davies Eriksen
Claudia Ediger
Filming & Documentation
Shabaan Khokhar
TAs:
Juliana Alva
Angela Gmeinweiser
Maverick Chan
Parastoo Varshosaz
Industry Participants
| | |
| --- | --- |
| Katherine | Kovalcik |
| Nazlee | Markowsky |
| Esaly | Wu |
| Jesse | Cotey |
| Dazhong | Yi |
| Kurt | Drachenberg |
| Eytan | Fiszman |
| Michael | Frazier |
| Marc-Antoine | Chartier-Primeau |
| Billy Ying Wai | Ma |
| Greg | Hoffart |
| Sebastien | Sarrazin |
| Ben | Hayward |
| Ainsley | Jackson |
| Breena | Jackson |
Student Participants
| | |
| --- | --- |
| David | Kalman |
| Isabelle | Luisser |
| Sarah | Garland |
| Sahar | Kazemeini |
| Marina | Ibrahim |
| Carissa | Tzeng |
| Aïden | Mézidor |
| Jay | Starnino |
| Piero | Sovrani |
| Nora | Boone |
| Lorena | Polovina |
| Julieta | Alva |
| Sarah | Pitoscia |
| Maverick | Chan |
| Meena | Chowdhury |
| Nicholas | Krahn |
| Adrian | Chiu |
| Kenneth | Anggara |
| Changwei | Qiu |
| Yuxiang | Liu |
| Tyler | Solu |
| Parastoo | Varshosaz |
| Esraa | Saad |
+ The Robot
Contact
AnnaLisa Meyboom  e: ameyboom@sala.ubc.ca
David Correa e: david.correa@uwaterloo.ca