January 27th, 2020 marks the 75th anniversary of the liberation of the largest Nazi death, labour and concentration camp, Auschwitz-Birkenau, and is the International Day of Commemoration in memory of the victims of the Holocaust.
On this occasion, the UBC Opera Ensemble (School of Music), the Modern European Studies Program (Department of Central, Eastern and Northern European Studies), UBC Library and the Witnessing Auschwitz International Seminar (Go Global) will join efforts to remember and honour the victims of Auschwitz-Birkenau, and to further interdisciplinary education about the Holocaust. Following a four-day symposium at the UBC Vancouver campus, UBC Opera will stage the Canadian premiere of Mieczysław Weinberg's opera 'The Passenger'.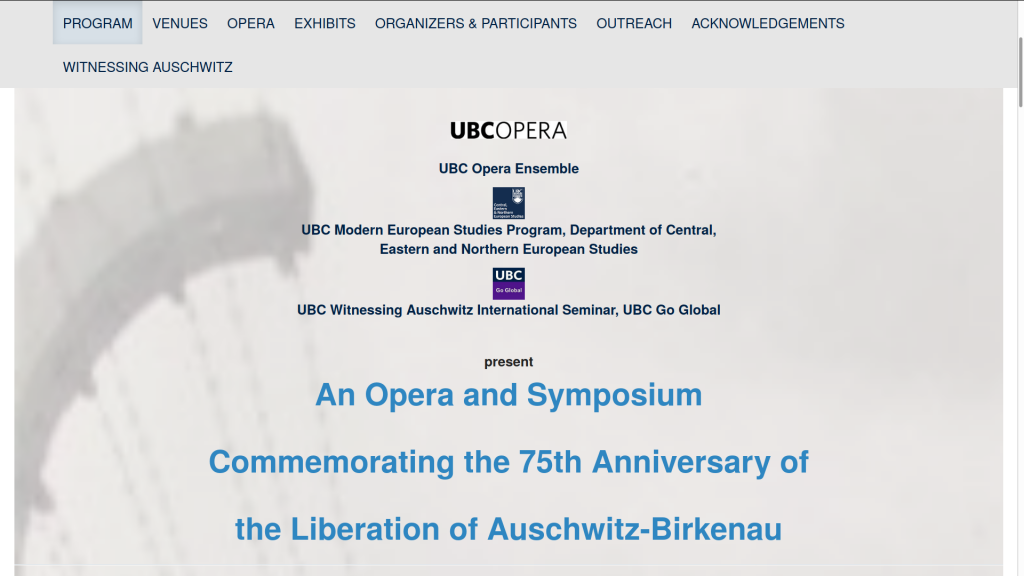 UBC Library will house a special exhibit from January 15th to February 28th in The Irving K. Barber Learning Centre.
The invitation to the symposium is open to all UBC faculty, staff and students, as well as to the general public.
For more information please visit the web page  https://auschwitz75.arts.ubc.ca/

Tickets to the opera "The Passenger" are available at the UBC Opera Ticket Box (https://music.ubc.ca/opera-pasazerka-the-passenger).