By Peter Suedfeld
What was the new President of the Canadian Space Agency (CSA), Walter Natynczyk, doing in the Kenny Building on May 14? He and Jean-Marc Chouinard, the CSA's Head of Policy and Regulatory Affairs, came to meet with Phyllis Johnson (Dept. of Sociology, UBC) and me to discuss how social and behavioural scientists can contribute to Canada's space program. Phyllis and I are UBC's links to active research involving outer space — not anything to do with the technology, but rather with behavioural issues associated with living in space. The visit showed CSA's increasing recognition of the value of this kind of research
In his previous job as Chief of the Defence Staff – the highest-ranking officer in the Canadian Armed Forces — Gen. Natynczyk developed an appreciation of the research and applications of psychology and related disciplines. Among his priorities were programs to boost soldiers' resilience under stress and to help them readjust to civilian life after returning to Canada. He and his wife also instituted ways to improve conditions for military families both during the deployment of a family member and after that person's return.
At the CSA, he has realized that these and similar issues are relevant to the Astronaut Corps. He found out that I had been active in space psychology research and in CSA and NASA committees for several decades, and that I have been trying to get both agencies to pay more attention to psychology and particularly, positive psychology. Together with Phyllis and a Russian collaborator, we had recently completed a multi-year study of retired Russian cosmonauts. We are now half-way through a CSA-funded preparatory year for research whose participants will be astronauts living on the International Space Station (ISS).
The ISS study will explore how the astronauts adapt the environment to make it more psychologically comfortable and homelike, how they develop a unique "space culture" that is different from their culture on Earth, and how their mission in space interacts with their family life. The research plan also includes questionnaires covering such basic psychological issues as how they cope with stress, the interpersonal relationships among the crew, and how the experience of spaceflight affects their self-perceptions, values, and expectations for the future. Our team includes Jelena Brcic, a recent PhD from this department, Irina Della-Rossa, a graduate student from UBC Counseling Psychology, and Deyar Asmaro, a neuropsychology doctoral student from SFU. We were recently joined by Eva Kwan, who has been featured on the departmental website for her Faculty of Arts co-op assignment at CSA, which included working with astronaut Chris Hadfield and his family.
Gen. Natynczyk was in BC primarily to meet with executives of aerospace industry companies, but came to UBC to find out about our research and to explore with us how CSA could encourage more social and behavioural scientists to become active in areas relevant to the space program. We made quite a few suggestions about boosting CSA's visibility and presence in our research community. Among the topics were: areas that need more research, ways to broaden CSA's funding priorities, the applicability of analogue environments such as the Canadian High Arctic to space studies (and vice versa), and how to make application procedures more visible and more suited to our disciplines. In the past, CSA has been generous with graduate student travel support to conferences, and we suggested that the Agency should provide more kinds of support for social science students to become involved with the Canadian space program.
Depending on the Agency's budget in the next several years, we may see a serious attempt to carry out some of these plans. I have wondered before why so few psychologists respond to the CSA's periodic invitations to submit funding proposals (Suedfeld, 2003); maybe we will also see an improvement in that situation. It could be an interesting I/O psychology case study in how a leader can (or can't) change an organizational culture whose traditional focus has been on engineering and physical sciences.
Reference: Suedfeld, P. (2003). Canadian space psychology: The future may be almost here. Canadian Psychology, 44, 85-92.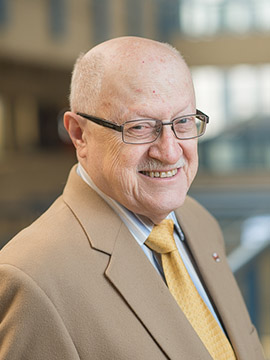 Dr. Peter Suedfeld is Professor Emeritus in the Department of Psychology at UBC. Suedfeld is a Fellow of the Royal Society of Canada (the National Academy), the Canadian Psychological Association (President, 1990-91), the American Psychological Association (6 Divisions), the Academy of Behavioral Medicine Research, and other scientific organizations. He is a full member of the International Academy of Astronautics, and the only psychologist elected as an Honorary Fellow of the Royal Canadian Geographical Society. He has received the highest awards for scientific contributions from the Canadian Psychological Association and the International Society of Political Psychology, as well as Queen Elizabeth II's Diamond Jubilee Medal, the Antarctica Service Medal of the National Science Foundation and the Zachor Award of the Parliament of Canada for contributions to Canadian society. He has served on many advisory and consultative committees in the United States and Canada, and has chaired the Canadian Antarctic Research Program and the Life Sciences Advisory Committee of the Canadian Space Agency.