Drywall, tile and paint mitigation measures involve correctly cutting, storing and managing material off cuts to ensure that not material is allowed to enter into the storm water system.  While extensive research has not been conducted on the interactions of these materials in an aquatic environment, they contribute negatively by added suspended solids in the receiving environment.
Drywall Mitigation
Keep drywall covered and dry at all times
If drywall is being removed off site in a bin, ensure that the bin is covered at all times; this will ensure that no drywall particles enter into the storm water system
Keeping drywall waste dry reduces disposal fees because wet dry wall is heavier and therefore more expensive to dispose of since disposal fees are based on weight
Drywall is typically cut inside, therefore cutting is not a major source of gypsum entering into the storm water system
Disposal of drywall must be done at either Wastech or New Westminster Gypsum Recycling
Tile Mitigation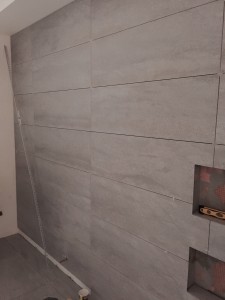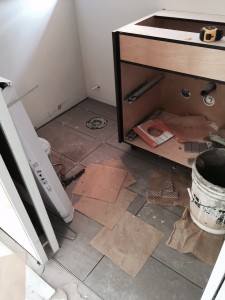 Tile mitigation involves not allowing tile cutting water to enter into the storm water system.  Tile is cut using a tile cutting saw, which requires running water to reduce dust formation.  Tile saw cut waste water contains small tile fragments, which can lead to an increase in suspended solids if this waste water is allowed to enter into the storm water system.  Increased suspended sediment can have many detrimental effects on aquatic organisms.
Do not allow tile saw cutting to occur near storm water catch basins
Dispose of all tile saw cutting waste water in such a manner to ensure that the water does not enter into the storm water system
Do not rinse any buckets, saw parts or other equipment into or near the storm water system or near the drainage tile of any homes
Filter out any waste water that has come into contact with tile cutting wet saws and grinders prior to disposing of this waste water
Paint & Paint Thinner Mitigation
Paint often enters into watercourses when paint brushes and other equipment is rinsed out near the drainage system of a home.  This system is connected to the storm water system and is often overlooked as a source of watercourse contamination.  When paint enters into a watercourse, the entire watercourse can become cloudy and the aquatic organisms can be harmed from the chemicals present in paint products.
Never rinse out paint cans, brushes, rollers and other equipment into the storm water system or near the drainage tile of a home
Roll off any excess paint onto cardboard prior to rinsing off paint equipment
Spray any excess paint found in a paint sprayer into the paint can prior to rinsing off spraying equipment
Rinse all equipment in a sink connected to the sanitary system, where it will be sent to a water treatment facility
When possible, chose latex based paint and not oil based paint in order to lower the amount of chemicals present in the paint and in the runoff created by washing paint equipment
Properly dispose of paint cans and excess paint at a recycling or disposal facility such as Wastech