I love certifications. I believe they can be very useful tools to gauge the environmental and social impacts of products and a great way for a company to communicate their sustainability efforts. However, separating the great certifications from the good ones can be very challenging. After doing copious amounts of research, I came to the following certifications I believe represent the best of the bunch.
EcoLogo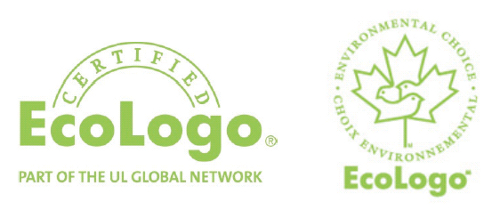 EcoLogo was created by Environment Canada in 1988 as a means to help consumers identify products that have a less harmful effect on the environment. Its key benefit is that it's a multi-attribute, life cycle-based sustainability standard, meaning it takes into account various environmental impacts over the course of the products entire life. It has since been acquired by UL (Underwriters Laboratories) who have used their considerable experience in safety testing to transform the certification into one that utilises rigorous scientific testing and exhaustive auditing to ensure that products comply with their strict standards. Some examples of companies that produce EcoLogo certified products include: Cascades, Attitude, and Nature Clean.
Cradle to Cradle Certified Product Standard
Cradle to Cradle certification is administered by the not-for-profit Cradle to Cradle Products Innovation Institute. The concept was famously developed by William McDonough and Dr. Michael Braungart. It takes into account 5 key product impacts: Material Health, Material Reutilisation, Renewable Energy, Water Stewardship, and Social Fairness. Its key benefit is that it is a tiered certification, meaning a product can be awarded either a Basic, Bronze, Silver, Gold, or Platinum level certification. This creates a platform for continuous product improvement in which companies can strive to improve their level. Some examples of companies that produce Cradle to Cradle certified products include: Method, Mushroom Material, and Herman Miller.