When our discussion about Diaspar from The City and the Stars brought up the idea of utopian domed structures, I was reminded of something that might have been too tangential for class. . . but perfect for the Interweb! Let me introduce you to Auroville, an experimental township in southern India.
From their official website (http://www.auroville.org): "The purpose of Auroville is to realise human unity– in diversity. Today Auroville is recognised as the first and only internationally endorsed ongoing experiment in human unity and transformation of consciousness, also concerned with – and practically researching into – sustainable living and the future cultural, environmental, social and spiritual needs of mankind."
Auroville was created in 1968, and is the brainchild of Mirra Alfassa (1873-1978), a French woman mostly known as "The Mother". She designed the town as a spiral, or "galaxy", and guess what's in the center of the spiral?          (http://www.auroville.org/thecity/buildingthecity.htm)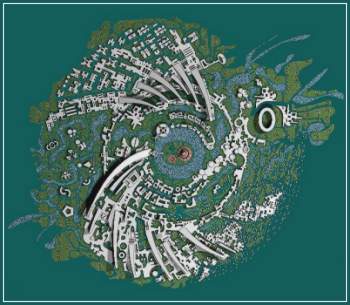 Auroville spirals out from a domed ashram called the Matrimandir. The Matrimandir is made from flattened spheres of real gold leaf, and inside "the spacious Inner Chamber in the upper hemisphere of the structure is completely white, with white marble walls and white carpeting. In the centre a pure crystal-glass globe suffuses a ray of electronically guided sunlight which falls on it through an opening at the apex of the sphere".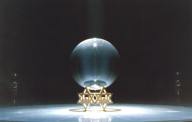 Since it's an ashram (meditation center), you have to be completely silent in the dome and surrounding gardens. Walking up in pure silence to the giant orb, which glows golden in the sunshine, is one of the most beautiful and surreal things I have ever experienced. 
Auroville is very cool, but it is also a little creepy. Visitors are not allowed full access to the town, but my Gr.11 French teacher used to live there and took our class on a rare 3-day field trip. We visited a free cafeteria run entirely on solar power (cool), and a water bottling facility that makes "energy water" by playing classical music to it (creepy). We met international folk who gave up their careers to live a more meaningful life (cool), and we met a family whose house was full of pictures of The Mother (creepy). That's all subjective, but I'm pessimistic about whether a utopia can actually be achieved. Is Auroville really "a universal town where men and women of all countries are able to live in peace and progressive harmony, above all creeds, all politics and all nationalities", or is it just wishful thinking? In any event, Auroville's Matrimandir is further evidence that domes are the ultimate utopian structures.