A) What is the difference between the application essay that self-placed CFE applicants must write during their international CFE registration process, and the motivation letter (also known as a letter of intent)? 
All international-bound TCs must fill out an international 'supplemental form' (See http://cfe.educ.ubc.ca/international-cfe-application/ and during the registration process, are prompted as per the screen shot below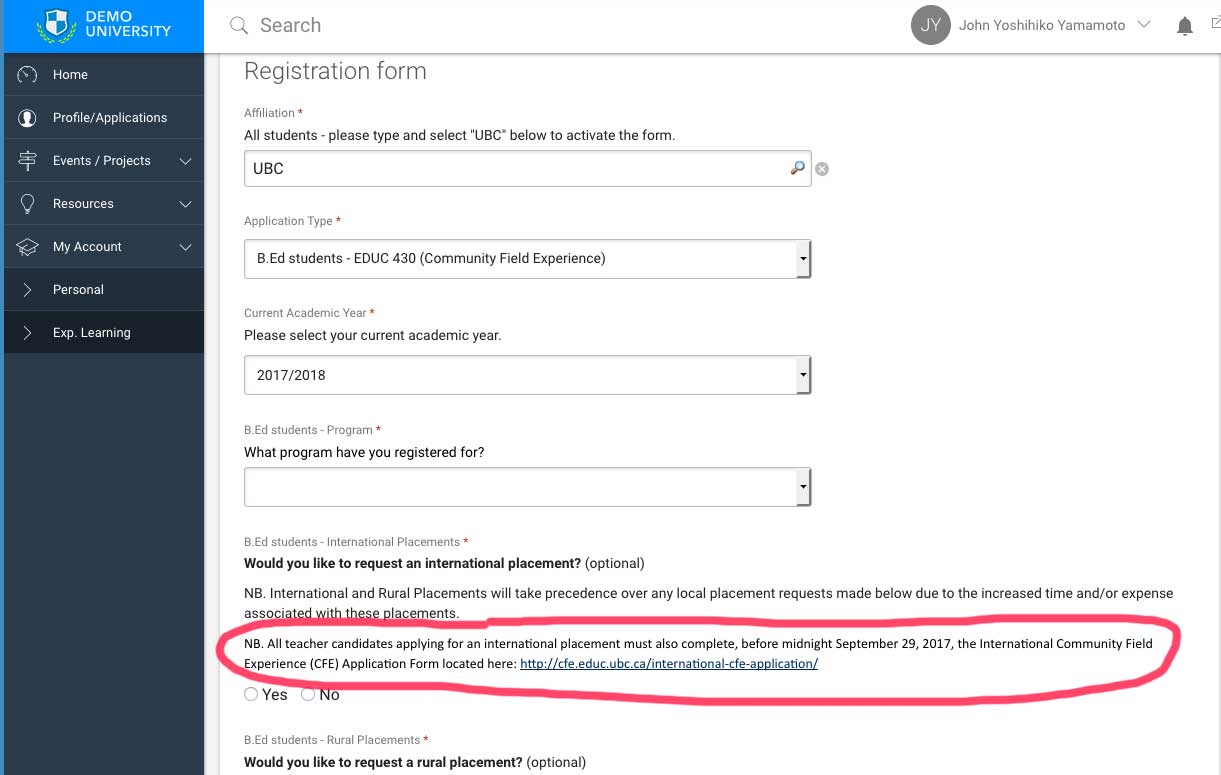 Within this 'supplemental form', teacher candidates who indicate they wish to self place themselves in an international context will be prompted to write an essay  (or application essay) that answers these two questions:
"Why are you a suitable candidate for this experience?"
"What do you expect to learn from your self-placement CFE?"
Important: This application essay is only for self placements.  Once a teacher candidate has written their self-placement application essay, they upload it to our website and then click 'submit' at the bottom of the form.
The application essay is not the same as the letter of motivation. The application essay is for self placements only, is written during the registration process, and helps the CFE coordinator determine if a teacher candidate is choosing a self-placed international CFE for reasons that parallel the goals of the CFE. On the other hand, the letter of motivation is written by the majority of teacher candidates, is written after they have been offered and have accepted an international CFE, and it is emailed to the international partner as part of the teacher candidate's introduction.
In the past, teacher candidates who applied for and were offered a self placement, cut and pasted large portions of their application essay into their motivation letter.
B) What is a motivation letter and why might a teacher candidate be asked to send one to an international partner?
Some international practicum partners require teacher candidates to write a 'motivation letter' (also known as a 'letter of application' or 'letter of interest' or 'letter of intent').  This letter is usually 1/2 to 1 page long (200 – 500 words) and should give the international practicum partner a strong sense of the instructional skills, knowledge, and attitudes that a teacher candidate brings to the placement, what the teacher candidates can contribute to the partner, and what motivates the teacher candidate to do a placement with them.
An example is posted here: http://blogs.ubc.ca/ubcfe/files/2015/03/International-CFE-Letter-of-Motivation.pdf
International partners read every teacher candidate's motivation letter (and the teacher candidate's resume or CV) to determine if a teacher candidate is suited for the placement, and then to place the teacher candidate. Thus the information should give the partner a solid idea of the teacher candidate's flexibility in grade and subject placement (remember most teacher candidates will be asked by their international partner to teach some ESL/ELL), the teacher candidate's suitability for an international experience (especially within the physical and cultural context of the international CFE placement), as well as offer concrete ideas on where and with whom the teacher candidate could be placed.
C) What information should be presented through a motivation letter?
Information that is often presented through a motivation letter:
the grade level and the subject specialization (Major/Minor) of a teacher candidate's undergrad and 10 week practicum (the subject specialization is more applicable for secondaries, however elementary teacher candidates are also encouraged to mention their undergrad subject specialization/s),
A sense of a teacher candidate's flexibility and initiative as an educator (e.g., is the teacher candidate open to a range of grades and subject areas and if so which ones?),
 A sense that the teacher candidate is (in general) a responsible and competent exchange student who demonstrates some, if not many, of the following qualities of strong exchange students:

Open minded
Flexible
Respectful
Responsible
Positive
Adaptive
Reflective
Curious
Listener
Adventurous
Empathetic

An idea of a teacher candidate's goals and hopes for a CFE with the partner,
What a teacher candidate would like to see and do while working in the partner's organization/school system,
What a teacher candidate hopes to contribute, and 'give back' to the international partner over the course of the teacher candidate's visit.
Some other things that a teacher candidate may consider (but remember most motivation documents are only 1 page long – 2 pages at the most!):
Previous teaching experiences (prior to UBC),
How the organization/school can help meet a teacher candidate's long term goals (and how a teacher candidate meets the partner's goals),
The teacher candidate's philosophy of teaching and how it shapes how and where they teach,
The teacher candidate's desire to work with children with challenges,
The teacher candidate's language abilities and how it might play into the placement.
Since teacher candidates are not being evaluated on their instructional abilities during an international CFE, UBC encourages teacher candidates to stretch themselves by observing and teaching in various grades and subjects.  However, teacher candidates are also cautioned to not teach something which they know they are very uncomfortable teaching.
For teacher candidates struggling to find ways to make their letter of information more informative and comprehensive, they might find it helpful to read:
D) How long should a motivation letter be?
Motivation letters are between 1 to 2 (max) pages, 12 point font, 1.5 line spacing.
E) To whom does the teacher candidate address the motivation letter to? The school principal or the international coordinator?
Teacher candidates should address the letter to the coordinator of the teacher candidate's international CFE.  Often the coordinator is the person listed at the bottom of the country's international CFE Blog.  For example, Robin Dai is the coordinator listed at the bottom of the Chongqing blog and thus the one to whom Chongqing-bound Teacher candidates will address their motivation letter.
F) Should the Teacher Candidate use UBC letterhead and if so from where can it be uploaded?
Only UBC faculty and staff may use official UBC letterhead.  However, UBC logos are publicly accessible, and this Word template makes use of a UBC logo that you can download and use for your motivation letter.
G) At the end of the motivation letter should the teacher candidate use their personal address or UBC's Neville Scarfe Building address?
Since the full address of the Teacher Education Office is at the top of the template (see template link accessible in question above), please use this simplified Faculty of Education address:
Teacher Education Office
Faculty of Education
Vancouver, BC Canada
H) Why would an international partner require a teacher candidate to submit a resume or curriculum vitae (CV)?

Of the few international partners requesting teacher candidates to submit a resume or CV, the majority request a resume.  They do this for four reasons.
First, a resume offers international partners information that further familiarizes them with the teacher candidate prior to the teacher candidate's arrival.  It is so much easier to strike up a conversation with someone whom you have never met before, but you know a little bit about before their arrival.
Second, international partners use a teacher candidate's motivational letter and resume to identify and select UBC teacher candidates suitable for their placements. It is much easier on both the teacher candidates and partners if the partner knows ahead of time that the teacher candidate is fluent (or not) in their main language of instruction (which may not be English).
Third, the resume usually gives our international hosts the information required to match teacher candidates up with host schools and teachers who most closely match the teacher candidate's interests, goals, experiences, and CFE grade and subject preferences.
Fourth, a resume helps some partner create or locate evening and weekend activities that more closely along with the teacher candidates interests.
Only one or two partners request a teacher candidate to submit a CV. A CV includes all the information found in a resume, plus much more detail.  For more information about the differences between resumes and CVs, and what to include in a CV, please see: https://www.thebalancecareers.com/cv-vs-resume-2058495. The CV is required for the same reasons as a resume.
I) How should a resume or CV be formatted, how long should they be, and what information should the resume/CV contain?
International partners know that  teacher candidates are kept very busy throughout the tightly scheduled UBC BEd program, and thus a teacher candidate may not have time to fully develop a polished and detailed resume or CV.  Since international partners are largely using this resume or CV to place teacher candidates in schools and engage them in related educational activities (as opposed to finding teacher candidates jobs), a resume in bullet form listing your education (including completed BEd courses), teaching experiences (including BEd practicums with grade levels and subjects), and credentials/volunteer experience, is more than adequate.
Unless a teacher candidate is looking at acquiring a job through their international partner, the resume need only be two pages (12 point font, 1.5 line spacing) and in bullet form. A CV can be 4 or more pages long (12 point font, 1.5 line spacing).