a) What is an invitation letter and why is it important?
An invitation letter (or letter of invitation) is generated by your international partner well before your departure.   It is not just a formality, but for some CFEs (most notably China), you require a letter of invitation to obtain a visa to enter the country.  Although, this requirement is listed in the information for each international partner, immigration requirements can change so always ask your partner if you require a invitation letter
.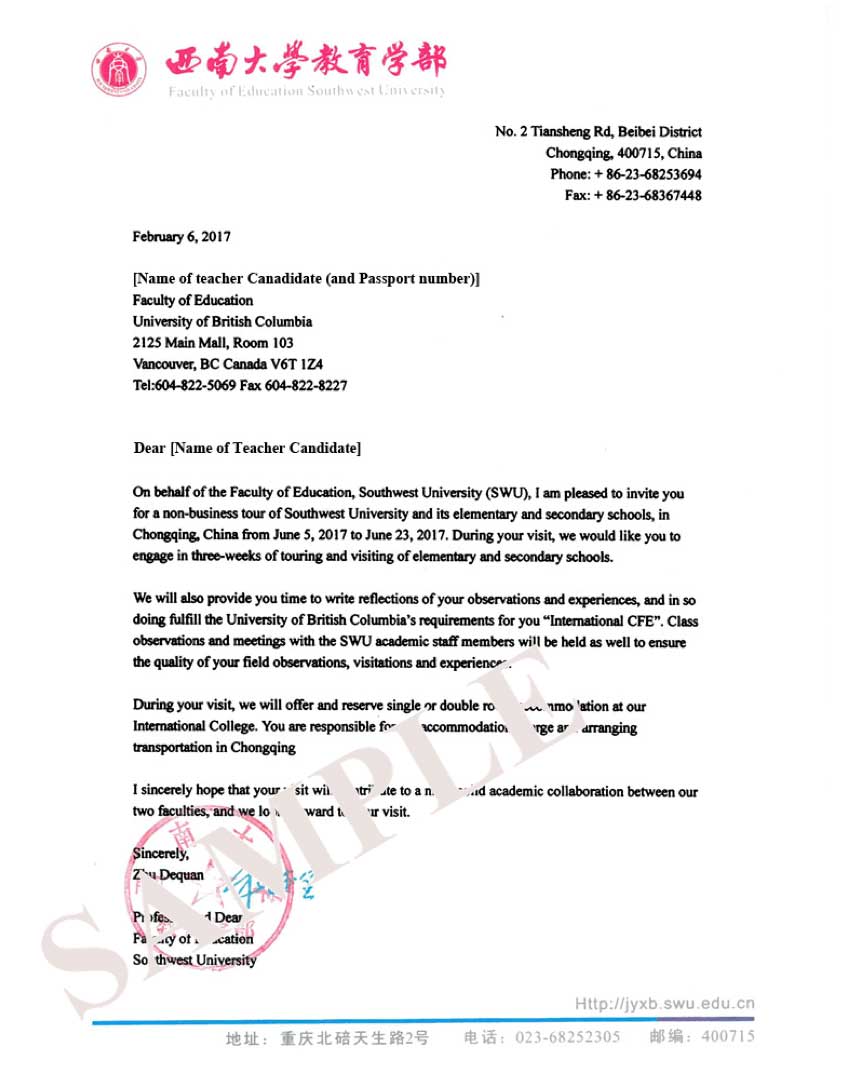 (sample invitation letter)
b) What do I need to provide the partner so they can generate an invitation letter (or letter of invitation)?
From November to January the international CFE coordinator will ask you to email/phone your international partner and begin discussing your CFE – including requirements, expectations, accommodations, etc. During this time your partner will  inform you what is required of you (and when it is required) so they can generate a letter of invitation for you.
For some CFE's this is done through the CFE coordinator, a UBC regional office, or your CFE Faculty Advisor (or combinations thereof). These particulars are indicated within the specific information for the partner.
In order for most international CFE partners to generate an invitation letter, they require teacher candidates to email the partner a digital photograph or scan of the following documents :
Some partners will also require you to send them digital copies of the following:
Undergraduate (Bachelor) degree certificate
Transcript/letter from UBC's Enrollment Services/Registrar stating the teacher candidate's present studies
Resume (instead of curriculum vitae)
Criminal Record Check Authorization (from UBC)
Bank statement displaying funds that can cover CFE expenses while in the country (The reason why a partner will request teacher candidates to submit their bank statement is that in the past the immigration office has requested the bank statement from the partner to be able to prove that the applicant is able to financially support themselves while in the country. Teacher candidates are strongly encouraged to erase bank account numbers).
Reference letter or job offer letter or tax form or payroll stub (this is for teacher candidates who may list work experience on the application form).
Proof of insurance (example)
Be proactive and check your international partner's information before the end of November to determine what documents/information must be sent to your partner so they can process your letter of invitation.  We also recommend you prepare, and take with you, as many of the documents on both above lists.