Events and Volunteer Opportunities – Eventos y voluntariados
2017-2018 News, Events and Volunteer Opportunities (for inquiries spanish.for.community@ubc.ca)
OCTOBER – NOVEMBER
Mini project with  BCCASA for CCDA Guatemala Café Justicia,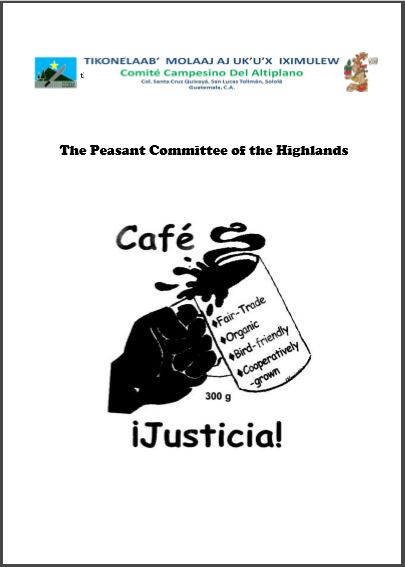 http://cafejusticia.ca/bc-casa
BC CASA is a Vancouver-based volunteer group that works in solidarity with human rights and community organizations in Guatemala. In particular, we work with HIJOS, an organization of youth whose relatives were disappeared or murdered during the country's 36-year civil war, and with the Campesino Committee of the Highlands (CCDA), a Mayan rights and development movement that is active in 100 communities around the country.
We are very happy to renew our contact with BCCASA and the Comite Campesino del Altiplano, CCDA and Cafe Justicia, in Guatemala whose partnership was at the heart of the Spanish for Community Initiative between 2012 and 2013. Seven of our students volunteers Camille Porcioncula, Cemre Barsbay, Ariel Ozdemir, Skylar Zkarin, Ricardo Zatz, Luiza Shroeder and Alex Kim are helping with tranlations of materials to sponsors for the CCDA sholarships.  Gracias a todos!
Know more about the organization: https://coopcoffees.coop/ccda-3/
Volunteers needed! Check these two new opportunities to learn while serving the community.

Help with a bilingual (English-Spanish) radio show:
Would you like to be part of a radio program? You can help!
Dear Students,
I am part of a collective that produce and broadcast a bilingual radio show on one of the Alternative Radio Stations here in the West Coast.Our show airs every Saturday from 12:00 to 1:30.WE are a collective made up Latin Americans and Canadians who have a passion for alternative media.  Our goal is to bring the voices of people who are from the social movements in Latin America. Usually through phone calls, but also we cover issues affecting the community here in Vancouver.Our show is called America Latin al Dia, and has been on air for more of 40 years.  We broadcast live from the studios of Vancouver Cooperative Radio, we are not commercial, we are an alternative media radio station.
Please see details in our webpage:
---
Volunteer helping new inmigrants to learn computer skills, during computer literacy class, in Spanish and English
"Computer Literacy" para personas de habla Hispana, seis sesiones Martes y Jueves de 6:00 – 8:00 p.m. y será las siguientes fechas:
Noviembre                            1
Noviembre          7                8
Noviembre       21               22
Las personas que asistiran no saben nada de computadoras y se les enseñara lo básico, el vocabulario será en Ingles pero toda las explicaciones la Maestra las dara en Español. Estamos interesadas en dos voluntarios para que asistan a los estudiantes.
Por favor avísame si me puedes ayudar, Gracias de antemano.
Contacto:
Arely Rodriguez
Spanish Settlement Worker
3981 Main Street l Vancouver BC
604.879.7104 ext. 413/323 (p) l 604.879.7113 (f)
www.lmnhs.bc.ca
"Neighbour helping Neighbour"
---
We are ready to start the new year 2017-2018 with Spanish for Community!
We will continue with our project the Gifts of Our Lives, in partnership with South Granville Senior Center, and working on setting up new partnerships with community agencies while participating in community event.
Come and join us!
We have our first event supporting Karuara (People of the River): Indigenous Amazonian Resistance tour –  on Monday Oct. 23th,
Date: Monday October 23rd, 2017
Time: 6:30 pm
Place: Roundhouse Community Centre (181 Roundhouse Mews, Vancouver BC)
The tour features Mari Luz Canaquiri, e leader of  the Kukama Indigenous people who has organized resistance against pipeline plans and a massive Water Highway project on the Marañón River in Peru. Mari Luz will be speaking and the tour will also present short films and a book of Kukama origin stories illustrated by Kukama children.
April 25th, Center for Community Engaged Learning, CBEL, Celebration at Kits House
The celebration of the Center for Community Engaged Learning, UBC for faculty, students, and partners. We were invited for our project "Gifts from our lives" that was featured with pictures and students testimonies in the slide presentation. Here we are with Madeleine Zammar from CBEL (our true champion!!) and her beautiful baby, María José Torrejón from South Granville Senior Center and Carolina Navarrete, our Community Liaison, (these two are our Chilean Fierce Warriors
😉 ) We missed you Maria Adelaida Escobar but you were with us in spirit!! What a fun event, company, wine and food amazing!
April 5th
March 17th:  Spanish 207, Art, Artivism and Community. The Rights of the Earth. A visit to MOA's new exhibit "Amazonia" with the guidance of its curator Dr. Nuno Porto that gave the students a private tour in Spanish! Thank you Nuno! Gracias Nuno, un privilegio!
http://moa.ubc.ca/portfolio_page/amazonia/
________________________________________________________________________________________________________

March 8th and 15th
Spanish 207 class, 26 students plus 7 students volunteers, first and second rounds of interviews for "Gift from our lives" projects.
Seniors share their lives, their memories, and their wisdom with our students. Beyond the assigned questions from the interview template, that conversation got wings and went far beyond our expectations. Thank you to all participants and volunteers. Particularly to Dr. Maria Adelaida Escobar that volunteered her time and knowledge and most of all her enthusiasm!, Dr. Carolina Navarrete our community liaison for her incredible energy, talent, and kindness  and our wonderful host and program coordinator, Dr. Maria José Torrejon. Last and not least thank you to the seniors that open their hearts with such generosity. We have accomplished Part I of this project, more to come next academic year. Check out this images and volunteers feedback on the experience and soon pictures and comments on  our end of part one party at the center coming soon on April 5th:
Images by Rocío Hollman (Span 402 volunteer) and Carolina Navarrete.
________________________________________________________________________________________________________
Spanish 207, Friday , March 3rd. 12 to 1pm
Project 2
Opportunity to learn about a community-based art center in Cojutepeque, El Salvador,  a town suffering gang violence at daily basis, by helping Canadian-based initiatives supporting the young Salvadoran artists, educators, students and their projects.
Art, community and "artivism": Amigos de FundArte, FundArte, Cojutepeque, Salvador. Guest speaker, Anna Sedo from Amigos de Fundarte. 
Friends of FundArte is a Canadian-based initiative to raise funds for the Salvadoran community arts organization FundArte Cojutepeque (Foundation of the Arts Cojutepeque).
FundArte Cojutepeque was started by a dedicated group of young Salvadorans in the summer of 2013 to provide a vibrant, multifaceted arts space, educational opportunities for youth and children and a safe place for the community to gather in the midst of growing violence and social problems in El Salvador.
El Solar Community Theatre is the center of FundArte's activity. Past events at El Solar have included dance, music, theater, circus, poetry, painting and drawing exhibitions, films and cultural/historical discussions. What they have accomplished in a few years on a shoestring budget is truly amazing, from humble beginnings in a vacant lot destroyed by a massive 2001 earthquake to an oasis of arts and culture
______________________________________________________________________________________________________
Intergenerational Spanish-speaking workshop on Memory and Brain fitness, at the South Granville Senior Center. March 1st, SSCS, 2 30 to 4pm
The students paired with the seniors will participate in activities related to brain health and memory. This workshop will be facilitated by a Spanish speaker occupational therapist. This is a pre-interview social and learning opportunity for interaction and collaboration between students and seniors.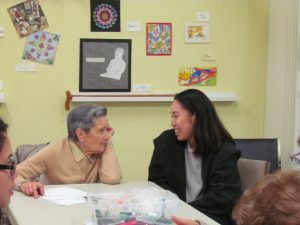 ________________________________________________________________________________
February 2017
Partner presentation, Grupo Latino de Adultos Mayores en el South Granville Senior Center, its history, mission, demographics. February 6, UBC. 
Presenter, Dr. Maria José Torrejón coordinator.
Workshop on memory and oral history, Friday,  February 1oth, UBC .  First steps and discussions regarding interview design. First interview drafts.
Facilitator and presenter, Dr. Carolina Navarrete (FHIS)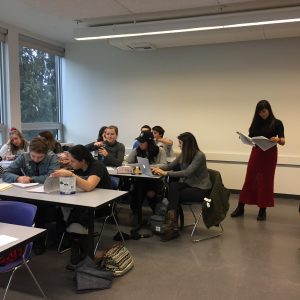 January 2017
Celebration at the Senior Center, with a Tango demonstration and lesson. Wednesday, January 25th at 3pm
Students will participate in the Celebration of birthdays at the Senior Center, helping, interacting, participating and gathering information in preparation for the first interviews with participants for our project Gifts from our Lives.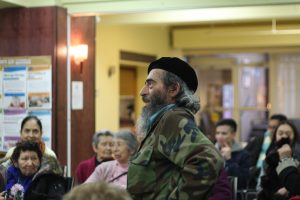 December 2016
Experiential Workshop on Memory and Connection
Students and Seniors gathered on December 3th, 2016 to participate in an experiential, expressive art-based workshop where they shared memories. movement activities and art making.

Image by Patrick Gillin (December Event)