2019
Linguistic-service projects, translation-adaptation:
 Volunteer-based for Advanced Spanish Language Students, Translations Service Team
Project 1: Partner, MOSQOY.ORG (continuation of 2018 course-based project)

Website translation, Term 2
Project 2: Partner, ABREAST IN A BOAT ,  dragon boat paddling training created by Dr. Don McKensie (UBC) for women with breast cancer diagnosis.  translation of medical articles and informative-educational materials for new branches in Latin America.
Course-based optional, Span 302:
Project 3: Partner: Little Mountain Neighbourhood House,
Translation and adaptation of educational materials and recipes from Cooking in Canada by the Canadian Diabetes Associations, for the nutrition and cooking course in Spanish for immigrants.
2018
Mosqoy.org webpage Translation, Spanish 401 integrated project I
.
Span 401 class, 41 students
Course- based project aligned with course objectives and learning outcomes
Individual and collective translation, the class is in charge of four sections of Mosqoy webpage (each student works in each section): Meet Our Weavers, Textile Symbols Our Team, Our History
SFC: Maria Carbonetti coord, Maria Adelaida Escobar Trujillo, co-designer
Mosqoy (co teaching partner): Alicia Cristina Barrera (NYU, translator) feedback and Skype discussions with students , Ashli Atkins (director) class visit, November 23th
Little Mountain NH, Spanish Computer Literacy for New Immigrants, Open project 1
Student Assistants
12 students selected from Spanish 301 (101 and 103), Span 401 and SFC.
Students assist participants twice a week for the 2 hour class in Spanish to practice their new computer skills that will help with their settlement process and job searching.
Students intensively practice communication skills with people from different regions in Latin America, and are exposed to diverse accents, language variation and vocabulary.
Little Mountain (co-teaching partner): Mariana Gassman (instructor), Arely Rodriguez (supervisor)
Community Engaged Learning Event:
Guacamole for Justice: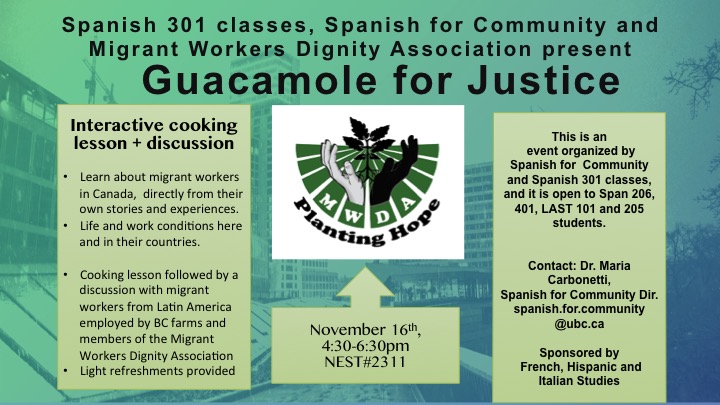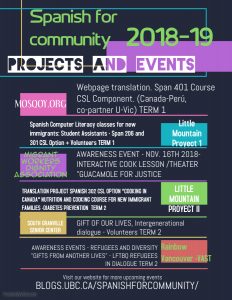 2017-2018
Proyecto 13
Mini project with BCCASA and CCDA,
We are very happy to renew our contact with BCCASA and the Comite Campesino del Altiplano, CCDA and Cafe Justicia, in Guatemala whose partnership was at the heart of the Spanish for Community Initiative between 2012 and 2013. Seven of our students Camille Porcioncula, Cemre Barsbay, Ariel Ozdemir, Skylar Zakarin, Ricardo Zatz, Luiza Shroeder and Alex Kim are helping with tranlations of materials to sponsors for the CCDA sholarships.  Gracias a todos!
Know more about the organization: https://coopcoffees.coop/ccda-3/
Proyecto 12-14
Gifts from Our Lives: A Gift of Voice, Words, and Images
We continue with our inter-generational project with our partner
South Granville Seniors Center,   Spanish Seniors Program,
bringing students and seniors together sharing stories and experiences.
Project 11 – current 2016 – 2017
Gifts from Our Lives: A Gift of Voice, Words, and Images
Partner: South Granville Seniors Center,   Spanish Seniors Program,
The seniors will share their wisdom and life experiences with our students as well as their linguistic expertise in Spanish as native speakers. The aim of the project is to empower seniors from Latin American background to create a legacy and an archive for future generations in both Spanish and English. Spanish for Community will support the seniors with the process of choosing memories oral and written, as well as in collecting and translating their creative writing, poetry and other meaningful gifts the seniors want to share with the next generation and to the community.
The project has different stages during two academic years. The first phase has recently started in September 2016. We have scheduled four preparatory events in October, November , and December ( two gatherings for introduction and presentation of the project and a workshop at the Senior Centre by Community Liaison, Carolina Navarrete and coordinator Maria Carbonetti, and creative writing and art workshop by Maria Carbonetti).  Students 'participation will start in December 2016 with a call for volunteers to engage in the creative workshop, and then from our classes in January 2017, This first part will be completed by April 5 2017.