Dear readers of the Spanish for Community Blog,
I thought you might like to hear about what is happening with Ratón de Biblioteca. It is already the end of the second month that we (Eman, Inbar, Daniel, and I) are working with the children in Medellín. The classes take place on Tuesdays, Thursdays, and Fridays from 10 pm to 11pm (for me in Austria). Until the third week, I was doing the classes alone, however, I got help from two amazing girls. My brother joined the team a week ago as well. Even though I am working from Monday till Friday from 8am till 8pm, the classes with the kids make each class a true gift and such a unique experience each week.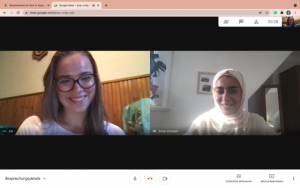 So far we have done some smaller topics with the children such as colours, numbers, ABC, animals, the human body,  and the months, weeks, and different activities they perform on a weekly basis. After two to three weeks, I tried to watch parts of movies with them, however, they enjoy classes with activities a lot more. On our Tuesday meeting with the girls and Dani, we will discuss further content regarding the upcoming classes. I believe, that this opportunity is not only a learning experience for the kids, but for us 'teachers' as well.
Humongous thank you to my professor, María Carbonetti, my teaching assistant, Lorenia, as well as the Spanish for Community Team,
Encsi, SPAN 302 student