Meet the Director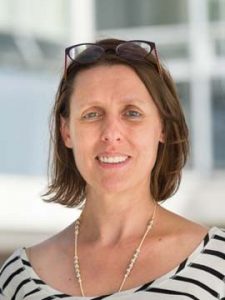 Dr. Maria Carbonetti
Spanish for Community Director
Lecturer of Spanish
Email: maria.carbonetti@ubc.ca  | spanish.for.community@ubc.ca
Department of French, Hispanic and Italian Studies (UBC)
Profile: Maria Carbonetti
I received a Licenciatura en Letras, from Universidad Nacional del Sur, Argentina with an specialization in Linguistics. In 2004, I finished my Ph.D in the French, Hispanic and Italian Studies Department , UBC in Hispanic Studies. My thesis, "Distinción y Periferia en el Discurso de la Prensa Ilustrada: Plus Ultra (1916-1930)"  examines the discourse of the press in Plus Ultra, a cultural and social magazine for the Argentine aristocratic elite, published in Buenos Aires between 1916 and 1930. My research undertakes the study of the complete edition of the magazine that featured writers, artists, and thinkers, filmmakers, photographers and celebrated visitors from abroad, as well as  selected members of the elites and their families. The research examines the practices of distinction, by which cultural, symbolic, and material consumption establish a dialogue with the modern nature of the magazine as a means of mass communication. The relationship between distinction and modernity reveals the tensions within the elite's needs to consolidate its social and political power and the impetus of progress endorsed by the same social group. In doing so, Plus Ultra exposes the diminishing power of the oligarchy through an agenda based on self-referentiality and allegory between family genealogy and national history.
I teach intermediate and upper level Spanish Language courses, from Spanish 206 to 402 and a translation course, Spanish 401.  I coordinate Conversational Spanish courses and Advanced Spanish courses. Since 2010, I design and run community-based and service-learning projects and have created  Spanish for Community, a hub for community engagement and service learning at FHIS, offering the students the opportunity to apply their linguistic skills and to learn from local partners working with the Hispanic community here in Metro Vancouver and abroad.
"Knowledge emerges only through invention and re-invention, through the restless, impatient, continuing, hopeful inquiry human beings pursue in the world, with the world, and with each other" Paulo Freire
These words, are present in my mind and heart and have guided me not only in my academic  but in my personal life. But it wasn't t until  2010 with the first pilot project,  when I found a way to bring my teaching practices in the direction of Freire's thought by creating spaces and by designing projects for community engagement in Spanish language courses.  After that year, more opportunities to work with the Hispanic community local and abroad came non stop with small and large projects and different partners organizations. Finally, in 2016, the Spanish for Community (SFC) initiative was born, as a hub for community-based experiential and service-learning projects at the French, Hispanic and Italian Studies department.
SFC designs, coordinates and runs multiple linguistic and culture-based projects for specific courses, cross-course projects and also program-related (Spanish and Latin American Studies) events providing curriculum-based and relevant experiential opportunities for students and instructors, promoting cultural awareness, civic engagement, social justice and connecting the classroom with the community through cooperation and mutual interest.
The 2019 Killam Teaching Prize for excellence in teaching was awarded to Dr. Maria Carbonetti, Lecturer of Spanish at UBC's Department of French, Hispanic and Italian Studies. Here, she talks about taking risks, making an impact, and the power of community engaged learning to help students apply their skills far beyond the classroom through Spanish for Community.