Our Partners
2020-21 Academic Year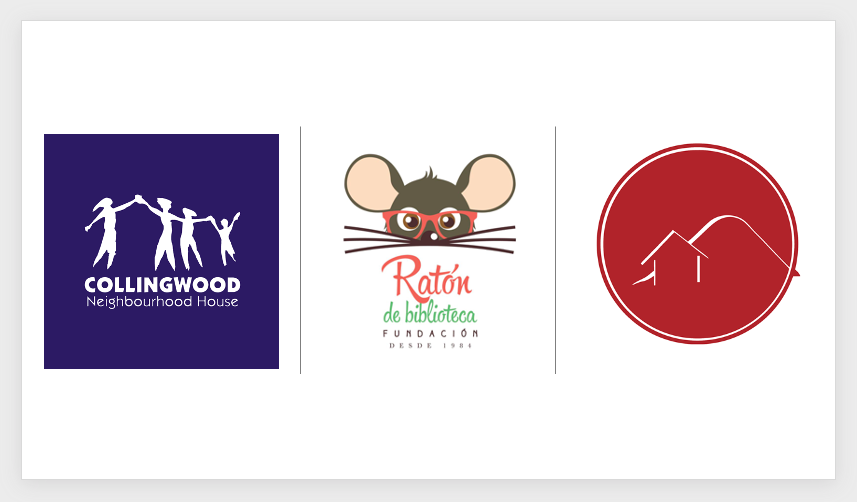 Fundación Ratón de Biblioteca (Colombia) is a community organization that facilitates and supports access to library services as well as reading and literacy programs to families, children and youth living in challenging areas of Medellín aiming towards fostering community and civic engagement for a more creative and peaceful society.
Collingwood Neighbourhood House (Vancouver, Canada)  is a non-profit, social services agency serving the community since 1985. CNH promotes the well-being of the Collingwood community by providing leadership and working collaboratively with individuals, families, agencies and other groups to develop and support inclusive, innovative, sustainable initiatives and services that respond to the community's social, educational, economic, health, cultural and recreational needs.
Little Mountain Neighbourhood House
(Vancouver, Canada) provides necessary educational, cultural, recreational, and social services for the community of the Little Mountain and Riley Park area. LMNHS encourages active participation and proactivity as it strives towards the development of a healthier community.
Mosqoy.org 
 (Peru) is a grassroots organization that works towards global sustainability and resilience by empowering local culture. Working with rural Quechua populations in the Andean mountains of Peru, Mosqoy believes in empowering local communities through international solidarity and networking, sharing stories of celebration, struggle, and strength.
2018-2019 Academic Year
Little Mountain Neighbourhood House, Vancouver
Previous Years
BC Women's Hospital & Health Centre
South Granville Senior Center, Vancouver
REACH Multicultural Health Center, Vancouver
Best Birth Clinic, Vancouver

Kinbrace Community Society, Vancouver
Corpus Christi College, UBC Campus
CoDevelopment Canada
FOMCA (Federation of Central American Teachers' Organizations)
BC CASA
CCDA-Café Justicia (Comité Campesino del Altiplano, Guatemala)