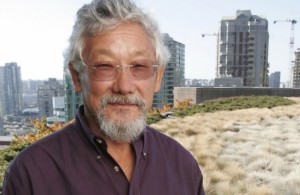 Join Dr. David Suzuki, distinguished Canadian environmentalist and UBC Professor Emeritus, for a public lecture called The Global Eco-crisis: Is it too late?   In this engaging 60-minute lecture, Dr. Suzuki offers his insights on the state of the environment and whether there is hope for the future. After the lecture, Dr. Suzuki will sign copies of his books in the atrium of the Chan Centre.

Dr. Suzuki's lecture will take place at 7:30 pm on November 3 at The Chan Centre for the Performing Arts.
Tickets are $5 and available at the Chan Centre Box Office or Ticketmaster.

For a chance to win two tickets and a signed book, submit a question to Dr. Suzuki on Twitter using hashtag #iwouldasksuzuki, or on the Facebook event page. The winning question will be answered by Dr. Suzuki at the lecture.
This special event is presented in conjunction with the opening of the Centre for Interactive Research on Sustainability and the Accelerating Sustainability international conference