Hello!
We are Group #6, and our group members include Lisa Leslie, Ivy Zhao, Zixi Qi, Al Daquioag, Size Chen, and Yu Zhang. We are taking on the Greater Vancouver Food Bank project, which will be assessing and acknowledging practices regarding the best-before-date inventory of the food bank.
About The Project
We have chosen to take on the project with the Greater Vancouver Food Bank, where we will be assessing and acknowledging practices regarding best-before-date and nutritional quality of non-perishable goods. We will be performing a nutrition analysis using a sample size of 450 units from each of the food bank's sources of food items in order to assess the best-before-dates of the inventory. We hope to create a better understanding of how a change in policy regarding distribution of foods past the best-before-dates will affect the quantity of the inventory. The outcome of this project will allow for an improved exchange mechanism for food in order to build a stronger community.
The Greater Vancouver Food Bank
The Greater Vancouver Food Bank (GVFB) is a nonprofit organization that works together with others in the food system to support healthy food for all. This includes the right to choose nutritious and safe food with dignity and respect. The mission of the GVFB is to create empowering environments that provide and promote access to healthy food education and training. While the GVFB continue to provide assistance to help address the immediate needs of the community, they also recognize that emergency food as a stand-alone is not a long-term solution. In 2013, they completed the organization's first strategic plan and are moving beyond food in isolation into a model that helps foster a path towards self-sufficiency. The development of this strategic plan is an example of what we have learned in LFS 350, Asset-based Community Development (ABCD), they have built and served the community. The food bank is a critical component for the "food justice" system as the food bank recognizes the right for food for all members and branched organizations, working to provide communal support. 
First Impressions
During our first encounter with the Greater Vancouver Food Bank, we were very surprised to see how the concepts we have learned from LFS could be applied in the real world. First hearing of the concepts in class, it is difficult to truly apply these ideologies until we are exposed to community-based experiences. For example, the Greater Vancouver Food Bank put food security issues in perspective for many of us. Over 6,000 members receive goods from the food bank each week, and the food bank also supports over 75 organizations. Additionally, the amount of goods stored in the warehouse was surprising to us, as crates upon crates line the walls. Many of us were also shocked to see the amount of non-food items that are stored within the warehouse, such as cleaning supplies and personal hygiene products. Moreover, the food bank team highlighted the importance of our project, and the significant meaning of the outcome of our research. To move incrementally towards all foods distributed on or before best-before date we must first understand its impact on our food supply. We felt quite shocked to realize the true impact our project will have.
Lisa, a co-worker from the warehouse, gave us a general introduction to this project. She said this project aims to grade food products from the nutrition perspective. Since there are thousands and random products, there is no possible way for volunteers to check every single product that came into the warehouse. Statistic program is used to value the percentage of the population that received the products and people's nutrition status. Results reflected the nutritional value of the whole donated products. So far, volunteers have already looked at 400 products in each inbound streams (there are five inbound streams of total donations). Lisa mentioned that food bank receives food from different places, like industrial donations and donation bin at Safeway or Walmart.  For all Donations in each of the way, volunteers have to make a sample size of 400 products per months per stream. This project suggests the dignity and trust between the food bank and the community receivers. It also shows the potential impact of the food level when we shift 12 months best-before date to a shorter period.  
About Us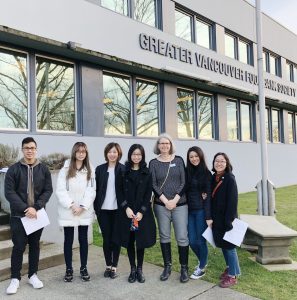 From left to right: Group members Al Daquioag, Yu Zhang, Ivy Zhao, Size Chen, Erin Nichols (Food Quality and Sustainability Manager at the Greater Vancouver Food Bank), Lisa Leslie, and Zixi Qi
Our group interests include a shared passion for the global food and health system, as well as sustainability of our resources. From this experience, we collectively hope to understand how the quantity of food in inventory may be affected by policy changes pertaining to the acceptable time frame of which food or beverages may be distributed past the best-before-date. This includes becoming familiar with various best-before-date formats used across Canada. The project is also a great opportunity for our group members to develop our report writing skills, data collection skills, and communication skills.
Lisa Leslie
I am a Food, Nutrition & Health Major, and for as long as I can remember remember, I have always felt as though my purpose was to share my passion of healthy living. Helping others take small steps towards improved nutritive choices in order to better their health has always been one of the greatest feelings for me.  I adore to share my love for food. Growing up, I would take frequent trips to the Philippines, where my mother was born. It was there that I realized the true implications of food insecurity, and subsequent malnutrition. At a very young age, I had come to realize the important of food and nutrition. My ultimate goal in this project is to help the food bank create a policy that will help both the members and the goals of the GVFB. 
Ivy Zhao
I'm a third year student major in Food and Nutritional Science major. However, with my growing interest in nutrition from prior courses, I might switch to Nutritional Sciences major later. Even so, I can't live without junk food. I guess the time to sacrifice will come if I'm going to step into nutrition area in the future. I go to gym and boxing regularly.
I used to volunteer at The Salvation Army for almost three years and the experience there made me realize how much I love helping others. That is the major reason I chose to work on this project because I believe such non-profit organizations are very valuable for the society to function. I look forward to participating in this project and doing my best to help with the Greater Vancouver Food Bank.
Zixi Qi
After joining the food and nutrition training program at Wonkwang University, Korea last summer. I decided to focus on the human nutrition in the further study and transferred from applied biology to nutritional science. It was an excellent experience. The training program contained both practical and lecture-based projects which gave me a general sense of human nutrition and how to determine evidence-based medicine. It made me realize that different nutrition status is a life-long effect and we can reduce some potential deficiency effect by simply changing our intake. I really want to learn more in this project.
Al Daquioag
Ever since I was in highschool, I was always interested in nutrition and health, which inclined me to go into the FNH general program at UBC. I started training in the gym when I was 15 years old in order to lose weight and improve my physical health. That was also the time I started to learn about nutrition and how I quickly fell in love with it.
I have work with the Greater Vancouver Food Bank before and it was such an eye opening experience. I learned new things and it had broadened my perspective about how hard a food bank works to deal with food insecurity. I am hoping that this project can help me learn more about food insecurity, and we can do our part to make sure everyone can get nutritious and affordable food.  
Size Chen
As a third-year student in Food and Nutritional Sciences major, I take a series of food science core courses this year; however, I still have passion for nutrition. To me, food science and nutritional science are somehow associated; they cannot be looked separately. With this best-before date inventory project in cooperation with the Greater Vancouver Food Bank, I hope to integrate my studies, gain a broader horizon and also touch more on nutrition perspective of food in the meanwhile. I am willing to put efforts into this project, learn more about best-before date and get to appreciate the complexity of industrial food system.
Yu Zhang
I'm begin to take courses about nutrition this year, and this is my first experience to learn nutrition. I think food science is closely related to nutrition, and I have been curious about what I actually eat for a long time. So I have great passion to learn about food or nutrition. I'm pretty excited in this best before date inventory project since I think it can help me to deeply understand food and can have positive influence for my future food choice. Also, food bank contributes a lot to food security in Canada, it would be a treasurable experience for me to witness how industrial food system works.
Thanks for reading, and we look forward to sharing our experience with our project on this blog.