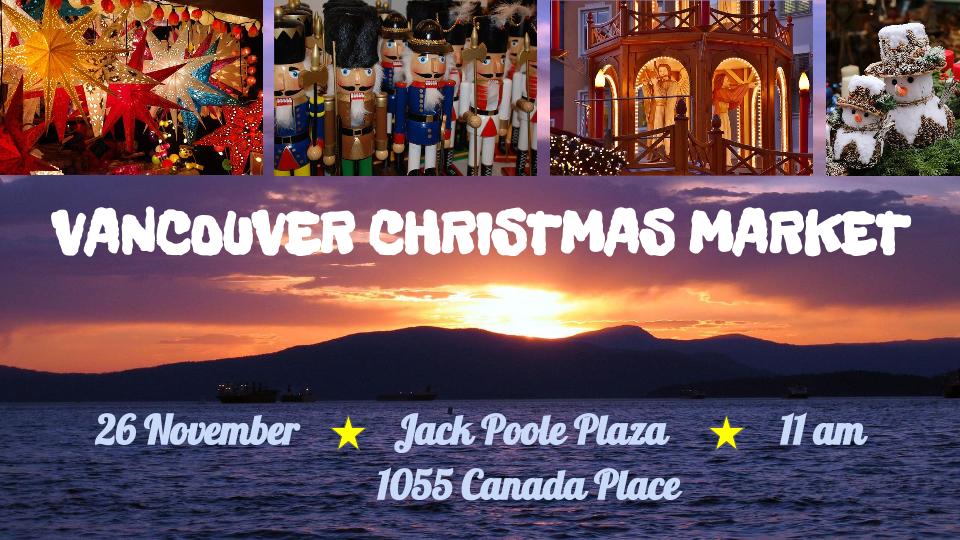 Join us for a visit to the Grand Opening of Vancouver's Christmas Market on Saturday, 26 November at 11:00 am at Jack Poole Plaza (1055 Canada Place)! Experience an authentic German-inspired Christmas Market – A mix of traditional food and beverage, a selection of unique gifts, and a wide variety of cultural activities and entertainment.
Cost: If at least 15 people register, tickets cost $6 (including taxes) per person (group discount). If we have less than 15 people, tickets cost $8 (including taxes) per person.
Advantages: Each ticket (together with your ID) will serve as a Free Season Pass: You can return to the market as many times as you like all season long! Moreover, you'll have access to the exclusive Express Lane so you can skip the queue!
So, don't wait and RSVP by Monday, 21 November. Please sign up with your full name(s). We will order the tickets directly after the deadline. Refunds will not be possible – If you signed up but cannot attend anymore, you have to reimburse us for the cost of your ticket(s). Moreover, note that with your sign-up, you agree with paying $8 per ticket in case we don't get enough attendees. Please bring the money in cash (the exact amount if possible) to the event date. Please contact Jessica, if you have any questions.