Join us for our Career Networking Night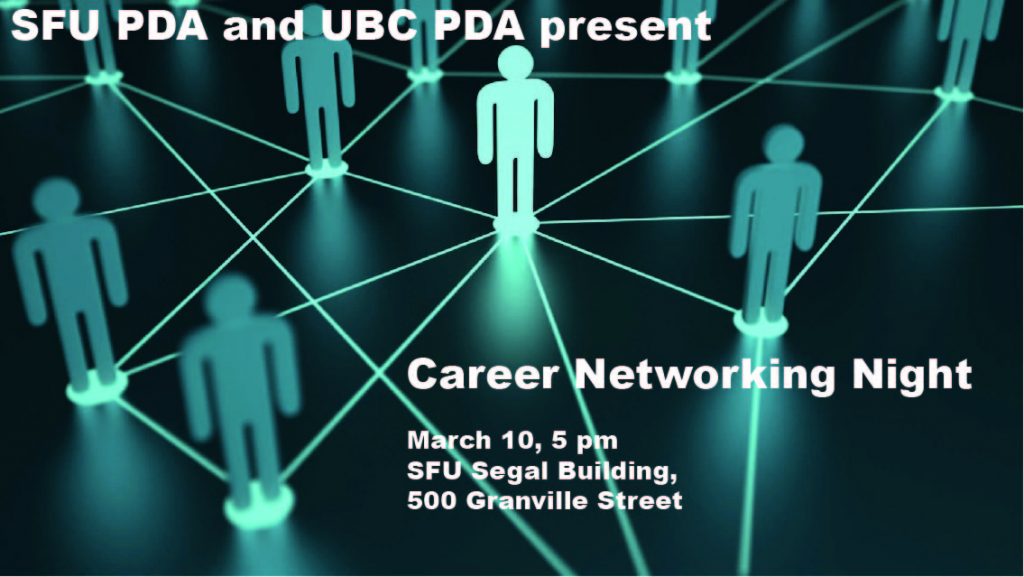 This is a joint event by us and the SFU PDA.
Date: 10th March 2020, 5pm-7:30pm 
SFU Segal Building, 500 Granville Street, Vancouver
This is an excellent opportunity to connect with a variety of companies and employers in an informal setting. Discover the opportunities available outside academia, and what employers are looking for!
The event will be held in the Segal Building (SFU downtown) from 5:30-7:30 pm (brief highlight presentations from our sponsors start at 5:30 pm), with light refreshments and a cash bar.
Of Note: As this is a networking & informal interview setting, we STRONGLY recommend business casual dress.
Representatives will be joining us from:
– Zymeworks
– New England Biosciences
– Amgen
– Mitacs
– 1QBit
– Fortinet
– The Government of Canada
– ABM
– Oceanwise
– 1QBit
– Aspect Biosystems
– Fortinet
– Genome BC
– SCWIST
– Special Projects and Strategic Initiative UBC
– Willow Biosciences
– more to be announced!
This event is free for all postdocs!
We will release more event details and will update this blog post closer to the date.
Hurry and register now! There are only a limited amount of spots available!
Don't hesitate to contact us if you have questions!
We are thankful for the support by our sponsors and exhibitors: