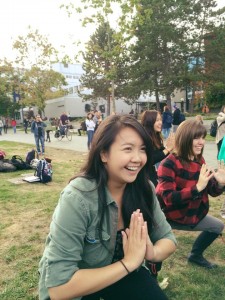 When I think of PE, I remember it as a minor subject in my elementary school, only an hour-block once a week. From grades 4-7, each grade level was assigned a single sport to learn and play all year (kickball, T-ball, volleyball, and basketball).
I remember being not-so-athletic back in grade four and would dread PE because kickball meant running and if I struck out, I let my team down. One day, I was up on the plate, the ball was rolled to me, and I actually kicked it far! I was ecstatic and started running to first base, only to trip on a jagged rock poking from the ground, resulting to the biggest gash on my knee. Needless to say I could not participate in PE after that because I was always on the sidelines. Even when my knee healed, I shied away from participating whenever possible and developed a sense of disconnect with my physical well-being (both education and activities) even in the later years.
This Tuesday, a colleague and I happened upon a flash mob at the Martha Piper Plaza, which turned out to be the Secondary Programme's Dance Play flash mob. It was so amazing to see people moving and dancing and having being fun. The energy was so contagious, we decided to join and it just made me think that this is what was essentially lost for me in anything related to physical literacy: FUN.
I hope to gain more knowledge in class on different ways I can make my future PE classes fun and full of energy, at the very least have my students not dread PE. I can't wait to learn from my peers especially during Group Teach sessions!