Before we start introducing ourselves, we would like to ask our readers a question. In a scenario where food sovereignty is in jeopardy, could urban farming be the answer to this problem? Even though the city of Vancouver has an abundance of food, food seems to be merely a business model, and the growing and distribution of food lack community involvement. As a group, this is the reason why we want to contribute to this project because we are all passionate about food and about sustainable food practices for growing enough food for the years to come.
We are a group of five students from the University of British Columbia studying various majors in the Faculty of Land and Food Systems. This semester, through the course LFS 350, we will be working in collaboration with the Gordon Neighbourhood House (GNH) specifically with their urban farm locations and rooftop garden. We are very excited to get started on our project and to be able to share the experience with members of our community and beyond.
As the majority of us have limited experience with urban farming, we chose this project to gain more insight into what urban farming is, how it is done and the impact it has for communities. We were also drawn to this project by the potential of working with Gordon Neighbourhood House (GNH); as their food centred model is one we have heard about in other courses, or through our own research, and we are all interested in learning more, as well as being a small part of the amazing work they are doing.
Introductions
Zara Neukom
Major: Food, Nutrition, and Health
 I am a passionate food citizen, avid whole foods junkie, and aspiring Naturopathic physician. Through my degree, I have come to understand the importance of food as the centre of the wellness continuum. For me, nutrition and diet goes beyond the self, and mingles with the interface of food production, access, and extends as far as the global food system. The dogma of nutrition has often been defined by what one puts into his/her own body but I believe that that definition must be expanded. If we are conscious of where our food comes from, how it has been produced, and the stakeholders that are involved first, then it will indirectly be better for our bodies, minds and spirits. I am so excited to be working on this project with the Gordon Neighbourhood House, where an urban farm is the epicentre of collaboration, community and food-based learning. Through this project, I hope to gain valuable insight on the workings of an urban farm, for I believe utilizing urban spaces to grow nutritious food in a sustainable manner, will be paramount for the future of our food system.
Sarah Mackenzie
Major: Global Resource Systems
I am interested in community based development and how the food system weaves its way through so many aspects of our lives. As a previous economics student, I was constantly challenged personally by the disconnect between economic theory, actual communities and the people who belong to them. By studying Global Resource Systems I hope to develop my ability to learn from a variety of different situations, circumstances and people; and broaden my views on the world around me. By participating in this project I hope to gain practical experience and knowledge on Urban Farming, and be able to work alongside the Gordon Neighbourhood House in order to help them to achieve their goals.
Faye Li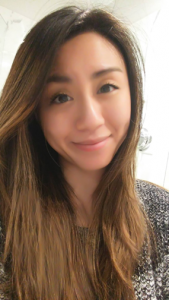 Major: Food, Nutrition and Health
I am most driven whenever I am given the opportunity to help. My goal is to be involved with an international non-profit organization and contribute my knowledge in aiding our global food crisis. I believe that to solve our current food crisis; everyone should know a little bit about urban farming, which is why I chose to work with Gordon Neighbourhood House. I believe that urban agriculture combined with the help of community can be beneficial for food sustainability and accessibility. Through this project, I hope to gain useful knowledge about urban farming. My goal will be to start a small garden on my porch and start my journey in becoming more food literate and incorporating sustainable food production into my daily life.
Serafina Liotti
Major: Food, Nutrition, and Health
I am really passionate about food security, the environment, and becoming a better food citizen. What initially drew me to Gordon Neighbourhood House, is that it is oriented around food, and that it hosts one of the only, "food hubs" in Vancouver. Along with being a location for weekly Food Bank bags, the 'hub," gives people the opportunity to access nutritious food that they can afford, in a more dignified manner. I am excited to be able to contribute to the GNH gardens, and food hub, in a meaningful way. I hope to gain insight through listening to the farmer, and the community that we will engage with, as well as acquire some transferable farming skills. In my quest to becoming a better food citizen, one of my goals is to grow a vegetable garden this summer. I think this project will highlight the importance of sustainable agriculture, and how urban farming might just pave the way for agriculture in the future.
Jin Wang
Major: Applied Biology specialized in Plant and Soil.
My top interest is plants and agriculture, and that is why I chose this project. I have volunteered at urban farms before, such as UBC farm and Fresh Roots Urban Farm. I believe in food justice and that everyone has the right to have access to nutritious food.
My goal for this project is to help Gordon Neighbourhood House with their urban farms and rooftop garden, and learn more about how the urban farm has shaped the community and  changed food accessibility for the community members. The ultimate goal is to raise awareness surrounding food justice and get excited about growing food locally.
Our Goals & Interests
During our first meeting with Gordon Neighbourhood House Joey, the head farmer and our project leader, asked us to come up with our strengths as a group. We tried to go around the circle and each list a strength, but the process felt forced – it was hard to come up with something on the spot. Instead, we started discussing our interests and it inspired an exciting conversation about our different passions for food and the food system. Before we knew it we were talking about converting rooftops to gardens, ways to make the food system more inclusive and how each of us feel responsible for and connected to the food system in different ways. Together, we share a passion for interacting with the food system and we are all interested in the potential that urban farming holds for generating positive change and growth.
Furthermore, we are excited to explore the interconnectedness of the food system with respect to GNH, especially how urban farming can foster community connections. Joey talked to us about the different elements at play within GNH and we outlined some of the relationships in the graphic below. We discussed the challenges of balancing different elements of food and community; and are looking forward to working with Joey to help her with these challenges.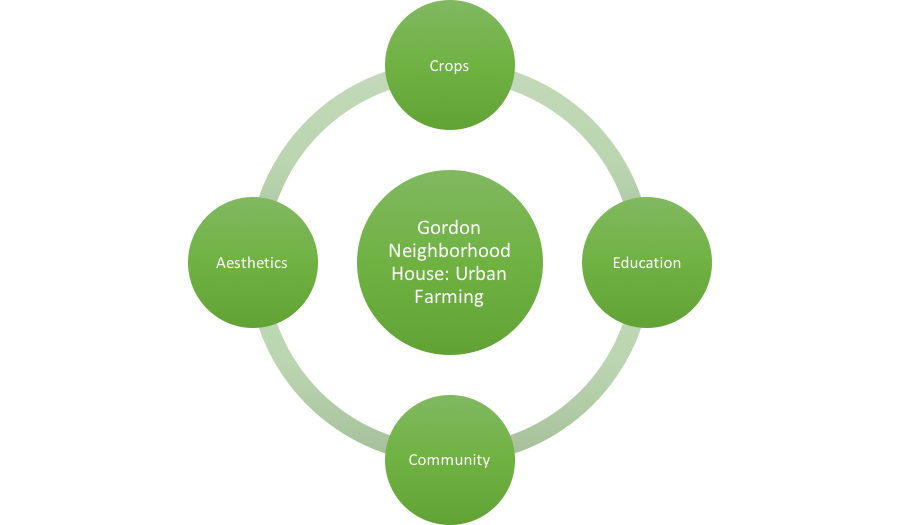 Project Objectives
Assist with urban farming activities on a weekly basis: focusing on the new rooftop garden space.

To help with basic and moderate farming tasks across the garden locations.

To especially focus on the newly acquired rooftop garden, in terms of maintenance, aesthetics, and community building.

To increase relations with the residents of the rooftop garden building, to see how we can better engage the community in the roof top garden.

To come up with a visual map of the roof top garden with specific crop locations, doing background research on

companion planting, pest control, spacing, sunlight/shade exposure.
About Gordon Neighbourhood House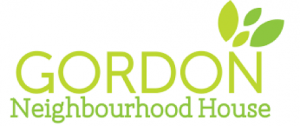 Gordon Neighbourhood House is a community hub in the West End of Vancouver, BC focused on community connection and development. GNH works with the community to facilitate connection, engagement and collaboration by offering adaptive programs and services which suit the needs of the West End (Gordon Neighbourhood House, 2017). The GNH has been providing free and low cost programs in the West End since 1942, they work closely with members of the community, sister organizations, and policy makers that foster inclusion and equality. One of the things about GNH that stood out for us as a group is the food-centred approach they take with all of their endeavours. They believe that food brings people together, establishing a common ground for people to connect. Their philosophy is built from the idea that food not only nourishes a person physically, but also has the potential to nourish relationships between people.
During our first meeting at GNH it was obvious that their food philosophy is present in everything they do. Looking around we could see the weekly menu for community lunches, handouts for food-based programs and images of their garden and farm spaces. Their food philosophy principles, outlined below, represent a holistic approach that recognizes diversity and opportunities for growth through collaboration. As a group, we are very excited to be working with an organization with such inspired goals, values and principles.
Our first Impressions of Gordon Neighbourhood House
"As we turned off Comox street and approached GNH, the sunlight streamed through bare branches, a homeless person's cart was parked on the sidewalk and the quiet chatter of indistinct voices wafted through the open windows. In that moment, it became obvious that GNH is a sanctuary, a garden in the shape of a 75-year-old building, where anyone could come and receive nourishment, love, and care. Any concerns or uncertainties we had surrounding liaising with our community leader disappeared as the quiet, calming energy of GNH surrounded us. And all of a sudden, we were a part of something very special." – Members of group 14
There is a Cowichan Coast Salish proverb that says Children are regarded as a flower that needs nourishment, love, and care. Think of our children as a garden, they need a place to show their beauty and pride (Gordon Neighbourhood House). This proverb perfectly sums up what we learned about our project at Gordon Neighbourhood House. While chatting with Joey and getting to know more about GNH, we heard that we will be focusing on the rooftop garden. We learned that rooftop gardens are something that we should try and utilize more because it uses spaces that have already been taken up by buildings. By using the space on top of these buildings, we have a lot more surface area for farming, as every building has a roof, and every rooftop is usually unused space. Rooftops are great for urban farming because there is an adequate amount of sunlight for the crops, and on the other hand, artificial shade can also be created. Their rooftop garden already had one growing season, but it is still considered to be a relatively new space. Joey wants us to help her with growing the crops and see what can be done to improve the aesthetics of the farm — which got us thinking — a farm is not only a place to grow food, but it can also be a sanctuary for relaxation and enjoyment. This is where the Salish proverb comes in perfectly. A garden is not just a place for growing food, but a beautiful area to appreciate the food that is being grown from the garden to feed the community. As a community working together to grow beautiful crops, we as a community should also admire the beauty of how a community contributes to the process. 
Joey, was like a breath of fresh air. She slurped on a green smoothie and introduced herself with youthful energy and twinkling eyes. Joey expressed that she has only been with GNH for two weeks, an unforeseen challenge as well as a blessing. As we chatted plans, ideas and what our assignment might entail, it dawned on us that this project will be extraordinarily unique. A blend of academia, deep understanding of farming practices, and a collective passion for community and food-based learning all coming together with mutual respect. Ernesto Sirolli's (2012) statement, "be a servant of local passion, don't enter in with an idea, sit and listen" quickly became our manifesto. Listening to Joey's goals, motives and ideas as well as the needs of the neighborhood we were entrenched in will be paramount as we start to develop our project.
It's easy to let academic supremacy supersede true ground-up knowledge. Where ways of "knowing" are formed through passion and sweat, instead of through lectures and the traditional collegiate framework. Right now, we are visitors in this community, we have no true authority, nor do we want it. We want to let GNH speak for itself, we want to listen to what the community wants and simply be a conduit for the growth and development of the GNH urban farms. Sometimes the best form of "knowing" comes straight from the community, drawing off local individuals and informal networks (Mathie & Cunnigham, 2003). Further, building off of the "heliotropic principle" whereas in nature, plants grow towards their source of life and energy (Mathie & Cunnigham, 2003). Communities work in the same way, and we want to acknowledge the GNH urban farm as an influential community asset and help maintain its status as a source of life and energy for the West End.
This initial encounter has left us thinking a lot about the manifestation of "aid". Sirolli (2012) believes aid = mutual respect . The Asset Based Community Development approach to aid is about building community and sustainable livelihoods (Mathie & Cunnigham, 2003). How empowering to abolish the patriarchal notion that a community "needs" us. Instead we can build a bottom up relationship based on respect. We have little to offer but time, energy, some experience, and a love of food. So perhaps the true "growing" will be on our end and GNH will be our literal as well as proverbial garden for the next 3 months.
Inspiration
As we've discussed, our group is relatively new to the idea of Urban Farming, and very excited about working on this project. The links below are various videos, articles and websites we've been looking at over the past few weeks. With each blog post we hope to post about some of the things which we have been using as inspiration/research for our journey!
Brian Clark Howard. "Urban Farming is Growing a Green Future" National Geographic
A photo essay about the role of urban farming in our complex food system.
http://environment.nationalgeographic.com/environment/photos/urban-farming/#/earth-day-urban-farming-new-york-rooftop_51631_600x450.jpg
Britta Riley. "A garden in my apartment". TedxManhattan
In her ted talk, Britta Riley introduces how she used old plastic bottles to create a  technology which allowed her to grow food in her home.
https://www.ted.com/talks/britta_riley_a_garden_in_my_apartment#t-189627
Vancouver Urban Farming Society Webpage
The Vancouver Urban Farmers Association web page has resources for urban farming, info on local events, policy updates and more!
The Asset Based Community Development Institute
This website has everything you need to know about asset based community development.
References
Gordon Neighbourhood House. Retrieved January 27, 17, from http://gordonhouse.org/about-gordon-neighbourhood-house/mandate-vision/
Sirolli, E. (2012, September). Want to help someone? Shut up and listen! [Video file]. Retrieved from http://www.ted.com/talks/ernesto_sirolli_want_to_help_someone_shut_up_and_listen
Mathie, A., & Cunningham, G. (2003). From clients to citizens: Asset-based   Community Development as a strategy for community-driven development.Development in Practice, 13(5), 474-486. doi:10.1080/0961452032000125857