I recently found a very interesting online presentation on the Urban Development Institute Kelowna website called The Urban Food Revolution: Changing the Way we Design Cities and created by Peter Ladner. The presentation begins with an overwhelming amount of problems that are negatively impacting our society. One of the problems that Ladner brings up is the way that we produce and consume food in today's society. One of the first things worth mentioning here are the added health risks with the type and quantity of food we eat in a large part of the world. In Canada alone the Health Care system spent $10 billion on diabetes in the year 2000. This is projected to increase to about $17 billion by the year 2020.
Another problem brought up was unsurprisingly, pollution. It is widely known that humans create much of the co2 levels in the atmosphere that is currently causing drastic climate change all over the world. However many people are unaware that the largest producers of co2 are in fact, cows. Yet the demand for beef is so high that rain forests are being chopped down in order to make room for more cattle, even though there are many countries whose cow population outnumber the people. Some examples being: Uruguay, New Zealand, Argentina, Australia, as well as Brazil. (site) Yet the demand continues to grow.
 (site)
So what does this all have to do with Urban Planning? Well the idea of The Urban Food Revolution is that it is meant to fix these problems and more. Essentially this movement is an increased global interest in locally grown food. It has been common knowledge for a while that local organic food is better for you because of the lack of pesticides, gmo's, sugar, and so on. Also that without these added substances our food becomes much richer in nutrients. Now according to Ladner's presentation, besides the increased interest in natural and local food there has also been a movement of people wanting to control the growth of their own food. Therefore many governments have begun making changes to their cities . For instance it is stated that the government in Seoul, Korea would like to implement the idea of personal food-growing plots for each citizen.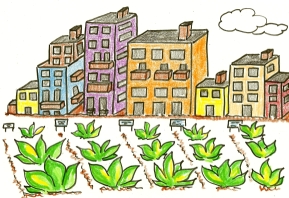 site
Another example Ladner used was a grocery store in London that has recently begun growing their vegetables on the roof. They are calling it 'Food from the sky' with the idea being that it is possible to grow and sell fruit and vegetables in a city. (site) Ladner also uses Montreal as an example as they supposedly have the world's first commercial rooftop greenhouse called Lula Farms.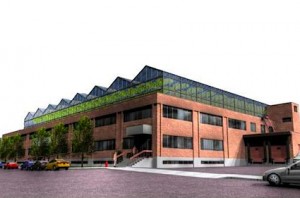 (site)
Therefore, the whole idea behind this presentation is that hopefully cities around the world, including Kelowna, can begin implementing new ways the people to buy or produce their own local food, starting simply with garden food and hopefully moving past that to the point where each city can be self-sufficient as well as much healthier in regards to food production.
Sources:
http://www.udiokanagan.ca/wp-content/uploads/Peter-Ladner-Presentation-Apr.-23-2015.pdf
http://beef2live.com/story-world-cattle-inventory-vs-human-population-country-0-111575
http://foodfromthesky.org.uk
Pictures:
http://www.saawinternational.org/cows.htm
http://www.cityfarmer.info/2010/10/29/commercial-rooftop-garden-in-montreal-is-worlds-first/
http://www.tcgn.ca/wiki/wiki.php?n=VolunteerOpportunities.FrontPage