Vanilla Gorilla
. Vancouver: Ronsdale, 1998. Illustrations by Vivian Bevis. Lively rhythms, nonsense rhymes, tongue-twisters, family life poems, and haiku, for young children; the poems are full of Canadian place names. "Winners," says Quill & Quire. [For information on the publisher, see
http://www.ronsdalepress.com/
]
Llamas in the Laundry. Vancouver: Ronsdale, 2002. More ebullient, comic rhymes for young children. Illustrations by Vivian Bevis.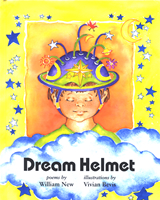 Dream Helmet. Vancouver: Ronsdale, 2005. A third volume of comic rhymes; here the 'dream helmet' (on a parallel with a 'bike helmet'), which appears hidden on every page, saves children from nightmares and encourages flights of inventiveness. From the Quill & Quire review: "imagination reigns in this exuberant collection of poems." Illustrations by Vivian Bevis.
The Year I Was Grounded. Vancouver and London: Tradewind, 2008. An ecological book for older children, at once comic and serious, in which an active growing boy named 'Geordie'—who early on is 'grounded' for two weeks for not telling the truth—finds out over the course of a year how to be grounded in other ways as well. Told through the boy's journal, and through poems and visual word puzzles, the story follows Geordie at home, at school, at the lake, on the playground, and with his family, as he experiences puzzlement, discovery, loss, and affirmation. [For information on the publisher, see http://www.tradewindbooks.com/] See also: www.iamgeordie.com for the answers to the word puzzles in this book and for a Teacher's Study Guide.
CM Magazine (6 Feb 2009) calls the book "a pure pleasure to read, something of a frolic despite its grave themes"–"at once playful and believable"–"consistently shines"–"perfectly weighted words"–"highly recommended."
Named a 2009 Honor Book (Lion and the Unicorn Prize for best books of North American poetry for children).
Swallow and the Riddleworld League
. Vancouver and London: Tradewind (2013). All Sam Swallow wants is to join the Little League baseball team. But on the way to the park he stumbles, hits his head and falls into Riddleworld, a land where birds talk in puzzles and cats wait to pounce. Nothing is what it seems to be in Riddleworld. Sam himself has been transformed into a bird. To get back to this world, Sam needs to solve some difficult puzzles, make a few unlikely friends and avoid the cats at all costs. [For information on the publisher, see
http://www.tradewindbooks.com
/]