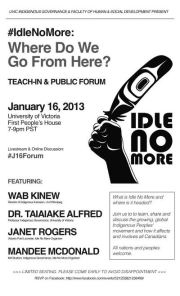 #IdleNoMore at U Victoria: Where do we go from here?
A town hall and public discussion co-sponsored by the Faculty of Human and Social Development and Indigenous Governance examines the Indigenous Peoples' movement that is generating debate from coast to coast.
Panelists include:
Dr. Taiaiake Alfred (Professor, Indigenous Governance, UVic)
Janet Rogers (Victoria Poet Laureate, INM Victoria Organizer)
Mandee McDonald (MA Student, Indigenous Governance, UVic, INM Victoria/Denendeh Organizer)
Special Guest: Wab Kinew (Media Personality, Director of Indigenous Inclusion, University of Winnipeg).
What: "Idle No More: Where do we go from here?"
When: Wednesday, Jan. 16, from 7 to 9 p.m.
Where: First Peoples House, UVic