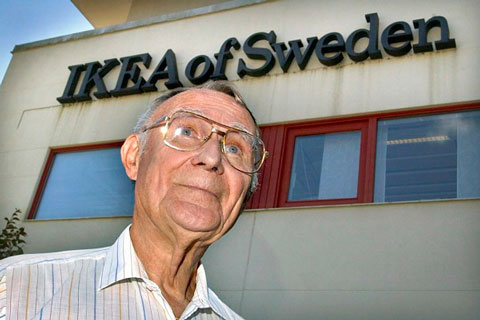 Thinking of entrepreneurs, Ingvar Kamprad is probably one of those that influences our student life the most. Not by taking up our time with the unfortunate invention of facebook or a particular smartphone that can play games, but by selling stylish and, more than anything else, cheap furniture and accessories for all ages.
The first store was opened in 1953 and within a little more than 20 years, the franchise had opened branches all over the world, in Europe, America and Asia. (2) The entrepreneurial aspect of the company made this rapid expansion possible: Low product prices, unique design and high customer identification (i.e. recognizable product names) resulted in high differentiation and made IKEA more than just another substitute on the furniture market landscape. The risk of this undertaking, however, was high prior to the opening of the first store because it was hard to predict if post-war Sweden was ready for such an innovative approach, and if customers really want to self-assemble their furniture.
The company focusses on cost control and continuous development of their production methods to increase efficiency (1). It is reported that founder Ingvar Kamprad lives a very humble and down-to-earth lifestyle (3) and so does IKEA as a company, as in many other companies' organizational aspects that were inspired by its founders' characteristics.
Sources
1) http://www.thomaswhite.com/explore-the-world/global-players/ingvar-kamprad.aspx ; Thomas White.com; 20th of September 2011
2) http://www.newyorker.com/reporting/2011/10/03/111003fa_fact_collins ; Lauren Collins; 3rd of October 2011
3) http://www.swissinfo.ch/eng/Home/Archive/Cheap_is_good,_says_furniture_magnate.html?cid=650688 ; swissinfo.ch; 26th of March 2006