Do you know what this blog post and the Flying Black Dog have in common?
They are both aiming to increase food security on Galiano Island!
White, Jasmine (Photograph). (2014). Three Reasons Strangers Should Stop Asking to Pet Black People's Hair [photograph]. Georgetown.
P.S. The Flying Black Dog is one of the food vendors we will be visiting on Galiano on our upcoming trip in order to learn about their food culture! (link:) https://www.facebook.com/FlyingBlackDog/
Food security and animal welfare go hand in hand. The past few weeks have consisted of discussing our goals and objectives as a team, getting in touch with Jane regarding our trip to the island this upcoming weekend, and looking back on our accomplishments as a group so far. Before we dive into discussing some of our latest accomplishments, let's review a few things: Within the past few weeks, we have considered how our community project and research can support the Galiano community with respect to gaining food sovereignty. We have learned that this occurs when people have access to healthy and culturally appropriate food from ecologically sustainable sources that are known to them and therefore have the ability to define their own food systems (iPES FOOD). (Because, go big or go home right?) This concept ties into our work with livestock transportation and BC Ferries by ultimately (and hopefully) aiding the Galiano community to having more independence and freedom with defining their food systems.
In class, we have discussed the importance of knowing where our food comes from, being exposed to growing food as a child, and seeing how food brings people together to create communities with shared values (TED, 2013). In this video which was introduced to us during week six, Ron Finley brings up an important message about the value of growing food in a low income neighbourhood in LA that faces issues of racial inequality, homelessness, crime, poverty, and food insecurity. Ron is growing food on underutilized lands-like boulevards and unused patches of grass on walking streets, in order to feed people, revitalize his community, and address some of the social issues mentioned above.
But what does this have to do with our project?
Well…
While Galiano Island might seem like a far cry from urban LA, the goals of our two projects are ultimately the same: to give people the ability and power to define their access to food, which in turn creates healthier communities.
Throughout working with our community partner, we are emphasizing Asset Based Community Development (ABCD). This is an approach that we have continued to touch on in class, where we focus on highlighting what is already available in the community instead of what is lacking, or missing (Mathie & Cunningham, 2010). We are looking at the resources Galiano has, namely livestock farmers, the animals themselves, and a ferry system, and how we can emphasize and support local food production and a healthy economy with these current resources. By listening to and appreciating the opinions of the community members and farmers themselves, we aim to gain a better understanding of their experiences with livestock transportation. This is essential to our project because these people actually have the experiences and knowledge we are hoping to represent in our project.
With that all being said, we are extremely excited that this weekend we get to visit Galiano Island and learn about the culture, environment, hardships, and values of the island community, (and not to mention, taste some of the local food)! Food brings people together in a beautiful way-which is something we don't always cherish (or even think about). By spending a weekend on the island, we are fortunate to be able to come together and share experiences through community interactions, a hike, a concert, a visit to a community greenhouse-and of course-FOOD-thanks to the help and support from Jane and the Galiano Club.
The Galiano Club (Photograph). (n.d.) Food Forever [photograph]. Galiano Island, Canada.
Now while this seems great, it didn't happen without a lot of work into play. We have spent the last few weeks planning and conversing with Jane and her team. (Thanks, Jane!)
So, what exactly have we done so far, anyways?
Week (3): January 30th
Objectives:
– Determine the importance of a proposal as a group in the development of our Galiano Island Project
– Draft our community project proposal; especially Introduction, Background & Significance, Methods
– Preliminary research about the Galiano Club
– Discuss group roles for research on BC Ferries and the Galiano Club
– Determine roles and responsibilities for our group project proposal
– Edit blog 1
Achievements :
– Finalized blog and invite Jane to read Blog 1
– Divided tasks within the group
– Made blog 1 final edits
Week (4): February 6th
Group Work. (Photograph). (2016) Pixabay [photograph].
Objectives:  
– Fine tune, edit, and finish proposal
Achievements:
– Finished proposal  
– Finalized dates to visit Galiano Island (March 4th-5th)
Week(5): February 13th
Objectives:
– Work on blog 2
– Begin thinking about thesis statements and individual reports
– Through course readings, learn how individual identities can shape efforts to changing the food system in a positive way
Week (6): February 20th
Objectives:
– Finish blog 2
– Draft thesis statements
– Discuss as a group how behavior, identity and action is shaped by and shapes an individual's efforts to engage in positive change in the food system.
Achievements:
– Finished blog 2
Week(7):  February 27th
Objectives:
– Prepare for visit to Galiano (interview questions & itinerary)
– Get in touch with David Fraser
– Complete thesis statements
– Edit blog 2
– Determine how our community project has brought us moments of significance
– Reflect on the challenges and opportunities for integrating food justice and indigenous food sovereignty perspectives when addressing issues of community food security.
– Determine how our project can be completed by taking into account our moment of significance
Achievements:
– Submitted blog 2 with corrections
– Booked Ferry for Galiano Island
– Created focused, debatable, positional thesis statements with clearly defined aims
-Shared a successful discussion as a group about our individual progress regarding our community project thus far
-Created a map that integrated each of our emotions/values and skills/knowledge throughout our project progress (stay tuned for blog 3)!
Week(8): March 6th
Objectives:
– Synthesize interview data from Galiano
– Continue independent research about Galiano Island
– Complete blog 3
Achievements:
To be determined (Stay tuned!)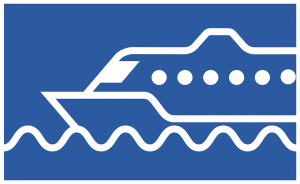 Ferry. (Photograph). (2013) BC Ferry [photograph].
Our Group has found a few moments of significance throughout our journey so far. What was the biggest one yet?
Moment of Significance
What?
When we began this project, we were under the impression that BC Ferries had a previous policy of priority boarding for livestock which they removed, to the detriment of island livestock producers, and the goal of our project was to provide a case for reinstating this policy. Easy, right? As we began our research, however, we discovered that this was only partially true. BC Ferries did have priority boarding for livestock up until 2005, but they replaced this policy with a free livestock reservation system due to increased demand on their routes. Through a process of community consultation, BC Ferries determined that a reservation system was more fair to employees and customers and could lead to improved livestock transport because BC Ferries staff would know well in advance when livestock would be on a particular sailing. We also discovered there is no livestock reservation system on the routes of interest to us (Southern Gulf Islands) because all reservations are free on these routes so livestock carriers can make free standard reservations just like everyone else. In general, it was hard to find clear information about livestock transportation on BC Ferries, which was confusing for us as individuals and as a group. In the end, we concluded that there are no official policies for livestock transportation on Southern Gulf Island routes, but livestock carriers are able to make free standard reservations to guarantee their spot on a sailing.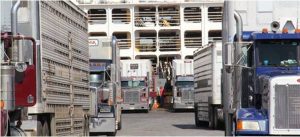 (Horizon Livestock – Holstein, Brown Swiss, Jersey, Angus, Charolais, Hereford, Limousine, Brangus, Simmental, Beef Master, 2017) Livestock transport vehicles coming off a ferry ride.
So What?
Finding out that BC Ferries replaced their old policy of priority boarding with a new livestock reservation system after a series of community consultations introduced a degree of uncertainty to our project. BC Ferries did not just inexplicably discard an old policy, they determined their old policy was not working well anymore, they did community research and consultations, and they introduced a new system that they thought would work better for the majority of people involved. Our role then, if we are to argue for the reinstatement of priority boarding, is to provide compelling evidence for BC Ferries to bring back an old policy that they discarded on the grounds that it was not working well. We will have to prove why a reservation system is not the best system for livestock transport and prove to BC Ferries staff and other non-livestock-carrying passengers that priority boarding is fair. This will be a more complicated and challenging process, and we will have to be careful to listen to and equally value all of the voices within our group and represent the voices of the livestock producers who are affected by BC Ferries' livestock transport policies.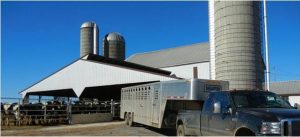 ("Horizon Livestock – Holstein, Brown Swiss, Jersey, Angus, Charolais, Hereford, Limousine, Brangus, Simmental, Beef Master", 2017) Smaller scale farmers loading livestock into smaller trailers, towed with regular sized pickup trucks
Now What?
Now our task is to research literature on livestock transportation, talk to livestock producers on Galiano Island, and together identify the flaws in the current system and come up with a proposed livestock transportation policy that is more considerate of animal welfare and island farmers involved with the process, which may be a return to the old priority boarding system. We will need sufficiently sound and compelling evidence for reintroducing such a policy, and we will need to provide information on livestock transportation and animal welfare that BC Ferries could use to create a stronger livestock transportation protocol.
So Ciao for now, and see you next time! Stay tuned for our trip to Galiano, filled with lots of pictures, smiles, and stories!
References
"BC Ferries Public Consultation | BC Ferries – British Columbia Ferry Services Inc.". Bcferries.com. N.p., 2017. Web. 27 Feb. 2017.
Ferry Boat. (2013). Retrieved from Pixabay: https://pixabay.com/en/photos/ferry%20boat/
Group Work. (2016). Retrieved from Pixabay: https://pixabay.com/en/classroom-cooperative-learning-1297779/
"Horizon Livestock – Holstein, Brown Swiss, Jersey, Angus, Charolais, Hereford, Limousine, Brangus, Simmental, Beef Master". www.horizonlivestockllc.com. N.p., 2017. Web. 26 Feb. 2017.Mathie, A., & Cunningham, G. (2010). From clients to citizens: Asset-based Community Development as a strategy for community-driven development. Taylor & Francis Online, 474-486.
iPES FOOD. (n.d.). iPES FOOD The New Science of Sustainable Food Systems.
"Results Of Public Consultation With Stakeholders". BC Ferries: The Transportation of Livestock on BC Ferries. N.p., 2017. Web. 21 Feb. 2017.
TED (Director). (2013). A guerilla gardener in South Central LA [Motion Picture].
The Galiano Club (1924). Food Forever . Retrieved from The Galiano Club: http://www.thegalianoclub.org/food-forever
The Galiano Club. (n.d.). Galiano Club. Retrieved from The Galiano Club: http://www.thegalianoclub.org/about-galiano-island
White, J. (2014, December 12). Three Reasons Strangers Should Stop Asking to Pet Black People's Hair. Retrieved from Black Hair for White People: https://blackhairwhitepeople.wordpress.com/2014/12/12/three-reasons-strangers-should-stop-asking-to-pet-black-peoples-hair/