With so much data available now, what are we to do do?
School leaders are always faced with a daunting task of predicting the future and making judgements on how to improve their school. In an ever changing and increasingly complex world, more leaders are examining data to make more reflective decisions and increase their accountability in schools (Earl and Fullan, 2003). Fortunately, we now have the tools to gather information in a digital context. At the end of the day, the data that we collect, analyze and use to make decisions to improve the overall learning for students and our schools.
Activity 1. Radian6
Watch the elevator pitch (This will give you more ideas on your own elevator pitch) on radian6.
With so many different outlets for students to voice their opinions, how can we keep track of all their conversations? Do you think radian6 will have a place in the educational market? Big data refers to the complex and large amounts of data available to educators. How can we make meaning of this information? Can we actually learn more about our student's behaviour online through radian6 and link what they're interested in the classroom? Click on one of the options or input your own.
If you want to extend your thinking, look at what this school at how they're using data – changing their instructional practices to allow students learn Science through rap. Click here! 
Activity 2. Google Analytics 
With so much raw data that we collect every day at school, reading and writing assessment, rubrics, attendance etc. How do we sort all of this information into meaning in an online context? Look at these statistics collected by Google Analytics in the past month from our 'ETEC 522 New Ventures in Technology' website. This provides us with interesting insights on how we engage with our own course website.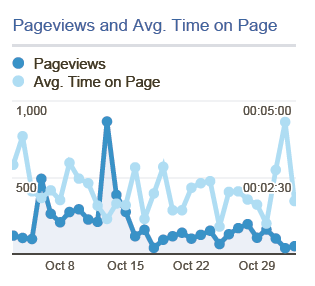 As you can see, it shows specific information on the Pages views and Average Time on Page, There was a spike between the period of October 10 to 14, around the time when our Opportunity Ventures assignment was due. Interestingly, our average time on each page was not as high. What does that mean? Did we only submit our works before leaving the page? Did we upload comments on each other's work?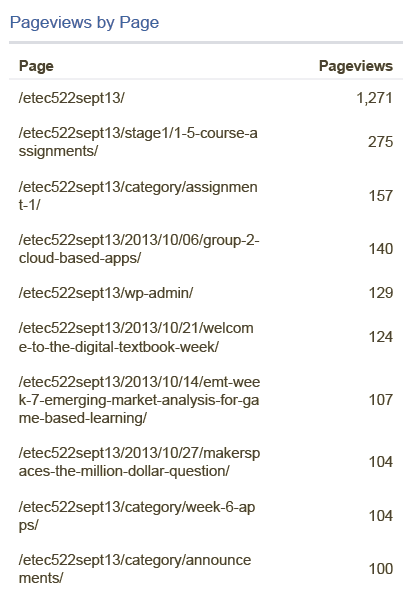 Pagesviews by Page indicates what we are visiting the most, we usually log in to the main page of the website first, with 1, 271 hits from October 3 to November 2, 2013. Most likely because we bookmarked this page, or we view this page the most to view more specific pages. The second most hits is looking through our Assignments, with 275 page views. This is most likely to find out whether we have assignments due soon.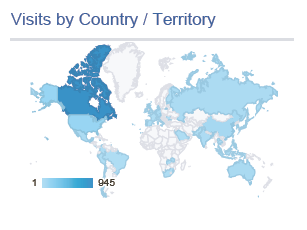 Thirdly, visits by country shows us where our website is accessed the most. Obviously most students taking this course is from Canada, but notice some countries from Africa, and South America also go into this website – Are there students in our program from these countries – or are there other visitors that are interested in what we do?
Now, you will get a chance to become a data analyst! You will sort large amounts of data and make some meaningful insights through Google Analytics. With your Gmail account, write me a quick email at rockytlam@gmail.com so I could give you permission to view the data for this website. Simply log into Google Analytics first and access Learning Analytics 2013 with the tracking code of UA-45401011-1. Once you're there, you will see a lot of options on the left side labelled "My Stuff". Under Dashboard, you can create a New Dashboard, with the option of Starter Dashboard – you will be able to view most of the basic information about our website. You can also manually view the data in Real-Time as well as different Standard Reports.
Please be patient as this website is new and not as much data will be available as compared to our ETEC 522 main website. Also, I will need to grant permission for each Gmail account that you provide. Once finished, you can make a comment below on how you could use Google Analytics and apply it to your school or classroom website and blog. What specific information or suggestions can you guide students in their learning process? If students are always visiting the Games section in your blog, should we improve in expanding that section to make learning more relevant for students? Should we instead focus on making other sections of the blog more interesting? Post away!