* * * The RESULTS are in * * *
Below you will find the results of a survey conducted by a branch of EDUCAUSE, which is a nonprofit association who centers itself on helping higher education advance in its use of educational technology.
ECAR has surveyed undergraduate students annually since 2004 about technology in higher education. In 2013, ECAR collaborated with more than 250 higher education institutions to collect responses from more than 112,000 undergraduate students about their technology experiences and expectations. The findings are distilled into four broad themes to help educators and higher education institutions better understand how students experience technology on their respective campuses and the ways in which new, better, or more technology can impact students' relationship with information technology.

Educause, 2013
With the data they collected, they were able to pull out key findings and offer recommendations based on the responses given.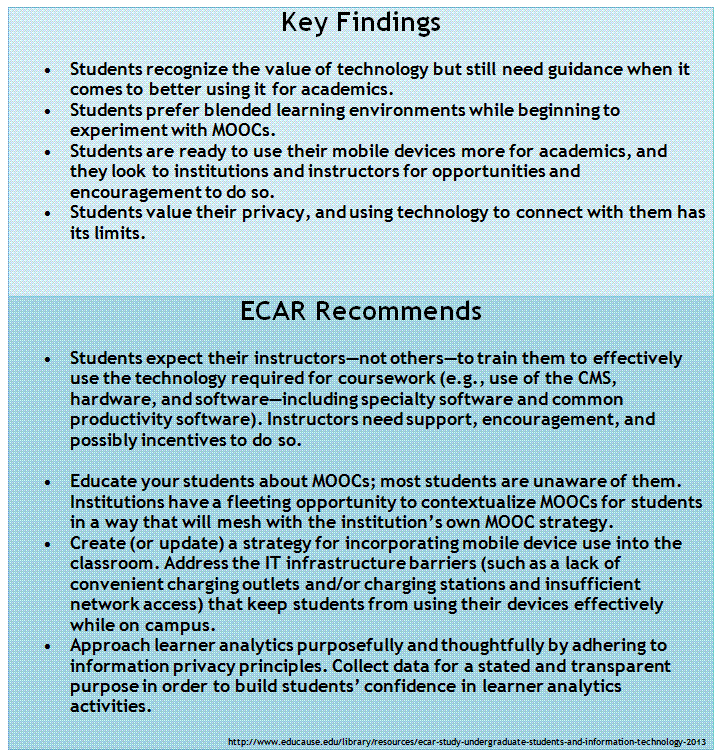 Your Turn:
Having gone over the data gathered from the ECAR survey, their key findings and recommendations, we now ask you to participate in a survey. This survey centers itself on the MET program and is derived from the ECAR's survey. It is short and has been simplified in order to give you the experience of taking such a survey, and then analyzing the data to come up with key findings and recommendations.
Please complete the survey by FRIDAY NOVEMBER 8, 2013. It is imperative you complete it before this date, the more participants the better the results!
Check back on SATURDAY NOVEMBER 9, 2013 to review the RESULTS. Use what you have learned so far this week to analyze the data, provide key findings and recommendations.
To participate in this discussion simply reply below.