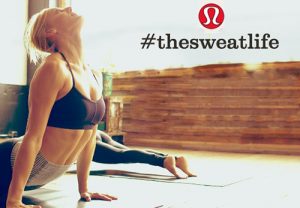 While the brand Lululemon has been making its marks globally, any teenage girl or woman these days in Vancouver knows that it has been quite the fad locally for some time now. The image and art of Yoga is a big part of what Lululemon markets to. #thesweatlife is a marketing hashtag that Lululemon uses in many of their ads. It indicates that they are not selling a product, but a lifestyle and an emotion. The emotion of what some may call a "runners high", but in a peaceful yoga setting. The ad itself is simplistic, with text of just the logo and a hashtag. The woman featured in the ad is wearing a sports bra and yoga pants, both of which are Lululemon staples. However, if anyone has ever been in a real yoga class, you would know that only the "ideal" body types actually wear sports bras. Everyone else who is working hard to work to this "ideal" body, such as the one shown in the ad, is usually wearing a baggy t-shirt and shorts. Is this supposed to inspire people to get into shape?
Another point to note is that the hashtag #thesweatlife is implying that we, as consumers, work with Lululemon in working towards a healthy active lifestyle. I don't think the woman in the ad is actually sweating.
There are two problems which I will be addressing.
Firstly, yoga is an expensive hobby to take up. The fact that a seemingly privileged, young woman is being used for the advertisement is not a shock to anyone. She is fit, wealthy and white.
Secondly, most of the clothing that Lululemon sells is skin-tight. Their sizes range from 00-12 and their sports bras do not fit a curvy figure. All the models in their advertisements have the same body type as any Victoria's Secret model.
Here is a revamped version of the ad:
In my culture jam, I looked at the advertisement and revamped it in a way where it tells you bluntly what Lululemon wants the consumer to think. With the trend of the "athleisure" fashion industry becoming more and more profitable, many customers at Lululemon don't necessarily do yoga. Do they even exercise? Well, nobody knows that. What I do know that is if you're wearing skin-tight spandex pants and they don't have the famous stamp of Lulu on the back, then you may be judge. What I mean is, people buy Lululemon and Lululemon sell their products to these customers to make them feel good. They spent enormous amounts of money on exercise clothes to make themselves think that they will exercise.
Real yogis in Vancouver will rarely wear Lululemon. Many yoga teachers I've seen prefer the loose, lounge pant to do yoga. What Lululemon is selling is a body type. A body type that looks good in skin-tight pants and a sports bra. If you do not have that body type, well then you won't be able to pull this fashion trend off. It's also $50+ for a sports bra. And it may not even be padded. This is a fair warning to those with anything bigger than D cup sizes, it will be hard to keep the girls in.
The problem is that the lifestyle they are selling is to "#therichmomlife". Ironically though, the body type seen in the ad does not seem to be a mother but you do have to have a wealthy lifestyle to engage in yoga. Yoga is not an activity everybody can afford. You need an instructor, a class, a venue. It's not easy for the everyday mom to commit to yoga classes.
Finally, the use of a young, white woman is intersected with the "#richmomlife" framework. By not using a minority, Lululemon prides itself in wealthy, high economic status consumers.