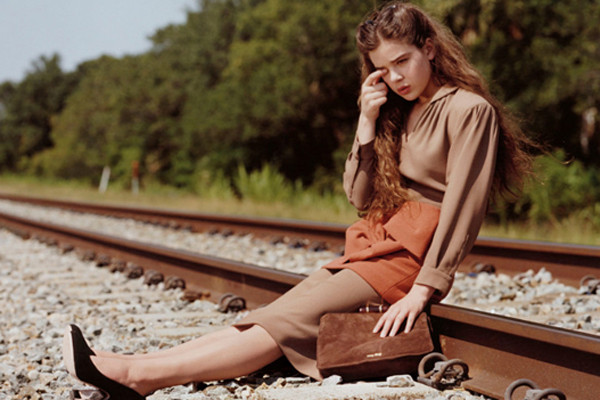 Deconstruction and Analysis of the Original Ad
Released in summer 2011, the Italian high fashion brand MiuMiu featured this advertisement as part of its 2011 Fall/Winter campaign. In the fashion industry, catchy statements or words in advertisements often highlight the distinctive uniqueness, or superiority of a particular brand to evoke emotion and inspire a following. In this case, there are no visible words to be found as MiuMiu cleverly compels us to focus solely on the imagery; however, it still plays with our emotions. At first glance, the advertisement is warm-toned with hints of green, soft brown, and burnt orange, which creates a sense of nostalgia. This 1940's film noir theme was what Director, Bruce Weber insisted he was going for; the chosen location would simply help create the mood. Dressed in "prim and proper" expensive clothing that could have been borrowed from her mom's closet, Hailee Steinfeld sits on railroad tracks, alone. 
This ad is problematic because of several reasons: the model selected for this campaign, the external environment she is placed in, and the injurious image that these combined factors is conveying. At the time of this campaign, Hailee Steinfeld was 14-years old—clearly a different demographic than MiuMiu's normal adult target audience. This image of a seemingly helpless young girl wiping away a tear on train tracks suggests the fairytale stereotype portraying women as 'ladylike' figures who are reliant and need rescuing. Yet, the overarching problem is the insinuation of youth suicide, which led to the Advertising Standards Authority banning the ad on the grounds that it was irresponsible for "showing a child in a hazardous or dangerous situation." [1]
In the campaign video, it is clearer that the underlying message interlopes hegemonic femininity in a romanticized version of a "damsel in distress" as Hailee holds a white-lace handkerchief to her eye [2]. Another problem is that the ad depicts a well-known teenage celebrity wearing expensive – worth thousands of dollars – clothing, which encourages similarly-aged audiences to act beyond their age and look to high-fashion brands for self-satisfaction. 
Reconstruction and Jamming Philosophy
My intention of this jam is to reveal the absurdity of having a young teenager promoting luxury clothing and accessories in a dangerous location in a way that suggests "this is how a proper lady should dress." Although critics of the ban have called it an overprotective move, there is really no positive message for readership in an ad with a young girl placed on train tracks looking uncomfortable and sad. To emphasize the injurious message of this advertisement, I added an incoming train on the train tracks to show that it is not inspiring or "grown-up" to trespass on public property or railroad tracks. In addition, I altered Hailee Steinfeld's originally expensive MiuMiu shoes and bag to a pair of classic purple sneakers and a yellow JanSport backpack—both popular among young students her age. Finally, I added the text "Save Me" to illustrate the problematized "damsel in distress" message the original ad has. My jammed advertisement makes me uncomfortable as it now depicts the truly harmful image of a young 14-year old girl who is in a dangerous position of incoming death, and needs someone to save her.
A great number of young people want to associate with superior brands because it offers a "sense of status and superiority [3]. This jammed advertisement aims to show that this association with luxury items may provide temporary feelings of self-satisfaction in a brand-dominated world; however, it may bring more feelings of exclusion and loneliness. By choosing a wordless advertisement to culture jam, my aim is to demonstrate that many companies can inject harmful and often dangerously-misleading ideas into any part of an advertisement. As consumers living in the twenty-first century, analyzing these original and jammed versions reminds me that we should be cautious of companies capitalizing on our desensitized minds and that the underlying social message goes far beyond what we see at first glance. 
Works Cited
[1] Cartner-Morley, J. (2011, November 24). Should the new Miu Miu advert have been banned? Retrieved from https://www.theguardian.com/fashion/fashion-blog/2011/nov/24/miu-miu-advert-banned
[2] Weber, B. (2012, April 02). Retrieved from https://www.youtube.com/watch?v=1gSh6XeNv4I
[3] Jiang, M., Gao, D., Huang, R., DeWall, C. N., & Zhou, X. (2014). The devil wears prada: Advertisements of luxury brands evoke feelings of social exclusion. Asian Journal of Social Psychology, 17(4), 245-254. doi:10.1111/ajsp.12069