DTES Women's Memorial March Vancouver – https://www.facebook.com/events/154666328355768/ 
It Starts With Us – Support for Murdered and Missing Indigenous Women and their Families – http://www.itstartswithus-mmiw.com
Stolen Sisters Memorial March Victoria February 12th – https://www.facebook.com/events/1899247296973512/
6th Annual Moosehide Campaign Gathering Victoria February 16th – https://www.facebook.com/events/1830970777148590/
This is a collaboration piece by UBC students Clara Salter, Olivia Santacroce and Lisa Girbav. We acknowledge that this podcast was written and produced on the traditional, ancestral and unceded lands of the hunkemenum speaking Musqueam people.
Our podcast A Story About A Dream started out as a poem. Our team, comprised of three women of mixed ancestry, set out to create a poem that focused on Indigenous new media and digital storytelling, while drawing on remix theory. We sat down with an idea to create a remixed poem by selecting quotes from Indigenous authors, activists and storytellers to incorporate into a new piece. What we didn't know was the theme we wanted to focus on.
We met up moments after the federal government had announced its approval of the Kinder Morgan Trans Mountain Pipeline. In BC, this was the second major resource extraction project approved by the federal government within two months, which followed the approval of the emissions intensive Pacific Northwest LNG export facility slated for Lax U'u'la (Lelu Island) in the Tsimshian Territory. Both of these projects face significant opposition. We were three women, sitting in a pizza shop, and our concern for violence against Indigenous land quickly took hold of the piece.
As we began to pull quotes from authors and activists, Lisa offered to share her story. Lisa is Tsimshian from the Tsimshian territory of the Pacific Northwest coast. The resulting narrative is a creative non-fiction about a dream that she had about her home territory, which is located at the western end of Highway 16, the Highway of Tears. The theme of violence against Indigenous land quickly became synonymous with violence against Indigenous women.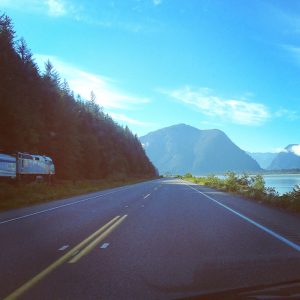 The Highway of Tears is a site of violence against Indigenous women in the pacific northwest. The Highway of Tears is a 720 km stretch of highway on Highway 16 that runs from Prince Rupert to Prince George. It's called the Highway of Tears because multiple women – sisters, mothers, daughters, aunts, teens, children – have gone missing or have been murdered while traveling the Highway of Tears. For many who live in isolated reservations, traveling on the Highway of Tears is a necessity to get to city centres for basic necessities.
The podcast tells a story about the Highway of Tears through a dreamt/ lived experience, where Lisa adds her own anecdotes to the dream she experienced. The dream involves a message from a shape shifter, a warning for northern girls. Messengers in our dreams are our ancestors. Lisa remembers, "The first time I had this dream, it was really vivid. The message from the dream world left a lasting memory, one that I still reflect on over a year later." The narrative of the account in this podcast is as accurate as she can remember. At first, the visit from the shapeshifter makes the listener uneasy because the initial perception is that it is here to cause harm. But as you listen to the message from the shapeshifter, upon repetition you realize that the shapeshifter is here to provide a warning and to protect you from harm. Dreams are very powerful, especially where you are visited by the supernatural.
Lisa's account of her dream brings to the foreground the reality of living in a community that lacks basic transportation infrastructure that many of us take for granted. Her story instills the listener with a sense of the innocence of wanting to visit family on a sunny afternoon. Spending time in nature is a major aspect of living a northern lifestyle. Many people use the highway to gain access to fishing spots, hiking trails, hunting grounds and campsites. While it is enjoyable to use the highway for easier access to these places, the highway is also a site of violence disproportionately against Indigenous women. First Nations relationship to land is complicated by the power dynamics that play out through the (ab)use of the highway. The podcast seeks to challenge the normalization of violence against Indigenous women. "Does everyone do this?" Lisa asks, of the precautions her and her family take when going about northern travel, that many of us would do without second thought.
The lines quoted from various Indigenous and non-Indigenous poets, storytellers, journalists and activists aim to both invoke the voices of women who have gone missing along the highway and to situate Lisa's story within a wider dialogue about and resistance to violence against women. Through the use of remix theory, we played with how different lines interacted with one another to create new meaning within the context of that piece while also drawing on the original meaning of the artist's' work. As the podcast began to take shape, we were surprised with the varying interpretations that were being brought forth by listeners.
The poem For Northern Girls by Erica Violet Lee was an influential starting point in shaping this piece. The poem conveys the triumph of Indigenous girls who survive systems of colonial violence in northern communities. By placing Lee's lines alongside Maggie Smith's line "right? You could make this place beautiful", from her poem Good Bones, we aim to give the listener a desire and sense of responsibility to resist the forms of colonial violence we explore in this piece.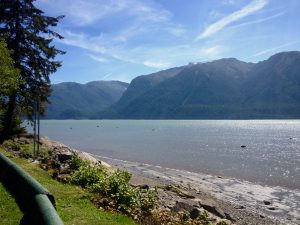 Violence against Indigenous women and violence against the land are not only linked – they reinforce one another. For example, polluted waterways affect the traditional food sources that Indigenous people have relied on since time immemorial and therefore harm the community's health and their access to cultural food harvesting and food security. Over and over again in post-contact history, Indigenous peoples have had to protect their land from the deleterious effects of extractive resource industries. When land is threatened, it is often women as matriarchs and community leaders who step in and use their very bodies to protect the land. These women can be harmed in the process.
Colonial structures continue to use systemic and institutionalized oppression to gain access to Indigenous land. In particular, Indigenous women are being disempowered in order to break down their roles as important matriarchs, for the purpose of disrupting their sociopolitical positions as important leaders in communities. The oppression and marginalization of Indigenous women is designed to disrupt First Nations' political and economic systems in order to gain access to Indigenous lands for the purpose of exploiting resources. The link between these two types of violence is evident in the dominant nature of controlling both the land and women's bodies.
Colonialism aims to displace Indigenous peoples from their connection to land and the ways of life they have always relied on. Indigenous bodies and spirits are connected to the land in a profound way; when the land suffers, women suffer. This podcast seeks to explore the relationship between violence against women and the land within the political context of the pacific northwest, a site of ongoing colonial violence. As the final line of the podcast suggests, we hope you carry this knowledge and these conversations with you to continue to resist systems of colonial violence.
Works Cited:
Boulding, Kaitlyn. "Questions to Ask Yourself Before Giving Up." GUTS. N.p., 2016. Web. 07 Dec. 2016. http://gutsmagazine.ca/questions-to-ask/
Brown, Brené. The Gifts of Imperfection: Let Go of Who You Think You're Supposed to Be and Embrace Who You Are. Center City, MN: Hazelden, 2010. Print.
Cobain, Kurt. All Apologies: Rape Me. Geffen Records, 1993. MP3.
Deerchild, Rosanna and Tagaq, Tanya. CBC Radio: Unreserved. N.p., 25 Sept. 2016. http://www.cbc.ca/radio/unreserved/creativity-that-challenges-the-status-quo-as-it-changes-the-landscape-1.3774044/tanya-tagaq-seeks-retribution-with-new-album-1.3775135
Hogan, Linda. Power. New York: W.W. Norton, 1999. Print.
King, Thomas. Green Grass, Running Water. Boston: Houghton Mifflin, 1993. Print.
Lee, Erica Violet. "For Northern Girls." Moontime Warrior. N.p., 2016. Web. 06 Dec. 2016. https://moontimewarrior.com/2016/10/18/for-northern-girls/  
Maracle, Lee. Talking to the Diaspora. Winnipeg, MB: ARP, 2015. Print.
Simpson, Leanne. Islands of Decolonial Love: Stories & Songs. Winnipeg, Manitoba, Canada: ARP (Arbeiter Ring), 2013. Print.
Smith, Maggie. "Good Bones," from Weep Up, forthcoming from Tupelo Press, copyright 2017. Used with permission. https://maggiesmithpoet.com/poems/
Sparrow, Quelemia, and Noah Drew. "Ashes on the Water." Audio blog post. Indigenous Performing Arts Alliance. Raven Spirit Dance, Neworld Theater, July 2010. Web. 07 Dec. 2016.
This is our final project for FNIS 401F Indigenous New Media and Digital Storytelling.