We're invigorating the saucy side of the AMS and exposing the down & dirty of UBC politics.  Why?  Because politics isn't all meetings & policy—it's fun. Three years ago, we entered a contest also known as VFM, blogged our little hearts out, and are now considered "credible," which may be the most shocking thing we've ever written.
Please note: The views expressed by this blog, its contributors and editors are not the opinions of the Alma Mater Society, nor should they be represented as such. See also: UBC Insiders (not actually UBC); UBC Spectator (also not UBC); RezLife (not so much a life); etc.
Got a hot tip? email us: amsconfidential@gmail.com
Meet Our Filthy Board
Kai Green, co-founder, Terribly Important Law Person, and Meme Generator
Kai hails from Portland, Oregon, where she was raised by a pack of wild engineers. Upon her admission to UBC's faculty of Arts and consequential removal from the family register, she began what is to this date an uninterrupted output of snark and inconsequential bellowing. Kai's hobbies including bearbaiting, unsolicited karaoke, and social media. When she grows up, she wants to be taller. After working as Copy Editor at The Ubyssey and graduating with her BA, Kai returned to UBC to enter Law and a second life as a total keener. You can find her in the library, snarling at Non-Laws.
Noam Chumpsky, Powerless Advisor
An unnamed Old Hack and frequent unattributed contributor, Noam has followed the Confidential since before VFM was a hip thing you did to earn money. Now entering his last days at UBC, Chumpsky has decided to contribute his hard-fought perspective and insight to its best outlet: mocking the young'ns. Chumpsky enjoys long walks on the beach, linguistics, and crank letters to the Resource Groups.
Gone But Not Forgotten
Taylor Loren, co-founder, Not An Editor, and Sparkle Superstar.
Taylor was your average apathetic student until she got dumped after first year. She started tweeting, ended up in the hacktastic realm of AMS politics, and hasn't looked for her sanity since. She is a geek of the social media variety who grew up addicted to Perez Hilton and is currently infatuated with Daily Intel. A fan of the West Wing and all things communication, she is a bubbly twentysomething who isn't afraid to admit she loves Miley and Justin Bieber. Taylor enjoys capitalism and being the little spoon. She's since migrated off the blogosphere and over to Hootsuite.
Gossip Guy, Now Has a Real Job and Photoshop Guru.
Some describe him as a suave, hyper masculine über man. Some might call him a kind of feral back alley gutter creature. All depends who you talk to. He had a blog back in the day, then disappeared for a little while. Now he's back, fuelled by his passion for mudslinging and stirring shit up. When not glued to his computer, he likes to stare at the guitar he owns but cannot play, drink to excess on weekdays, and learn the teachings of Reverend Tyler Durden. I also heard he once killed a bear with only his hands, just to prove a point. In a rare moment of emotion, a single tear of sorrow fell from his right eye after this incident.
Michael Cheung, Young Hack/Policy Wonk, Fluent in Internet, 77wpm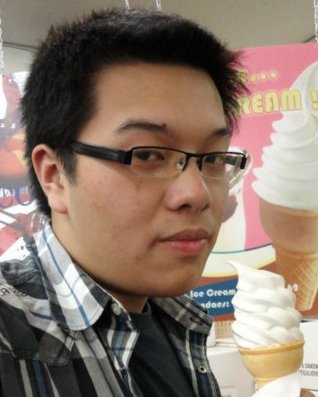 Former high school keener who, upon getting accepted into Commerce, embraced the slacker within, retreated to the internet, and has been caught up in all of this (whatever "this" is) ever since. He doesn't think he's THAT funny or can write THAT well, but nobody seems to notice. A lover of punctuation, numbers, British television and scifi shows, one might catch glimpse of Michael wandering aimlessly across campus, white netbook in one hand, bottle of C'Plus or free CUS coffee in the other. Whenever he's not distracted by tacky posters or shiny things on the ground, Michael enjoys the warm glow of a computer screen, puns so terrrible one can't help but chuckle and the satisfying sound of feet across a Minecraft sandstone floor.
Alex Lush, ChemEng, giggle loop generator, generally happy person.
Alex isn't your run of the mill engineer. Her spirit animal is a pterodactyl-magpie-kitty and she changes her hair colour more than an arts student picking their major. She can't stop watching Grey's Anatomy, and still watches Star Trek re-runs. As a native of the Albertan oil sands, she adores bitching about Vancouver's rain and dreaming of those proper blue skies. She's also a flames fan, and can't wait for them to pull it together and actually make it to the playoffs. Alex's favourite footwear is cowboy boots, though floral heels are a close second. As a current overly-busy EUS executive, she remains sane through copious amounts of pilsner and laughter.
ChanChan, Cynical Commerce Contributor
My name is Chanchan.  My favorite things are ramen, Chanel bags, and rhinestones.  I have been told I am as shallow as a kiddie pool, but I say that while beauty is skin deep, ugly is to the bone.  Now that's deep.