"Serving students a healthy, balanced breakfast helps them develop better social skills and makes them more inclined to learn."

– Isabelle Huot, PhD in Nutrition
Who are we?  What are our interests?
Hello Everyone! Welcome to our Breakfast Club blog as we document the adventures we encounter with our community partner , the Breakfast Club of Canada.  We are a group of students enrolled in a course called Land, Food, and Community II (LFS 350) at the University of British Columbia.  This core course gives us the learning opportunity to become citizens, professionals, and leaders who understand the opportunities and challenges when creating a regional, national and global food system that is ecologically, socially and economically sustainable (Land, Food, and Community II, 2017).  Every year, students from LFS 350 are offered the opportunity to choose which community partner to pair up with.  A community partner or organization in our case is defined as an organization that exists in the community to help with food security, either by providing free meals, growing crops, or indicating where an individual can access food through food asset maps.  These community partners and organizations range greatly, from the Breakfast Club of Canada to a trip to Galiano Island, you can check them out here.  We have been offered the opportunity to partner with the Breakfast Club of Canada, non-profit organization to bolster food security in our communities. Our team emerge from diverse backgrounds, some grew  up in the Lower Mainland and others abroad. We are also from different walks of life, some of us are in our 2nd year, some in our 3rd, and one in our last!  Diversity makes us smarter and is seen to invoke new innovations and new ideas as Katherine Philips writes in her 2014 article for the Scientific American.  Philips (2014) states this variant in backgrounds will force us to work harder, which also means we will have a diverse way of tackling problems that arise and ultimately gain new perspectives and benefit as a team.   Our interest encompass the utilizing of our classroom knowledge,  working with organizations to increase food literacy among children. This includes  building relationships with local and regional farmers, and to teach children where food root  from and how much is produced locally in British Columbia.  With this project, we hope to attain a broader understanding of food justice within our community, and build stronger characters as a team. So come on board with us on this journey as we connect local farmers to local schools!
What are our goals?
Our goal is to form relationships between local farmers and the schools under the Breakfast Club of Canada. We will be inviting farmers to contribute locally farmed resources as a mean of promoting healthy eating for children in these breakfast programs. Last year, the Government of British Columbia passed the B.C. Farmers' Food Donation Tax Credit, which allows for farmers to receive 25% of their fair market value of food product donated as tax credit (Government of British Columbia, 2017).  With this, we hope to encourage farmers to donate any surplus of food product to local schools.  We also realize the cost that accompany these sorts of donations, such as labour and transportation, however we hope that by promoting the new B.C. Farmers' Food Donation Tax Credit, it will help alleviate the burden from our farmers while increasing accessibility of nutritious food for school students (2017). In doing so, it addresses food justice issues for farmers, that is not often emphasized (Allen, 2008), and food security issues that impact schools.
Why the Breakfast Club of Canada?
We chose the Breakfast Club of Canada because the values in which the organization was built upon,  aligned very much with ours.  We  believe  it is important to cultivate healthy students, and we all know the importance of having a healthy breakfast. Breakfast is brain food, which can promote positive behaviour and better concentration, thus improve performance in school. Knowing that almost one million children across Canada do not have access to a proper breakfast before starting school each morning is very concerning (Breakfast Club of Canada, 2016).    Their mission to provide the necessary equipment and funding to schools to start breakfast programs draws us  to be a part of it.
Our project objectives
Following our project summary as outlined on our class website, our project objectives include:
▪   Supporting the present ongoing efforts to bolster food security for our communities and ensure that we are able to reach the greatest number of children possible (Land, Food, and Community II, 2017).
▪   Contacting farms to build relationships, to advise prospective partners on suitable foods, investigate transportation logistics, and to develop systems to track value of product received (2017).
In addition to the objectives outlined above, we also hope to focus on the bigger picture of building relationships with local and regional farms in the community to help children at school with hunger.  We hope that with our diverse group in backgrounds, that we can achieve these objectives and bring everything from our other classes to the mix.
Our community organization
The Breakfast Club of Canada started out as Club des petits déjeuners du Québec in 1994 and then merged with Breakfast Clubs of Canada 5 years ago (Breakfast Club of Canada, 2016).  It is now a Canada-wide non-profit with 10 years in British Columbia already.  Its mission is to nurture and develop healthy students and giving them an equal chance of success; one breakfast at a time.  The Breakfast Club of Canada helps feed 163,000 students everyday with schools in Western Canada, Ontario, Quebec, and Eastern Canada (2016).  The amount of students that they are able to feed on a daily basis in the last 22 years is astonishing and we can't wait to be a part of this!
Our first impressions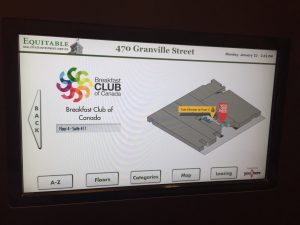 Before our first meeting with Robin Ryan, our community partner contact from the Breakfast Club of Canada, we were all feeling anxious about the exact details of the project, what it was, and how we could help.  However, to prepare ourselves for the meeting, we all sat down together to go over questions we had for him for some clarification. From our first meeting with Robin, we learnt that food insecurity is a big issue but to start with the first meal of the day can make a big difference.  Often times, students who start their day off with no breakfast, are generally those who also do not have access to a healthy lunch or dinner.  Watching Ernesto Sirolli's Ted Talk helped us all understand how to be better listeners to one another in the group, as well as, to Robin.  It was a good reminder that we should not go into this project with the mindset that we are a team of experts, but rather as a team of learners ourselves, invited to work in collaboration on our ABCD (asset based community development). Our first meeting with Robin turned out to be very insightful and it gave us a more solid understanding of what the project is and how to approach it.  It was helpful to meet with him because we are all geared towards Type A personalities that wanted to get started immediately. But from the meeting, we learned that it is important to pace ourselves.  Although it was a bit of a challenge, we followed  Sirolli's advice: we walked into the meeting with attentive ears to find out what the organization and Robin would like us to help with and gave them our utmost respect (Sirolli, 2017).  This was helpful as we were struggling not to get ahead of ourselves and already discouraged by the challenges that could potentially arise, such as to figure out the transport system between  the local farmers and all the schools.  From the meeting, we were assured  that it was a lot simpler than we had thought, that the  local farmers we connect with would be in close proximity to the schools that would benefit, making it convenient for both the farmers and the schools.
With our project, we hope to bring focus to the assets that already exist within the community, by recognizing the potential strengths of the farmers, rather than nitpicking what is lacking (Mathie & Cunningham, 2010).  This way, the relationships formed can become sustainable and is community-driven (2010).  As Sirolli pointed out,  we want  to help where help is needed, not impose our expertise on others.  Through this experience, we will be able to recognize  food justice issues relevant to the specific groups of people, community, and time (Dixon, 2013).  So journey with us as we jump on board this project, connecting local farmers to their  schools. As with any project we may encounter unexpected challenges, such as only finding a small number of farmers who are interested in partnering with the Breakfast Club of Canada schools. We also realize that the transportation of fruits and vegetables to schools might be an issue, however, we have been reassured that this is a challenge we are hoping to happen as that means there is a large donation.  Our main challenge might be the small number of farmers who are willing to participate, however, after seeing Robin show us tips on how to contact farmers, we are feeling a bit more prepared and ready to start sailing on this journey!  Furthermore, we are prepared to overcome these challenges by working cohesively as a team and with Robin,  to benefit the health of  the students who are lacking  a simple, nutritious breakfast every morning.   
Through the guidance of  the Breakfast Club, we will give the students more opportunities to  learn and grow, while reaping the benefits of a variety of locally grown B.C. fruits and vegetables. Stay tuned to see where this journey takes us!
Introductions
Angel Cao

I'm a 2nd year student majoring in Food, Nutrition, and Health, and applying into Dietetics.  I am aiming to incorporate the relationship between local farmers, children, and dietitians into the Canadian school food program, much like what is already in progress in France. Having worked in the pharmacy setting for over 5 years with experience in retail, long-term care, and hospital. I witness the rise in chronic illness in correlation of the obesity rate in Canada, my direction of focus shifted to preventative care.
Why did you choose the Breakfast Club of Canada?
I chose the Breakfast Club of Canada because the values and goals the club has for children's health align with what I hope to improve on as a future dietitian.
What do you hope to achieve after this project?
I want this project to be the stepping stone and experience, giving me insight on what I can look forward to in the future.
Aysan Vahabzadeh Memari

I'm a 4th year student majoring in Food, Nutrition and Health (FNH), and I am planning on pursuing a pharmacy degree after graduation. I am currently working in a Pharmacy as a pharmacy assistant and teach math to students with disabilities. I am planning to combine what I have learned from FNH courses (improving nutritional status and maintaining a healthy diet) with my pharmacy knowledge (medication) to help the people that are diagnosed with diabetes in future. In addition to working in a pharmacy and tutoring math, I enjoy playing violin, hiking, reading, and spending time with my friends and family.
Why did you choose the Breakfast Club of Canada?
Although the number of food insecure people in my home country, Iran, is higher than in Canada, we never had organizations that provide food and breakfast for students in different schools.  Therefore, I chose this project to learn more about the organization of breakfast clubs, and how they prepare food for students.
What do you hope to achieve after this project?
After this project, I hope to understand the meaning of community food security.  As well as, to learn how to listen and collaborate with our community partner and group members in order to make sustainable and long-term impact in our community.
Elizabeth Ngo

I'm a 3rd year student majoring in Food, Health, and Nutrition.  I really love eating and trying new cuisines as I feel that you can learn a lot from a culture through their food.  In my spare time, I enjoy taking walks around the city to see different neighbourhoods and to try new restaurants. I love that I can take the knowledge I learn in class and apply it to everyday life. And I am excited to be working with the Breakfast Club of Canada to help more children get the breakfast that they need to start their day at school.

Why did you choose the Breakfast Club of Canada?
I chose the Breakfast Club of Canada because I have experienced first-hand the benefits of a healthy breakfast in the morning.  Growing up in an inner-city school, I benefitted from a breakfast and hot lunch program.  I remember fond memories of waking up and getting to school early with my brother to have breakfast, every day we would look forward to a new breakfast item.  Some days we had French toast, waffles, pancakes, English muffins, or oatmeal with a glass of milk or juice.  I never realized how important and how fortunate I was to have breakfast every day at school, until I moved schools and had to now frantically figure out what breakfast was in the morning.  My school motto was also "Breakfast is Brain Food" and whenever a student was acting out, our teacher would always recommend that their parents take them to the breakfast program in the morning.  From what I can recall, it seemed that that worked and there were not many students who were kept after school for detention.
What do you hope to achieve after this project?
I hope to understand more about food security and how I can help to make it better.  I also hope to raise awareness of the benefits of having breakfast in the morning for children.  And to benefit from the diversity of my LFS 350 group, as well as, to gain knowledge from our community partner.
Natalie Cryderman

I'm a 3rd year Food, Nutrition, and Health student and my interests are running, skiing, baking, and travelling.
Why did you choose the Breakfast Club of Canada?
We are told from a young age that breakfast is the most important meal of the day. This is especially true for young children, whose brains and bodies are still developing rapidly. A nutritious breakfast affects all aspects of a child's life; a well-nourished child is more likely to perform well in school and participate in after-school activities. As a child, I was fortunate enough to never have to worry about whether or not I would have breakfast on the table in the morning. I was able to foster a positive relationship with food at a young age, which is when my passion to learn more about food initially sparked,  and I believe that it is vital for all young children to experience this relationship. I chose to work with BCC as my community partner with the hope that my efforts will help to make this a reality.
What do you hope to achieve after this project?
The BCC has already opened up my eyes to the severe amount of food insecurity children across Canada are experiencing daily. I am looking forward to working with the BCC and connecting their schools to numerous farmers across BC. I hope to build a lasting relationship between the two, which provides healthful food to children and supports farmers, while reducing food insecurity in Canada.
Danelle Kvalheim

I am a 3rd year student majoring in Food, Nutrition and Health at UBC. I am tremendously interested in how the production, marketing, processing, and consumption of food impacts our individual health, and the health of our community. I am passionate about healthy eating, and leading a lifestyle of wellness.  In my spare time, I enjoy playing tennis, trying new recipes, learning new languages, and working on sewing projects.
I am a certified tennis instructor by Tennis Canada, and have spent the last four years teaching tennis. I have had the opportunity to coach people from all walks of life, however, I have spent most of my coaching time teaching students from the tender age of three all the way to eighteen. I especially enjoy teaching fundamental tennis skills to children who may have never picked up a racket before. Their zeal for life, and enthusiasm for learning is infectious.
Why did you choose the Breakfast Club of Canada?
My interest for the Breakfast Club of Canada (BCC) stems from my passion of healthy eating, and teaching tennis to children. Through coaching, I witness firsthand the importance of a healthy breakfast, and how going without can be detrimental to the child's physical, social, and mental wellbeing. I am very privileged, and excited to be apart of this team working alongside the BCC this term.
What do you hope to achieve after this project?
From our combined efforts, I trust that we will be able to create and foster meaningful connections between the BCC, local farmers in our community, and the schools that they surround. I believe that the completion of this project will provide each of us with numerous skills that will be extremely useful in projects to come, as well as in the workforce. I hope that our project and blog will garner the attention of those who have not yet heard of the BCC, and acknowledge the importance for grade school students to have a nutritious breakfast, no matter their socio-economic background. I am optimistic for what we plan to achieve this term. I look forward to working hard alongside the team and the BCC Western Canada division, to create connections, and engage with the local community to create a positive impact in the lives of children all over BC, one breakfast at a time.
Michelle Fan

I'm a 2nd year student majoring in nutritional sciences.  I've always been interested in the role nutrition plays in our health because we are what we eat. My interests are exercising, shopping, and hanging out with friends.
Why did you choose the Breakfast Club of Canada?
For the low-income population who may not be fortunate enough to be able feed themselves three meals a day, this program could potentially change their lives and help minimize their food insecurity issues.  Breakfast is the most important meal of the day. So by providing these people the first meal of the day, it could not only satisfy their body needs but also help them set a positive outlook of the day.
What do you want to achieve after this project?
I want to be to learn about the different determinants that dictate the supply and demand chain and also what it takes to transport food from farms to distributors.  I hope to help more people who are experiencing food security receive the services that the program provides and also gain some insightful perspectives of different stakeholders.
References
Allen, P. (2008, June). Mining for justice in the food system: perceptions, practices, and possibilities. Agriculture and Human Values, 157-161.
Breakfast Club of Canada. (2016). Our Mission. Retrieved January 24, 2017, from Breakfast Club of Canada: http://www.breakfastclubcanada.org/the-club/our-mission/
Dixon, B. A. (2013). Learning to see food justice. Agriculture and Human Values, 175-184.
Government of British Columbia. (2017, January 24). B.C. Farmers' Food Donation Tax Credit. Retrieved from Tax Credits: http://www2.gov.bc.ca/gov/content/taxes/income-taxes/corporate/credits/farmers-food-donation
Land, Food, and Community II. (2017). Breakfast Club of Canada-Connecting to Local Farms. Retrieved from Community Projects: http://lfs350.landfood.ubc.ca/community-projects/2017-winter-projects/breakfast-club-of-canada-connecting-to-local-farms/
Mathie, A., & Cunningham, G. (2010, July 1). From clients to citizens: Asset-based Community Development as a strategy for community-driven development. Development in Practice, 13(5), 474-486.
Philips, K. W. (2014, October 1). How Diversity Makes Us Smarter. Retrieved from Scientific American: https://www.scientificamerican.com/article/how-diversity-makes-us-smarter/
Sirolli, E. (2017, January 24). Ernesto Sirolli: Want to help someone? Shut up and listen! Retrieved from TED Talks: https://www.youtube.com/watch?v=chXsLtHqfdM