October 2017 (Rio & Manaus)
Shifting patterns of community engagement/experiential learning (towards "walking with")
From description/prescription and desire for certainty, coherence, consensus and control (traditional academic socialization) to articulating paradoxes and being comfortable with the discomfort of facing complexities, uncertainties, indeterminacy and incommensurabilities (internal and external to ourselves)
Invitation to declutter: intellectual projections, affective compensations, physical disconnections and existential distractions
Distinguishing  between "learning from" (learning something that is predictable and somewhat expected) to "being taught by" (learning something unexpected that alters something important)
Seeing education as "attunement": expansion of constellations of knowledges, lived experiences, sensibilities, sensitivities, affect, temporalities, spatialities, rhythms, frequencies, metabolic processes, horizons of hope and possibilities of (co)existence
1)Affective/Intellectual dispositions (observing our relationship with knowledge)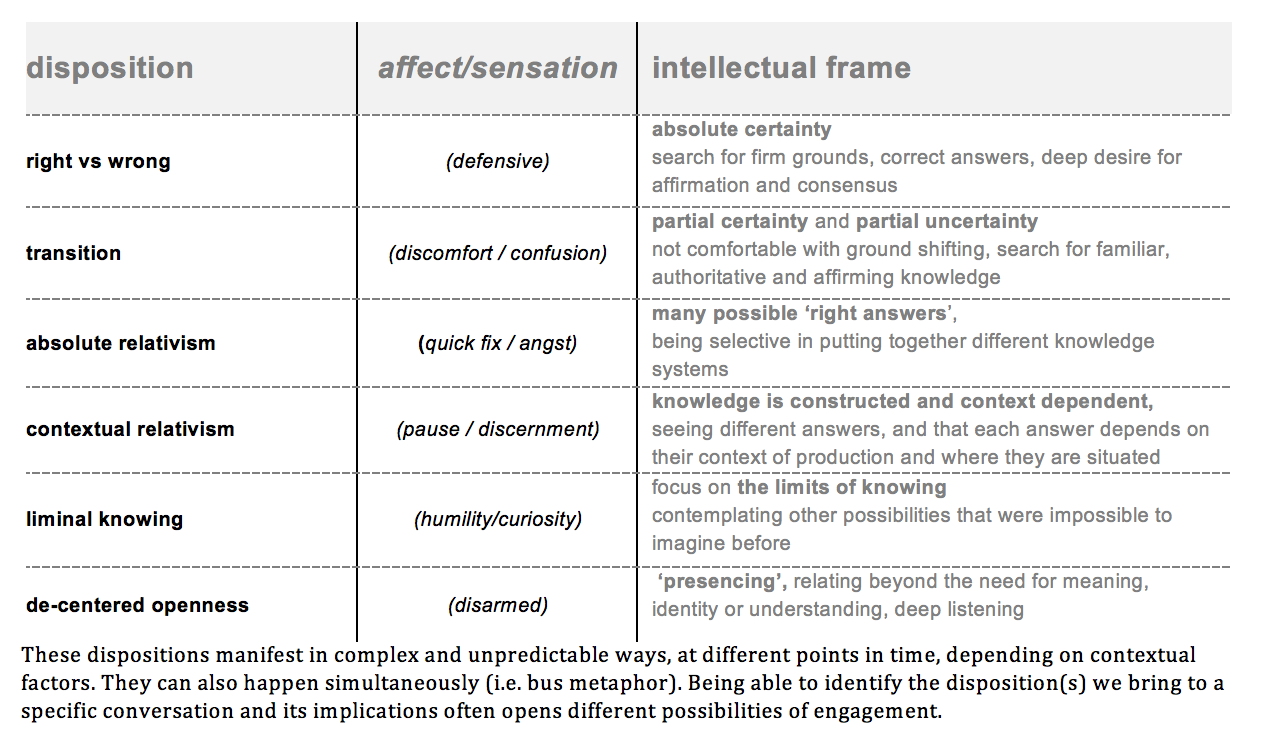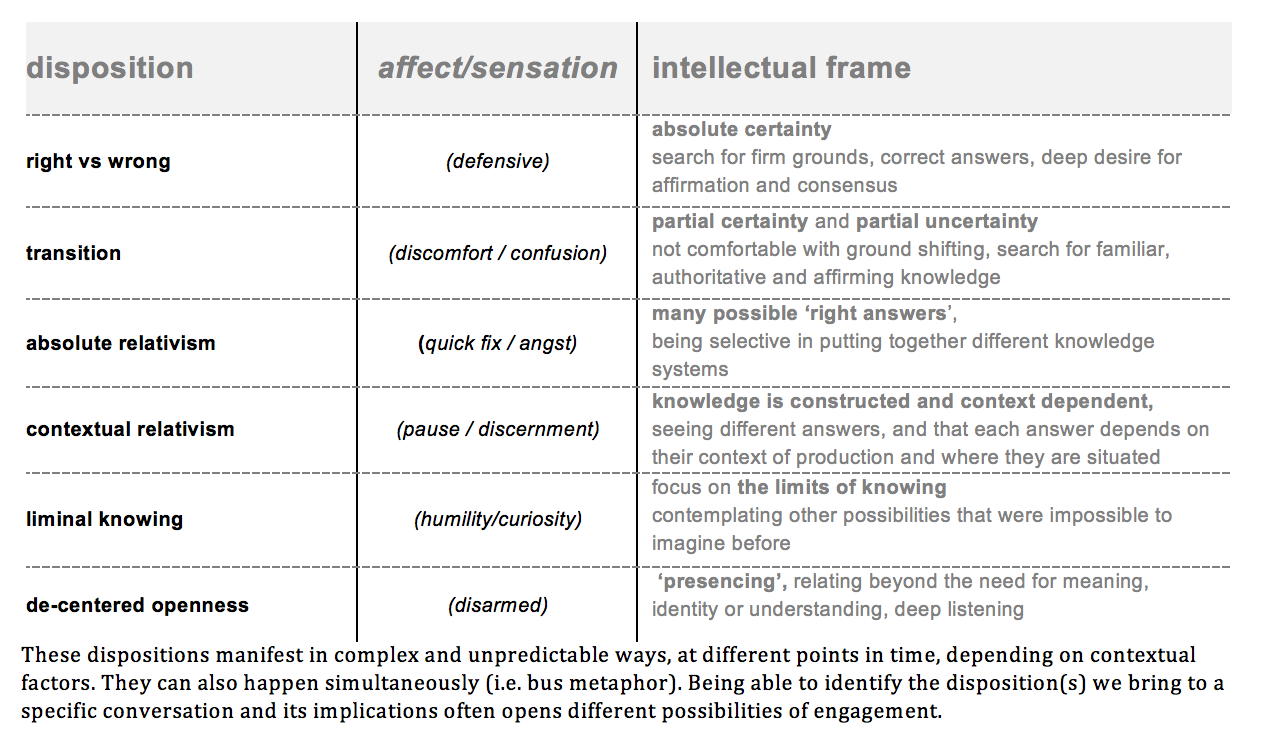 2)Layered reasoning (expanding senses of knowledge and being)

3)Layers of analysis ("buraco mais embaixo": asking deeper questions)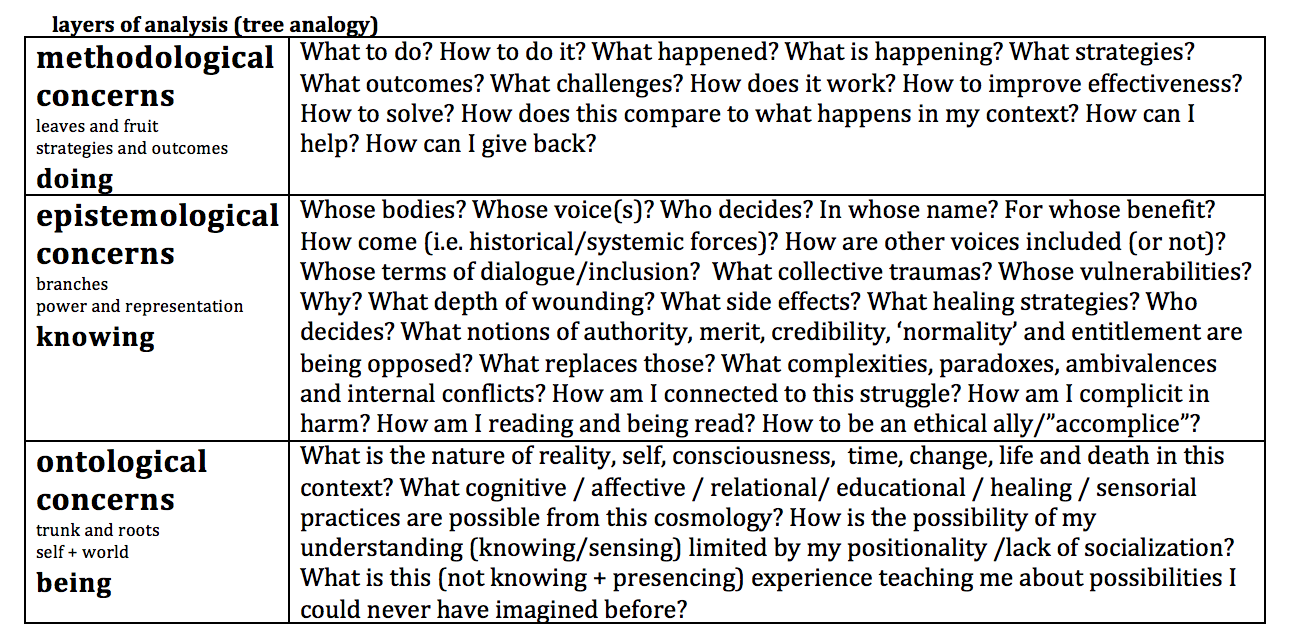 4)"Observing oneself observe" questions ("para além do próprio umbigo")
What perceptions, projections, desires and expectations inform what you are doing/thinking and how do these things affect your relationships?
What cultural ignorances do you continue to embody and what social tensions are you failing to recognize?
How can we distinguish between distractions and important stuff? How do we know when we are stuck?
What is preventing you from being present and listening deeply without fear and without projections?
What problems do your solutions reproduce or generate?
What do you need to give up or let go of in order to go deeper?
What truths are you not ready, willing, or able to speak or to hear?
How can we respect the pace and readiness of people's learning while being accountable to those negatively affected by this learning and its pace?
5)"Building stamina for the long haul" questions ("caminho mais longo")
How has our socialization and schooling trapped us in conceptualizations of (and relationships with) language, knowledge, agency, autonomy, identity, difference, body, education, criticality, art, sexuality, earth, time, space, and self…that restrict our horizons and what we consider to be possible / intelligible? [what restricts what is possible for us to sense, understand, articulate, want and imagine?]
How can we engage and be taught by different systems of knowledge and being,  struggles and attempts to create alternatives, (a)cutely aware of their gifts, limitations, ignorances and contradictions, as well as our own projections, graftings and instrumentalizations?
How can we tap the possibilities that are viable but unintelligible within dominant paradigms? (How to invite people to consider what is deemed "impossible"?)
How are the "waters rising" for different communities and how are they responding to the flood?
What can engender a stream of connections and a sense of care and commitment to everything that overrides self-interest and is not dependent on convictions, knowledge, identity or understanding?
What educational processes can 1)override our categorical neurological wiring and bio-chemical responses (our fears, self-interest, narratives, ego, narcissistic tendencies, wounds, etc); 2)activate a visceral sense of entanglement, responsibility, humility, generosity, sanity (not dependent on will or intellectual choices); and 3) open up possibilities/worlds that are viable, but unimaginable or inarticulable within our current frames of reference? [what, beyond convictions/ thinking/ agreements/ consensus, can offer an antidote to indifference?]
How can we hospice a dying way of knowing/being and assist with the birth of something new, still fragile, undefined and potentially (but not necessarily) wiser with radical tenderness?